Triage
"Heals the friendly back-line Monster that has taken the most damage."
Heal is max health divided by 3, rounded down. Minimum is 2.
Notable Rulesets
| | |
| --- | --- |
| Top 3 Rulesets | Bottom 3 Rulesets |
| Equalizer - The initial Health of all Monsters is equal to that of the Monster on either team with the highest base Health. This is useful for any healing ability - monsters are able to recover from damage rather than being destroyed by it. | Healed Out - No healing abilities are usable within this ruleset rendering triage useless. |
| Noxious Fumes - Whilst your opponent slowly dies, heal your back row monsters allowing them to live longer! | Target Practice - All ranged and magic attack monsters have the Snipe ability - if you choose to use a monster with Triage, ensure they are well protected! |
| Super Sneak - This ruleset forces your opponent to attack the final monster on your team. If that monster has a high health stat, triage will keep them alive longer | Little League - Determine whether using a healing monster within this ruleset will be the most beneficial strategy. With mana costs under 4, these monsters may not last long enough to be healed. |
Notable Abilities
| | |
| --- | --- |
| Top 3 Abilities | Bottom 3 Abilities |
| Protect- Monsters granted with protect receive 2 extra points of armor. This helps to protect your triaging monster as well as the monsters it heals. | Affliction- Monsters granted with the affliction status are unable to be healed. |
| Strengthen- Monsters granted with strengthen receive 1 extra point of max health. | Cripple - Monsters granted the cripple status effect lose 1 point of max health. |
| Taunt - All enemy monsters not target a monster with taunt (if allowed) Place your taunting monster on the back row to draw fire away from your tank. Keeping them healed up gives your tank more time to smash through their first line of defense. | Weaken - Monsters granted with the weaken status effect lost 1 point of max health. |
Remarkable Interactions
You can have several monsters with Triage focused on a single monster. Keep in mind that a monster cannot heal past its max health. Stacking monsters with tank heal may be most useful if a monster with Taunt is placed in the last position.
Summoners with Triage: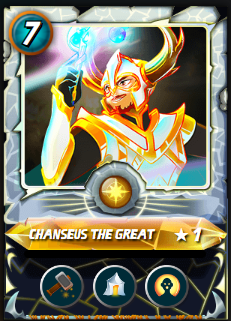 With a mana cost of 7, Chanseus the Great will Repair, Triage, and even resurrect your monsters. He is invaluable to armor heavy teams, particularly if monsters have Void or Void Armor which reduce magic attacks.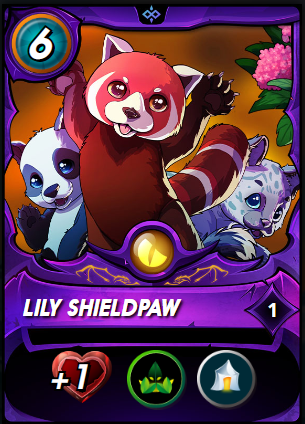 Lily Shieldpaw offers +1 health, Triage, and Camouflage to all friendly monsters. Consider the benefits of using this summoner with the aimless ruleset. Monsters with Scattershot can still target camouflaged monsters. Triage allows these camouflaged monsters to recover from scattershot attacks, blast, and damage from return fire, magic reflect, and thorns.
Monsters with Triage:
*Consider using https://monstermarket.io/ to search for Monsters and Summoners by ability
Curious about how to create higher level cards? Learn How to Increase Card Levels by Combining Cards
Before combining, ensure that you have a summoner that can call the Monster forth! Summoning Monster Restrictions
Useful Links:
Top 10 Tips for Splinterlands Players Who Are New to Blockchain Gaming
Where Can I Listen to or Watch the Town Hall?
Questions about a specific battle or interaction?
Reach out to tech support! Be sure to include a link to the battle as well as a clear question or statement regarding your concern. How do I request clarification about a battle from tech support?
We are also happy to hear any feedback regarding our articles as well. If you have a battle to share that highlights a certain ability, please reach out!
Disclaimer: Individuals are solely responsible for gameplay and developing their own unique strategies. Information shared by Splinterlands Tech Support does not guarantee success. Be sure to stay up to date on the introduction of new cards, abilities, and rulesets as they may impact the relevancy of certain information. If you have any questions or suggestions Submit a Request