Tank Heal
"Restores a portion of the Monster in the first position's health each round."
Restores 1/3 of the max health, rounded up
Notable Rulesets
| | |
| --- | --- |
| Top 3 Rulesets | Bottom 3 Rulesets |
| Equalizer - The initial Health of all Monsters is equal to that of the Monster on either team with the highest base Health. Be aware that your opponent gets this benefit as well! | Healed Out - No healing abilities are usable within this ruleset |
| Noxious Fumes - Whilst your opponent slowly dies, heal your monsters allowing them to live longer! | Target Practice - All ranged and magic attack monsters have the Snipe ability - if you choose to use a monster with Tank Heal, ensure they are protected! |
| Armored Up - Ensure that your tank is doubly protected with extra armor and healing. | Little League - Determine whether using a healing monster within this ruleset will be the most beneficial strategy. With mama costs under 4, these monsters may not last long enough to be healed. However, you can take the reverse and throw off your opponent by using heal! |
Notable Abilities
| | |
| --- | --- |
| Top 3 Abilities | Bottom 3 Abilities |
| Protect- Monsters granted with protect receive 2 extra points of armor. | Affliction- Monsters granted with the affliction status are unable to be healed. Monsters with tank heal will still try to heal this monster. |
| Strengthen- Monsters granted with strengthen receive 1 extra point of max health. | Cripple - Monsters granted the cripple status effect lose 1 point of max health. |
| Flying - avoid attacks to you monster with tank heal with +25% chance of evading attacks | Weaken - Monsters granted with the weaken status effect lost 1 point of max health. |
Remarkable Interactions
You can have several monsters with tank heal focused on a single monster. Keep in mind that a monster cannot heal past its max health. Stacking monsters with tank heal may be most useful if a monster with Taunt is placed in the first position.
Summoners with Tank Heal: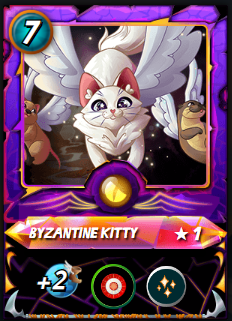 With a mana cost of 7, Byzantine Kitty offers Tank Heal, True Strike, and +2 to speed. When paired with a high health tank, consistent healing will frustrate and exhaust your opponent!
Monsters with Tank Heal:
*Consider using https://monstermarket.io/ to search for Monsters and Summoners by ability
Curious about how to create higher level cards? Learn How to Increase Card Levels by Combining Cards
Before combining, ensure that you have a summoner that can call the Monster forth! Summoning Monster Restrictions
Useful Links:
Top 10 Tips for Splinterlands Players Who Are New to Blockchain Gaming
Where Can I Listen to or Watch the Town Hall?
Questions about a specific battle or interaction?
Reach out to tech support! Be sure to include a link to the battle as well as a clear question or statement regarding your concern. How do I request clarification about a battle from tech support?
We are also happy to hear any feedback regarding our articles as well. If you have a battle to share that highlights a certain ability, please reach out!