Splinterlands provides all players the ability to determine which format they play in: Modern or Wild. Both have benefits and whether you choose one, the other, or both is totally up to you. Consider your collection as well as style of play when determining whether to compete in Modern or Wild.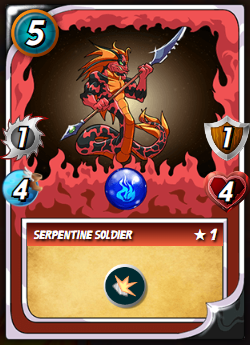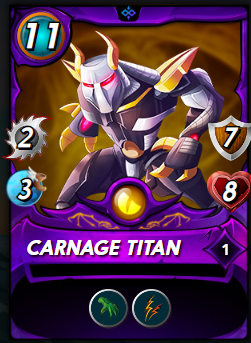 Wild Alpha Frame Modern Chaos Legion Frame
Sets:
Previously, cards were grouped by Edition. The move to Modern and Wild formats prompted the need to group cards by Set. Currently, there are 4 sets.
Alpha Set: Alpha + Promo cards with Alpha borders
Beta Set: Beta + Promo cards with Beta borders + Reward cards with Beta borders
Untamed Set: Untamed + Promo cards with Untamed borders + Reward cards with Untamed borders + Dice edition
Chaos Legion Set: Chaos Legion + Promo cards with Chaos Legion borders + Reward cards with Chaos Legion borders + Riftwatchers edition
Rebellion Set: Keep an eye out for release this summer!
**Use Card Market Filters at the top of the Cards and Market pages to sort cards by set
Wild Format
Wild Format uses all cards that Splinterlands has printed thus far. This includes Alpha, Beta, Untamed, Dice, Chaos Legion as well as all Reward and Promo cards. This format will also include future prints such as the Rebellion Set.
Modern Format
Modern will always contain cards from the two most recent sets. Currently, those sets are Chaos Legion and Untamed sets, as well as their associated Reward, Promo, and mini sets. Once Rebellion is released, the Untamed set will move to the Wild format - exclusively.
New players who choose to outright purchase their decks will have greater success with entry into the Modern format as it uses newer and generally less expensive cards. However it is possible to build a stellar Wild deck supplemented with rentals (at a mere fraction of the price of purchase). The choice is yours!
**Please note: If you rent or buy a Wild specific card, it will not be playable in the Modern format
What about Gladiator Cards?
Gladiator cards are not included in a set as previously defined. They will only be usable in battles or brawls when the ruleset or conscript ability is in play.
How can I move between Modern and Wild Formats?
You can select your preferred format by toggling between Modern and Wild at the top of your Battle Page.

How can I tell whether a card is Modern or Wild at a Glance?
Compare the frames. Untamed or Chaos Legion style frames are considered Modern. Eventually, you will be able to tell whether a card has a Modern or Wild frame at a glance!
Wild Frame
Alpha Beta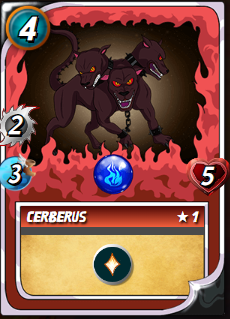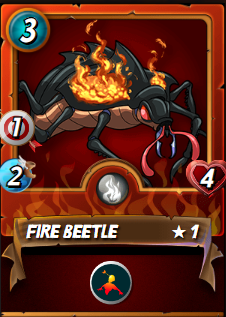 Modern Frame
Chaos Legion Untamed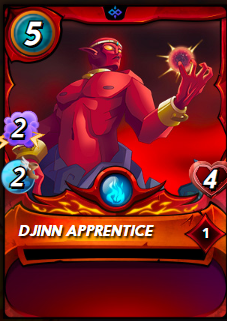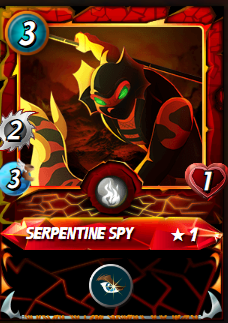 MonsterMarket allows you to search for monsters specifically contained within either format as well.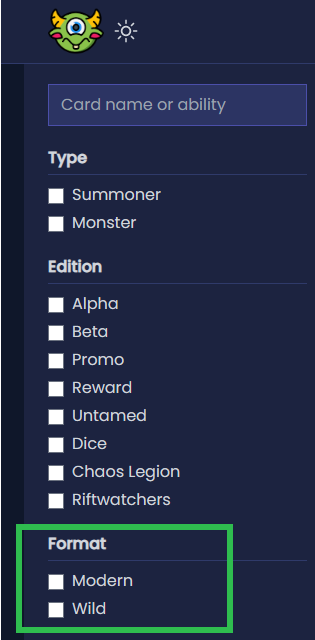 How Do Rewards Work in Modern and Wild?
Season reward chest tier is based on the maximum league achieved in the previous season in either format.
A player's Daily Focus chest tier is based on the current best league between the Modern & Wild formats, at the time the Daily Focus is started.
Reward Points earned in both Modern and Wild formats contribute to a player's Daily Focus and Season Rewards.
In order to earn Reward Points, you must be at least Bronze III in either the Modern or Wild format.
What about Tournaments?
Tournaments will move towards the Set model once the release is complete. Tournaments created before or during the transition time will will adhere to the previous standard.
Want to learn more about Modern and Wild? Review the Official Peakd Post announcing the change and the most recent installment: Tournaments & Brawls Card Sets Update
Please feel free to reach out to tech support with any questions or issues. We are happy to help! If you are a new player, the articles below should be of some use to you. Happy Battling!
New Player Guide: Getting Started