Affliction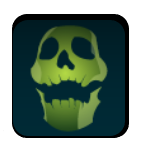 "When a unit with Affliction hits a target, it has a chance of applying Affliction on the target causing it to be unable to be healed"
50% chance of Affliction taking effect
Notable Rulesets
| | |
| --- | --- |
| Top 3 Rulesets | Bottom 3 Rulesets |
| Holy Protection - Affliction can take effect even with Divine Shield active. Rob your opponent of the full benefit of this ruleset with Affliction | Healed Out - Affliction is not necessary with this rule set as healing is not possible |
| Equalizer - Your opponent may take advantage of this ruleset by using healers to maintain the high health level. Prevent this by using Affliction to undermine their efforts | Lost Magic - Many units that use affliction are magic cards. Consider this as a factor when preparing your team for this ruleset. |
| Noxious Fumes - Knowing that noxious fumes depletes the health of your team each round, opponents may use healing abilities to keep their units alive. Prevent this with affliction. | Earthquake - Non flying units take damage each round. Currently, no flying units with affliction exist, so it may not be advisable to use them. Consider this as a factor when preparing for this ruleset. |
Notable Abilities
| | |
| --- | --- |
| Top 3 Abilities | Bottom 3 Abilities |
| Camouflage - Avoid detection particularly by units with snipe | Cripple - Affliction prevents healing all together. |
| Scavenger - Units with scavenger gain 1 max health each time any monster dies. Affliction speeds death, benefit from this interaction with scavenger. | Scattershot - Units with affliction should generally focus on the tank which is most often preferred for healing. |
| Poison - Prevent healing AND decrease health using poison | Amplify -Increases magic reflect, return fire, and thorns to all enemy units. Affliction is not directly benefitted by this ability, but units with affliction may take damage after attacking. |
Remarkable Interactions
Affliction can be Cleansed. When confronting a team that is likely to use affliction, be sure to include a units with the cleanse ability.
Summoners with Affliction: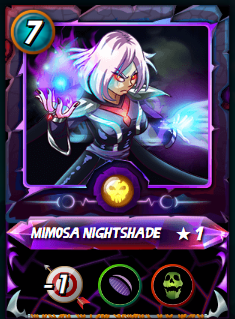 With a mana cost of 7, Mimosa Nightshade deals -1 to ranged attack units on your opponent's team. Void grants your units reduced damage from Magic attacks. Once activated, affliction prevents your opponent's units from healing. Mimosa is a valuable asset to any team seeking to show dominance. against ranged and magic/healing reliant teams.
Monsters with Affliction:
*Consider using https://monstermarket.io/ to search for Monsters and Summoners by ability
Curious about how to create higher level cards? Learn How to Increase Card Levels by Combining Cards
Before combining, ensure that you have a summoner that can call the Monster forth! Summoning Monster Restrictions
Useful Links:
Top 10 Tips for Splinterlands Players Who Are New to Blockchain Gaming
Where Can I Listen to or Watch the Town Hall?
Questions about a specific battle or interaction?
Reach out to tech support! Be sure to include a link to the battle as well as a clear question or statement regarding your concern. How do I request clarification about a battle from tech support?
We are also happy to hear any feedback regarding our articles as well. If you have a battle to share that highlights a certain ability, please reach out!