Bloodlust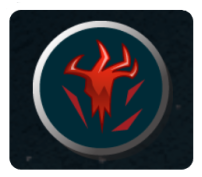 "This monster revels in the glory of combat and becomes more dangerous as the battle goes on. Every time it defeats an opponent, it gets +1 to all stats."
Bloodlust can be Dispelled
Notable Rulesets
| | |
| --- | --- |
| Top 3 Rulesets | Bottom 3 Rulesets |
| Equal Opportunity - All units gain the opportunity ability which allows them to attack the unit with the lowest health on the enemy team. Placing your bloodlust monster on the backline will almost ensure that they get a kill. | Fog of War - Without sneak, snipe, or opportunity abilities, attacks may be more concentrated on your tank, killing it sooner and preventing the bloodlust ability from being triggered. |
| Melee Mayhem - Because melee monsters can attack from any position with this rule set, your blood lust monster can be placed in a protected position in the back line. More opportunity to attack without being at as high of a risk for attack | Unprotected - Removing armor from monsters exposes their health directly to attack. Monsters with bloodlust need their shields to stay in the game long enough for bloodlust to trigger. Likewise, the ability to attack the main health stat of their target may allow the bloodlust ability to trigger sooner. |
| Explosive Weaponry - If your bloodlust monster kills an adjacent monster with bloodlust, the ability will trigger. Some special circumstances will create a 2 for 1 effect | Equalizer - It may take longer for the blood lust ability to trigger especially if all monsters have high health |
Notable Abilities
| | |
| --- | --- |
| Top 3 Abilities | Bottom 3 Abilities |
| Piercing - Allow your monster to pierce through your opponent's shield and attack the main health stat. | Forcefield - when played by your opponent, their Monster takes only 1 damage from attacks with power 5+ |
| Rust - reduce the armor of enemy monsters opening them up to a faster death. | Halving - when played by your opponent, this severely reduces your attack power, further reducing the likelihood that bloodlust will be activated. |
| Inspire - +1 melee attack increases the odds your monster will destroy your opponent's with a single strike | Stun - when played by your opponent, this can prevent your monster from attacking. Making them an easy target to destroy without getting in an attack. Hope they do not pair stun with Knock Out! |
Remarkable Interactions
Take advantage of any rulesets that allow melee monsters to attack from various positions - this keeps them out of the line of fire and could allow more opportunity for Bloodlust to take hold!
Bloodlust can be triggered by killing a monster with Blast, Thorns, Magic Reflect, Return Fire, Retaliate, or Poison.
In the Reverse Speed ruleset, speed WILL increase when bloodlust is triggered. Weigh this when considering whether to include a monster with bloodlust in your lineup here.
Currently no Summoners with Bloodlust exist
However, Summoners with the Conscript ability can add 1 additional Gladiator card to your lineup. Within Brawls, up to 2 gladiator cards may be used. Within Ranked battles, 1 Gladiator card may be used.
Monsters with Bloodlust:
Curious about how to create higher level cards? Learn How to Increase Card Levels by Combining Cards
Before combining, ensure that you have a summoner that can call the Monster forth! Summoning Monster Restrictions
Useful Links:
Top 10 Tips for Splinterlands Players Who Are New to Blockchain Gaming
Where Can I Listen to or Watch the Town Hall?
Questions about a specific battle or interaction?
Reach out to tech support! Be sure to include a link to the battle as well as a clear question or statement regarding your concern. How do I request clarification about a battle from tech support?
We are also happy to hear any feedback regarding our articles as well. If you have a battle to share that highlights a certain ability, please reach out!