Piercing
"If Melee or Ranged attack damage is in excess of the target's Armor, the remainder will damage the target's Health."
Attack Accuracy applies
Notable Rulesets
| | |
| --- | --- |
| Top 3 Rulesets | Bottom 3 Rulesets |
| Armored Up - Pierce through your opponents armor and attack their health stat directly - and sooner than you would otherwise | Unprotected - all armor is removed from this ruleset. Consider whether a monster with pierce is the best option. |
| Aim True - Be sure that your attacks will always hit their targets with aim true. Do not let your high attacks go to waste! | Briar Patch - melee monsters take damage when attacking (unless they have reflection shield) Consider whether the opportunity to pierce is worth the damage taken. |
| Heavy Hitters - all monsters gain the knockout ability - double damage to enemies that are stunned. Coupled with pierce, this attack on a stunned monster could take them out of the battle. | Back to Basics - monsters lose all abilities. Consider whether a monster with pierce is the best choice despite loss of this ability. Review strength of attack, position, and speed. |
Notable Abilities
| | |
| --- | --- |
| Top 3 Abilities | Bottom 3 Abilities |
| Rust - Reduces the Armor of all enemy Monsters. If your opponent is likely to stack armor heavily upon their monsters, piercing and rust will help you break through it. | Return fire - if you play a ranged attack monster with pierce while your opponent plays a monster with return fire, your monster will take damage from each attack landed |
| Inspire - all friendly Monsters receive +1 Melee attack. Combined with piercing, your melee monsters may be able to kill with a single strike. | Protect - If your opponent plays a monster with protect, their team receives +2 armor. If your piercing attack is lower, it may not reach the main health stat |
| Retaliate - Damage opponents who dare to strike you. Break through the armor of any offender. | Blind - If your opponent plays a monster with blind, all enemy melee and ranged attacks will have an increased chance of missing their target. Only pierce in combination with true strike will prevent this (Jared Scar - Level 2) |
Remarkable Interactions
Monsters with Pierce help to get through your Opponent's front line - opening up their team for devastation.
Summoners with Piercing: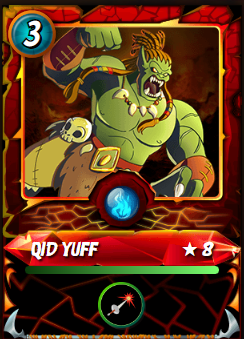 With a mana cost of 3, Qid Yuff is an exceedingly useful summoner for low mana cap battles. Try pairing him with Grum Flameblade to trigger the Bloodlust ability!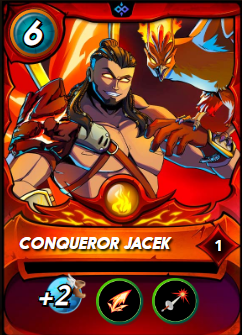 Conqueror Jacek gives +2 speed, Scattershot, and the Piercing ability to all friendly monsters. Combined with ranged monsters equipped with blast, he has the ability to devastate your opponent's backline and render armor useless.
Monsters with Piercing
*Consider using https://monstermarket.io/ to search for Monsters and Summoners by ability
Curious about how to create higher level cards? Learn How to Increase Card Levels by Combining Cards
Before combining, ensure that you have a summoner that can call the Monster forth! Summoning Monster Restrictions
Useful Links:
Top 10 Tips for Splinterlands Players Who Are New to Blockchain Gaming
Where Can I Listen to or Watch the Town Hall?
Questions about a specific battle or interaction?
Reach out to tech support! Be sure to include a link to the battle as well as a clear question or statement regarding your concern. How do I request clarification about a battle from tech support?
We are also happy to hear any feedback regarding our articles as well. If you have a battle to share that highlights a certain ability, please reach out!
**Disclaimer: Individuals are solely responsible for gameplay and developing their own unique strategies. Information shared by Splinterlands Tech Support does not guarantee success. Be sure to stay up to date on the introduction of new cards, abilities, and rulesets as they may impact the relevancy of certain information. If you have any questions or suggestions Submit a Request.