Poison
"Attacks have a chance to apply poison, which does automatic damage to the target at the beginning of each round after the poison is applied."
50% chance of activation
Notable Rulesets
| | |
| --- | --- |
| Top 3 Rulesets | Bottom 3 Rulesets |
| Holy Protection - Poison can take effect even with Divine Shield active. Rob your opponent of the full benefit of this ruleset with Poison | Counterspell/Fire & Regret/Briar Patch - Ensure that your monster can dish what they dish out! Consider adding a layer of protection, or utilizing a monster with void to protect your monsters |
| Equalizer - Your opponent may take advantage of this ruleset by using healers to maintain the high health level. Prevent this by using Poison to undermine their efforts | Target Practice - All magic and ranged monsters possess the Snipe ability. Ensure that your monster with Poison is well protected against the onslaught! |
| Healed Out - Poison adds insult to injury by preventing healing in addition to damaging your opponent. | Back to Basics - monsters lose all abilities. Consider whether the other stats that your monster with Poison possesses makes them a good fit for your lineup. |
Notable Abilities
| | |
| --- | --- |
| Top 3 Abilities | Bottom 3 Abilities |
| Camouflage - Avoid detection particularly by monsters with snipe. Allowing your monster with Poison to survive while dealing out damage. | Cleanse - Removes all negative effects on the Monster in the first position on the friendly team. |
| Scavenger - Monsters with scavenge gain 1 max health each time any monster dies. Poison speeds death, benefit from this interaction with scavenge. | Immunity - If your opponent plays a monster with Immunity, be aware that poison will have no effect on it. |
| Affliction - Prevent your opponent from healing whilst you poison them slowly. | Phase - this ability allows magic attacks to be evaded. Consider the impact of this ability when using a magic monster with Poison in your lineup. |
Remarkable Interactions
Poison is not effected by shield, void, or armor buffs.
Review Abilities & Status Effects
Monsters that are cleansed or resurrected will not be re-applied unless another poison attack is activated/received
Summoners with Poison: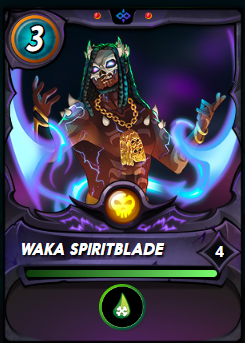 Waka Spiritblade grants each friendly monster the Poison ability. Consider adding a multitude of monster with different targets to your lineup - poisoning the majority of the opposing team. (Sneak, Snipe, Opportunity, Scattershot).

Fun Fact: Waka Spiritblade made its debut as a Promo Card
Monsters with Poison:
*Consider using https://monstermarket.io/ to search for Monsters and Summoners by ability
Curious about how to create higher level cards? Learn How to Increase Card Levels by Combining Cards
Before combining, ensure that you have a summoner that can call the Monster forth! Summoning Monster Restrictions
Useful Links:
Top 10 Tips for Splinterlands Players Who Are New to Blockchain Gaming
Where Can I Listen to or Watch the Town Hall?
Questions about a specific battle or interaction?
Reach out to tech support! Be sure to include a link to the battle as well as a clear question or statement regarding your concern. How do I request clarification about a battle from tech support?
We are also happy to hear any feedback regarding our articles as well. If you have a battle to share that highlights a certain ability, please reach out!
**Disclaimer: Individuals are solely responsible for gameplay and developing their own unique strategies. Information shared by Splinterlands Tech Support does not guarantee success. Be sure to stay up to date on the introduction of new cards, abilities, and rulesets as they may impact the relevancy of certain information. If you have any questions or suggestions Submit a Request.