Blind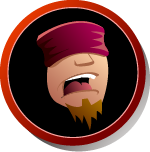 "All enemy Melee & Ranged attacks have an increased chance of missing their target."
+15% chance of evading
Notable Rulesets
| | |
| --- | --- |
| Top 3 Rulesets | Bottom 3 Rulesets |
| Up Close and Personal - Only monsters with melee attacks can be used, so all enemy monsters will be impacted by Blind | Aim True - makes sure melee and ranged never miss. |
| Lost Magic - Preventing magic monsters from being used makes Blind especially effective, as it will impact all monsters on your opponents team | Armored up - Your opponent may be more prone to choose magic attacks here, making Blind less useful |
| Super Sneak - Force your opponent to focus on the last monster on your team - If you use a high speed monster with dodge or flying Blind increases the odds that those attacks will miss. | Broken Arrows - Monsters with ranged attacks cannot be used. In this case, blind is less impactful as it does not impact magic monsters |
Notable Abilities
| | |
| --- | --- |
| Top 3 Abilities | Bottom 3 Abilities |
| Backfire - If an enemy misses this Monster with an attack, the attacker takes 2 damage | Thorns - blinding your opponents melee monster makes it less likely they will strike your monster - preventing them from taking damage from thorns |
| Flying - has an increased chance of evading Melee or Ranged attacks from Monsters who do not have the flying ability. | True Strike - if this ability is played by your opponent, it will negate blind |
| Swiftness - all friendly monsters have increased speed. Dodging attacks is the key to success. | Blind works well with most abilities as it increases the likelihood that your opponent will miss |
Remarkable Interactions
Blind is cumulative with Dodge and flying - a maximum of 65% chance of evading ranged or melee attacks is possible.
Blind has no impact on magic attacks. These only miss when the Phase ability is involved.
Review the Attack Accuracy guide
Summoners with Blind: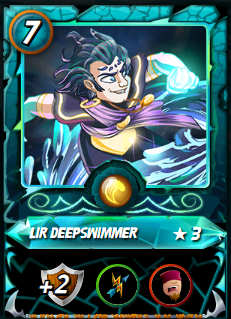 Lir Deepswimmer adds +2 armor, the Return Fire ability, and Blind. At a mana cost of 7, this card is particularly useful with rulesets the likelihood that your opponents will use ranged attack monsters (Lost Magic, Keep Your Distance)
Monsters with Blind:
*Consider using https://monstermarket.io/ to search for Monsters and Summoners by ability
Curious about how to create higher level cards? Learn How to Increase Card Levels by Combining Cards
Before combining, ensure that you have a summoner that can call the Monster forth! Summoning Monster Restrictions
Useful Links:
Top 10 Tips for Splinterlands Players Who Are New to Blockchain Gaming
Where Can I Listen to or Watch the Town Hall?
Questions about a specific battle or interaction?
Reach out to tech support! Be sure to include a link to the battle as well as a clear question or statement regarding your concern. How do I request clarification about a battle from tech support?
We are also happy to hear any feedback regarding our articles as well. If you have a battle to share that highlights a certain ability, please reach out!