Phase
"Magic attacks can miss this Monster"
Using the same hit/miss calculation as for Melee and Ranged attacks
Notable Rulesets
| | |
| --- | --- |
| Top 3 Rulesets | Bottom 3 Rulesets |
| Wands Out - Magic monsters only can be used - rendering the phase invaluable to victory within this ruleset | Aim True - monsters always hit their targets rendering phase ineffectual. |
| Broken Arrows - Ranged attack monsters can not be used. This increases the likelihood that magic attacks will be used - making Phase all the more useful | Lost Magic - Without magic attacks to dodge, phase will not come into play. |
| Target Practice - All monsters gain the snipe ability. Consider placing your monster with Phase in the second position to draw (and evade) snipe attempts from magic monsters. You can further increase your odds by adding speed and evasive maneuvers such as dodge. | Up Close and Personal - Only melee monsters can be used - eliminating the need for Phase. |
Notable Abilities
| | |
| --- | --- |
| Top 3 Abilities | Bottom 3 Abilities |
| Swiftness - all friendly monsters have increased speed. This will further prevent your opponent from landing magic attacks | True Strike - If your opponent plays a monster with true strike, they are guaranteed to hit their target neutralizing evasion efforts. |
| Backfire - If an enemy misses this Monster with an attack, the attacker takes 2 damage | Poison - Even if you are able to evade most magic attacks, being struck just once with poison will force your monster to take damage each round. |
| Flying - any ability that aids in the evasion of attacks will benefit your monster with phase. | Evading magic attacks is useful when paired with practically any ability. Consider the rule set when determining whether to include a monster with Phase in your lineup. |
Remarkable Interactions
Review the Attack Accuracy Guide
Magic Attacks are always guaranteed to hit - unless the Phase ability is in play
Summoners with Phase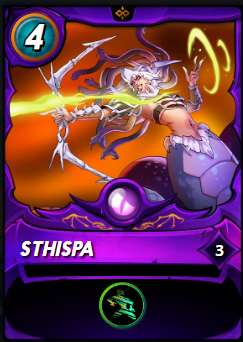 Sthispa grants all friendly monsters the Phase ability. Consider using her within magic heavy rule sets - like Wands Out.
Monsters with Phase:
*Consider using https://monstermarket.io/ to search for Monsters and Summoners by ability
Curious about how to create higher level cards? Learn How to Increase Card Levels by Combining Cards
Before combining, ensure that you have a summoner that can call the Monster forth! Summoning Monster Restrictions
Useful Links:
Top 10 Tips for Splinterlands Players Who Are New to Blockchain Gaming
Where Can I Listen to or Watch the Town Hall?
Questions about a specific battle or interaction?
Reach out to tech support! Be sure to include a link to the battle as well as a clear question or statement regarding your concern. How do I request clarification about a battle from tech support?
We are also happy to hear any feedback regarding our articles as well. If you have a battle to share that highlights a certain ability, please reach out!
**Disclaimer: Individuals are solely responsible for gameplay and developing their own unique strategies. Information shared by Splinterlands Tech Support does not guarantee success. Be sure to stay up to date on the introduction of new cards, abilities, and rulesets as they may impact the relevancy of certain information. If you have any questions or suggestions Submit a Request.