Redemption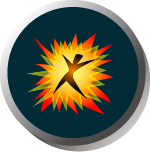 "When this Monster dies, it does 1 damage to all enemy monsters."
The damage dealt follows the rules of melee attacks and strikes armor first.
Notable Rulesets
| | |
| --- | --- |
| Top 3 Rulesets | Bottom 3 Rulesets |
| Earthquake/Noxious Fumes - any ruleset that helps to speed your monster with redemption towards death will benefit you. The value of 1 damage to all enemy monsters can not be over stated. | Equalizer - Starting off on even footing as far as health goes can be useful in general. However, consider that your monster with redemption may outlive other members of your lineup. Preventing the 1 damage to enemy monsters from taking effect in a timely fashion. Be sure to place your monster strategically if you choose to include it in your lineup. |
| Counterspell/Fire & Regret/Briar Patch - Depending upon your strategy, you may choose to sacrifice your monster with redemption early to reap the rewards of +1 damage to your opponent. These rulesets are ideal for such an action. | Armored Up - +2 armor to all monsters. If your monster with redemption dies early, that damage will hit armor before health |
| Target Practice - All ranged and magic attack monsters have the Snipe ability. Consider placing your monster strategically - as fodder for sniping monsters. | What Doesn't Kill You - All monsters have the Enrage ability. Redemption could very well trigger this across all of your opponent's monsters. Use with caution |
Notable Abilities
| | |
| --- | --- |
| Top 3 Abilities | Bottom 3 Abilities |
| Rust - Reduces the armor of enemy monsters. If this is in play when redemption triggers, it is more likely that the main health stat will be impacted. | Martyr - the perfect counter to redemption. Upon death, this monster adds +1 to all stats of friendly monsters. This can negate your use of redemption, or, if you choose to employ both martyr and redemption, widen the gap between you and your opponents health. |
| Affliction - Prevent your opponent from recovering from redemption via healing. | Shield - protects against redemption damage |
| Blast - Redemption can be particularly effective when blast is involved. Not only can your monster with redemption act as a blast shield (when placed in the second position) for your back line, but the damage they deal to your opponent upon death may help to secure your victory. | Protect - If your opponent plays a monster with protect, be advised that redemption damage will strike armor first. Consider strategically placing your monster with redemption strategically so that they perish after your opponent's armor has been neutralized. |
Remarkable Interactions
Redemption can not be dodged by your opponent but the impact of the damage can be lessened with shield.
When the Redemption ability is activated, it will inflict one damage to all enemy monsters without any interruptions. That means, if the Redemption ability was to kill a monster, that monster won't die until all other monsters were to be inflicted by Redemption first.

In addition, if the Redemption ability kills a monster that has Redemption on the enemy team, their Redemption will trigger as soon as the first Redemption ends, but still without any interruptions. That means abilities like Scavenger won't activate until both Redemptions are completely over.
No Summoners with Redemption Exist:
Monsters with Redemption:
*Consider using https://monstermarket.io/ to search for Monsters and Summoners by ability
Curious about how to create higher level cards? Learn How to Increase Card Levels by Combining Cards
Before combining, ensure that you have a summoner that can call the Monster forth! Summoning Monster Restrictions
Useful Links:
Top 10 Tips for Splinterlands Players Who Are New to Blockchain Gaming
Where Can I Listen to or Watch the Town Hall?
Questions about a specific battle or interaction?
Reach out to tech support! Be sure to include a link to the battle as well as a clear question or statement regarding your concern. How do I request clarification about a battle from tech support?
We are also happy to hear any feedback regarding our articles as well. If you have a battle to share that highlights a certain ability, please reach out!
**Disclaimer: Individuals are solely responsible for gameplay and developing their own unique strategies. Information shared by Splinterlands Tech Support does not guarantee success. Be sure to stay up to date on the introduction of new cards, abilities, and rulesets as they may impact the relevancy of certain information. If you have any questions or suggestions Submit a Request.