Recharge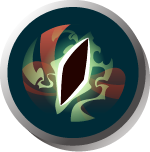 "This Monster attacks every other round but does 3x damage."
Attack Accuracy rules apply
Notable Rulesets
| | |
| --- | --- |
| Top 3 Rulesets | Bottom 3 Rulesets |
| Equalizer - The initial Health of all Monsters is equal to that of the Monster on either team with the highest base Health. Higher health provides more runway - allowing your monster with charge to attack! | Target Practice - All ranged and magic attack monsters have the Snipe ability - if you choose to use a monster with recharge within this ruleset, ensure that they are placed strategically to avoid an early death by snipe. |
| Super Sneak/Equal Opportunity - Rulesets that determine where monsters are ideal for recharging monsters. Diverting attacks away will ensure that they are able to strike every other round. | Briar Patch/Counterspell/Fire & Regret - Ensure that your recharged monster can take what they dish out! While attacking every other round may be beneficial here, consider the possibilities before including a monster with recharge in your lineup. |
| Unprotected - Without armor, you can ensure that your attacks hit your opponent's main health stat for maximum damage. | Noxious Fumes - Without cleanse, immunity, or heal your monster with recharge may succumb to poison before landing a successful attack. Time is of the essence within this ruleset. |
Notable Abilities
Top 3 Abilities
Bottom 3 Abilities
Taunt/Camouflage - Any ability that draws attacks away from your recharging monster are beneficial - allowing your monster to attack before being destroyed.
Stun - If your opponent uses stun, your monster will not be able to attack. A monster that uses recharge can only attack every other round - being robbed of a single attack can make all the difference.

Conversely, if you use stun, it may buy your monster more time to attack!
Piercing - do not let your 3x damage attack go to waste by ensuring that after destroying armor, residual power attacks the main health stat of your opponent.
Forcefield - If the giant you seek to destroy has forcefield, be aware that attacks of 5+ will only do 1 damage. This can negate the impact of recharge.
Strengthen - Add additional health to your monsters, allowing your recharging monster more time to attack!
Blind/Phase - Ranged/Melee and Magic attacks, respectively, will have reduced accuracy when these abilities are involved. You just might miss that 3x attack.
Remarkable Interactions
Within the Back to Basics ruleset, this monster loses the recharge ability and will attack each round at normal strength.
No Summoners with Recharge Exist
Monsters with Recharge:
*Consider using https://monstermarket.io/ to search for Monsters and Summoners by ability
Curious about how to create higher level cards? Learn How to Increase Card Levels by Combining Cards
Before combining, ensure that you have a summoner that can call the Monster forth! Summoning Monster Restrictions
Useful Links:
Top 10 Tips for Splinterlands Players Who Are New to Blockchain Gaming
Where Can I Listen to or Watch the Town Hall?
Questions about a specific battle or interaction?
Reach out to tech support! Be sure to include a link to the battle as well as a clear question or statement regarding your concern. How do I request clarification about a battle from tech support?
We are also happy to hear any feedback regarding our articles as well. If you have a battle to share that highlights a certain ability, please reach out!
**Disclaimer: Individuals are solely responsible for gameplay and developing their own unique strategies. Information shared by Splinterlands Tech Support does not guarantee success. Be sure to stay up to date on the introduction of new cards, abilities, and rulesets as they may impact the relevancy of certain information. If you have any questions or suggestions Submit a Request.