Last Stand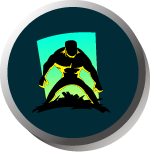 "Gains increased stats if it's the only Monster on the team alive."
Last stand will increase all stats of a creature by 1.5X (rounded up) when the creature is the last standing.
Notable Rulesets
| | |
| --- | --- |
| Top 3 Rulesets | Bottom 3 Rulesets |
| What Doesn't Kill You - All monsters are granted increased speed and melee attacks when damaged. If your melee monster is the last standing and enraged, their stats alone may guarantee victory. | Super Sneak - If you choose to use Last Stand within this ruleset, ensure that you place your intended Last Stand monster strategically to avoid them getting picked off before it is time. |
| Fog Of War - With sneak, snipe, and opportunity disabled, your intended Last Stand monster is more likely to make it to the end - max health stat intact! | Little Leagues - Currently, no monsters or summoners with a mana cost of 4 or below exist AND the last stand ability exist. Rendering this ability unusable within this ruleset. |
| Noxious Fumes - Ideal use case for Scarred Llama Mage who cleanses monsters in the first position, the increase in stats to your last monster may help to secure victory. | Aimless - The scattershot ability may allow your opponent to pick off your intended Last Stand monster before they are able to step into their full power. When encountering this ruleset, consider adding multiple monsters that would do well with Last Stand to your lineup. |
Notable Abilities
Top 3 Abilities
Bottom 3 Abilities
Taunt - direct attacks away from the monster you intend to have its Last Stand by focusing your opponent's attacks on a different monster
Stun - If your opponent uses stun, your monster will not be able to attack even if Last Stand is in play.
Heal - A monster with Last Stand and the Healing ability is a formidable foe indeed. Deal devastating attacks while healing from your opponent's attempts to take you down each round. Consider the Scarred Llama Mage and Kron the Undying
combination.
Poison - without Cleanse, your monster will take damage each round. This can prevent your intended Last Stand monster from making it to the end.
Shield/Forcefield/Void - Any ability that reduces the impact of your opponent's attacks serve you.
Forcefield - A double edged sword - your monster with last stand will benefit with extra protection from attacks of 5+. However, if your opponent plays a card with forcefield, your Last Standing monsters attacks of 5+ will only deal 1 damage to the offending monster.
Remarkable Interactions
During the round that a monster activates Last Stand, its attack order remains based on its original speed before it was boosted by Last Stand.
Summoners with Last Stand: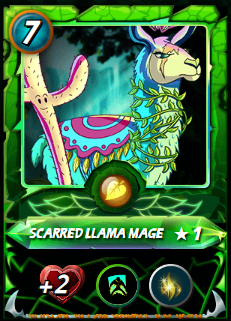 Scarred Llama Mage is arguably one of the most over powered summoners in Splinterlands. Not only will Cleanse remove negative effects from your monster in first position throughout, but it also adds +2 to health in addition to the Last Stand ability. Beware the Scarred Llama Mage and Kron the Undying combo!
Monsters with Last Stand:
*Consider using https://monstermarket.io/ to search for Monsters and Summoners by ability
Curious about how to create higher level cards? Learn How to Increase Card Levels by Combining Cards
Before combining, ensure that you have a summoner that can call the Monster forth! Summoning Monster Restrictions
Useful Links:
Top 10 Tips for Splinterlands Players Who Are New to Blockchain Gaming
Where Can I Listen to or Watch the Town Hall?
Questions about a specific battle or interaction?
Reach out to tech support! Be sure to include a link to the battle as well as a clear question or statement regarding your concern. How do I request clarification about a battle from tech support?
We are also happy to hear any feedback regarding our articles as well. If you have a battle to share that highlights a certain ability, please reach out!
**Disclaimer: Individuals are solely responsible for gameplay and developing their own unique strategies. Information shared by Splinterlands Tech Support does not guarantee success. Be sure to stay up to date on the introduction of new cards, abilities, and rulesets as they may impact the relevancy of certain information. If you have any questions or suggestions Submit a Request.