Trample
"When a Monster with Trample hits and kills its target with a Melee attack, it will perform another Melee attack on the next Monster on the enemy Team"
The Trample ability is triggered based on the sequential order of the opponent's monster positions.
Notable Rulesets
| | |
| --- | --- |
| Top 3 Rulesets | Bottom 3 Rulesets |
| Stampede - Trample will be able to retrigger infinitely as long as the trampling monster keeps killing other monsters. | Super Sneak - Trample will not trigger when killing the monster in the last position. |
| Heavy Hitters - doubles attack on stunned monsters increasing the likelihood of triggering the Trample ability. | Keep your Distance - Melee attack monsters may not be used. |
| Melee Mayhem - Melee monsters can attack from any position. Placing your monster with Trample in the back row will increase the likelihood they get a kill before being killed themselves. | Fog of war - All monsters lose the sneak, snipe, and opportunity abilities. This allows your opponent to focus more heavily on the trampling monster - if it is in first position. They are more likely to take it out before Trample can be triggered! |
Notable Abilities
| | |
| --- | --- |
| Top 3 Abilities | Bottom 3 Abilities |
| Retaliate - Trample will activate if a monster is killed by Retaliate. However, this only works if the monster with these two abilities is not killed when taking the attack. | Demoralize - If your opponent plays a monster with demoralize, your monsters suffer -1 to melee attack. This makes it more difficult to defeat enemy monsters, triggering the trample ability. |
| Enrage - when damaged, your monster will have increased melee attack and speed. This might be the buff you need to defeat your enemies monster and trigger the trample ability! | Halving - If your opponent plays a monster with the halving ability, be aware that the targeted monster will have their attack reduced by half - rounded down. |
| Piercing - If Melee or Ranged attack damage is in more that the target's Armor, the excess will damage the target's health. | Forcefield - Monsters with this ability only take 1 damage when struck with attacks of 5+. If played by an opponent, this can seriously hamper the trample ability. |
Remarkable Interactions
If the opponent has a camouflaged creature in play during the Super Sneak ruleset and in the very back position where a sneak ability creature would normally attack, it is possible for a trample creature to attack the creature second to last instead, and then trample into the camouflaged creature, since the creature has nothing else to trample into (Since trample never works backwards).
When a monster with Trample kills the monster in the first position, but that monster gets resurrected, the Trample ability will target the monster in the opponent's second position.
Trample only works forward and not backward. If a monster with Trample kills the last monster, then it will not activate to hit the previous monster.
Review the Stampede Ruleset Explanation for additional information about Trample interactions.
Summoners with Trample: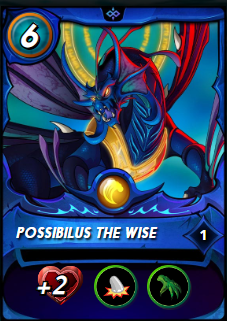 With a mana cost of 6, Possibilus the Wise provides +2 to health, Reach, and the trample ability. This summoner is especially useful with the Stampede ruleset as it provides more of your monsters the ability to trample!
Monsters with Trample:
*Consider using https://monstermarket.io/ to search for Monsters and Summoners by ability
Curious about how to create higher level cards? Learn How to Increase Card Levels by Combining Cards
Before combining, ensure that you have a summoner that can call the Monster forth! Summoning Monster Restrictions
Useful Links:
Top 10 Tips for Splinterlands Players Who Are New to Blockchain Gaming
Where Can I Listen to or Watch the Town Hall?
Questions about a specific battle or interaction?
Reach out to tech support! Be sure to include a link to the battle as well as a clear question or statement regarding your concern. How do I request clarification about a battle from tech support?
We are also happy to hear any feedback regarding our articles as well. If you have a battle to share that highlights a certain ability, please reach out!