Welcome back! At this point, you should already have reviewed the New Player Guide: Getting Started and are actively playing Splinterlands! If your win rate it not quite where you hope it to be, or you want help with strategies, please review this guide. p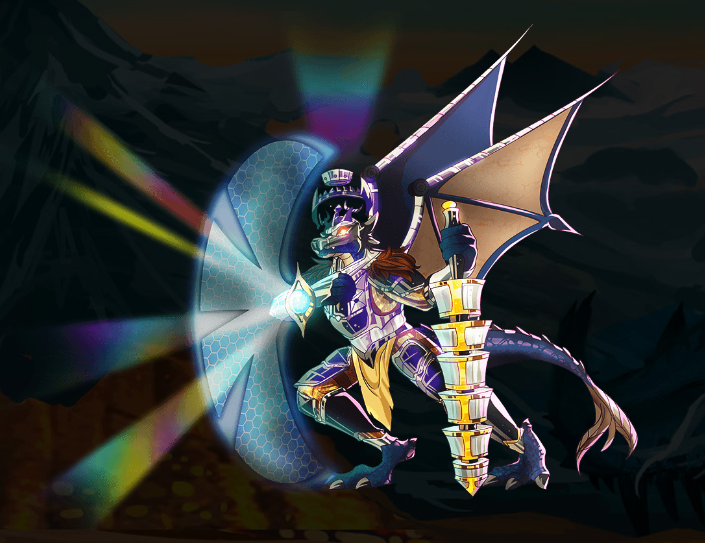 Even the best strategy does not guarantee success. Learning as much as you can about the cards and various ruleset will only increase your odds!
Overall Strategy
As an auto-battler, Splinterlands requires that you select a team, then watch the battle play out. There are a number of factors to take into consideration when selecting a team.
Refer to the How to Play guide on the Official Splinterlands website. Depending on what rulesets are given per match, teams will contain some combination of melee, magic or ranged monsters.
Positioning Notes:
Melee monsters may only attack in the first position UNLESS they have the Retaliate, Opportunity, Reach, Sneak, or Snipe abilities.
Ranged Monsters are not able to attack in the first position UNLESS they have the Close Range ability.
Magic Monsters may attack from any position.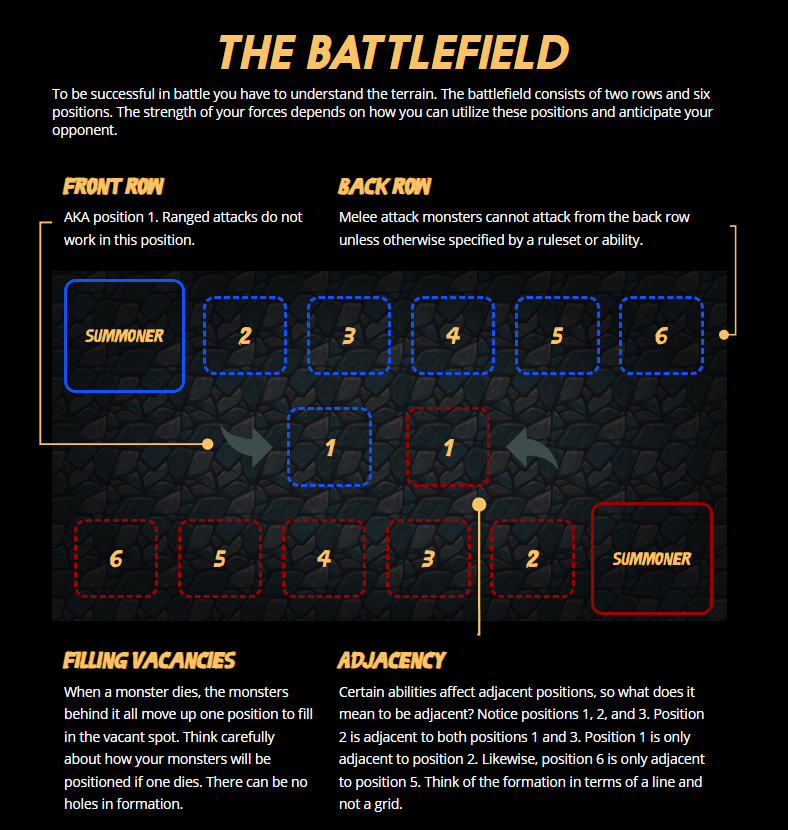 Mana Cap Notes:
Mana can be thought of as the cost to use a card in each battle. Mana caps range from 12-99.
The mana cost of your card can be found in the top left corner. Be sure to familiarize yourself with the other stats as will within the How to Play section of the game.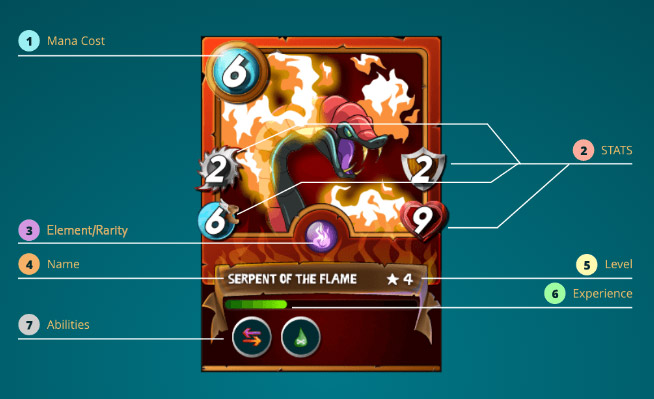 Using 0 or 1 mana cards to fill empty positions after choosing the rest of a team can be a useful strategy. Even if these monsters are not able to attack (same can, depending on level and rules), they can be useful as a sacrifice against monsters with sneak or opportunity, buying your tank more time to inflict maximum damage!
Analyzing Rulesets
Analyzing the ruleset within your battle is important to successful game play. Review this article detailing In-Game Rulesets.
*To search for monsters and summoners with specific abilities, you can input the ability into the search function on MonsterMarket or use Splintercards.com.
Sample Ruleset Strategies:

Aim True: "Melee and ranged attacks will always hit their target."
Utilize the Return Fire or Thorns ability to ensure that your opponent's monsters pay for the guaranteed hit they inflict on you.


Armored Up: "All monsters get a +2 armor buff at the beginning of the game."
Use monsters with Void Armor to ensure that magic attacks are not beneficial with this ruleset. You can also use Piercing or Shatter to lessen the value of the extra of your opponent.
Broken Arrows: "Monsters with ranged attack cannot be used"
You can use this information to your advantage by employing monsters with Thorns or Magic Reflect, as your opponent will have to use either melee or magic monsters. Be aware that they may do the same to you!
Close Range: "Monsters with ranged attacks are allowed to attack in the first position."
Be aware that this makes using ranged attack monsters more attractive, as they can now function as tanks. Using a monster or summoner with Return Fire will turn this around on your opponent. Consider using a ranged attack monster with Scavenger towards the back of your lineup - Venari Seedsmith or Iza the fanged are two options for this strategy.
Explosive Weaponry: "All monsters gain the blast ability."
Use monsters with Reflection Shield to limit the impact of Blast damage. Enrage is also useful as if your melee monsters are struck by Blast, the Enrage ability will trigger - increasing their attack damage.
Fog of War: "All monsters lose the sneak and snipe ability."
Utilize monsters with Scattershot to spread out your attacks beyond the enemy's tank.
Heavy Hitters: "All monsters gain the Knock Out ability."
Use a monster with Stun to trigger this ability. Enemy monsters must be Stunned before they are able to be Knocked Out.

Holy Protection: "All monsters gain the divine shield ability which reduces the damage of the first attack received to 0."
Use monsters or summoners with Blast to remove the Divine Shield buff from as many monsters on your enemies team as quickly as possible. Blast and Scattershot will cause the maximum damage here.
Additional Factors
Some abilities may override others. Refer to the chart below for reference.
Attack Order rules factor into which monsters attack first. Become familiar with the concepts in order to craft the ideal team per the ruleset.
Analyzing Your Opponent's Strategy
Splinterlands supplies the ability to view which teams your opponent played in the previous 5 matches. You can use this information to gain perspective on their preferred cards and strategies.
1. On the Match Begins screen, locate your opponent's Recently Played Teams: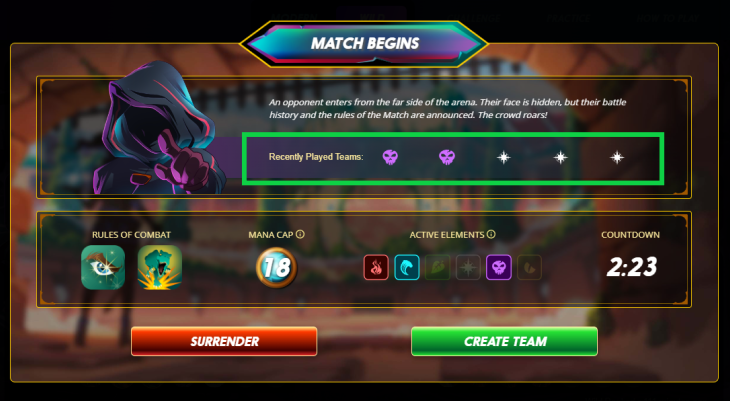 2. Hover over each Element Icon to view that team: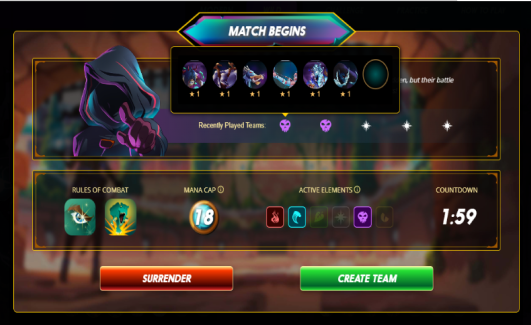 As you review your opponent's previously played teams, it will become easier to see what their Daily Focus may be, and thereby which cards they are most likely to play.
Tips:
Some players prefer melee teams, while others prefer magic and healing combinations. Others are purposefully complete wild cards, knowing that their previous teams will be analyzed by future opponents.
It is up to you to review these teams and the current ruleset(s) and factor these into your strategy.
Just as you can see your opponent's previously played teams, they can see yours as well. Refrain from playing the same teams repeatedly as they are likely to use that information against you.
Analysis of the previous teams your opponents have played is only a part of what should go into your strategy when selecting your team.
Defeating Commonly Used Teams
The teams below represent some of the more common lineups you will face. The reason for this is that these cards work well together. You can use these as suggestions or starting points for your own strategies, and take into account things like counter attacks to build more complex lineups. These suggestions take place within the MODERN format. The Wild format opens up many more possibilities as all cards from every possible Set are available to use.
Earth
Unicorn Mustang, Goblin Psychic, Regal Peryton, Mycelic Slipspawn
(additional monsters included below)

Earth teams can utilize a magic resistant tank backed by a magic wielding healer and other magic monsters. Confronting this team can seem daunting as the Unicorn Mustang begins with 10 health and is healed often.
Tips:
https://splinterlands.com?p=battle&id=sl_f1aa4cee27849ec217dabbb6d8deff99&
Fire
Lava Monster, Serpentine Spy, Tenyii Striker, Uraeus
(additional monsters included below)

Fire teams can utilize a more melee resistant tank such as Lava Monster. While securing the front end, the back line goes on the offensive - picking off your line up one by one.
Tips:
Counter this melee heavy team by renting the Mylor Crowling summoner. With each attack, the monsters will take damage from Thorns, given to all monsters on your team.
You can also employ monsters with Sneak, Snipe, or Opportunity to take out the enemy's back line, ideally before they can attack. To up the odds of this happening, include a monster with Slow to reduce your enemy's speed by 1.
https://splinterlands.com?p=battle&id=sl_742dc6f8d93aa1d1907ae93f9bc6391b&
Life
Shieldbearer, Venari Crystalsmith, Pelacor Arbalest
(additional monsters included below)

Life teams may utilize a combination of melee, ranged, and healing monsters. Using Taunt, Shieldbearer draws all of the attacks to it, allowing your enemy's backline to attack your cards without fear of taking damage.
Tips:
https://splinterlands.com?p=battle&id=sl_b3887a813968e2ad3c3a2a1368227ce0&
Water
Serpent of Eld, Deeplurker, Feasting Seaweed, Merdaali Guardian
(additional monsters included below)

Water teams may select Kelya Frendul as a summoner. By doing this, monsters gain +1 speed and +1 armor. This makes the Serpent of Eld even more likely to evade attacks, while Deeplurker and Feasting Seaweed are more likely to attack quickly, decimating your back line.
Tips:
To counter this team, consider using either a monster or summoner with Thorns so that melee monsters take damage after attacking.
Magic monsters are also a solid choice as they will bypass armor, striking directly at the health stat.
You can also use monsters with Slow to negate Kelya's +1 speed.
Dr. Blight uses Affliction to prevent Healing.
Monsters with Snipe take back line monsters out of the game early.
https://splinterlands.com?p=battle&id=sl_fae7b1bb8cbc53e3c16ed7a371e2a033&
Death
Cursed Windeku, Undead Badger, Soul Strangler
(additional monsters included below)

When encountering Death teams, Cursed Windeku can be one of the more frustrating tanks to defeat. Thorns deliver damage to any melee monsters which hit it. While Cursed Windeku holds the front line, back line monsters are able to attack your monsters, picking them off one by one.
Tips:
If your opponent is likely to use Cursed Windeku as a tank, consider relying more heavily on magic monsters for your win.
Mylor Crowling gives Cursed Windeku a taste of their own medicine with the Thorns ability, given to each monster on your team.
Mycelic Slipspawn uses Taunt to draw all enemy attacks to it. Healed by Goblin Psychic, this strategy allows your back line monsters to attack without fear of taking damage.
Focusing melee attacks on the back row and using a magic monster take down Cursed Windeku can be a good path to victory.
Consider using a Riftwatchers melee attack monster such as Corsair Bosun. Due to Reflection Shield, this monster does not take damage from Thorns.
https://splinterlands.com?p=battle&id=sl_d63c920d14f137954de7c33d3ac9582b&
Dragon
Dragon teams can pick any other element to add Dragon monsters to and provide an advantage. Consider the implications of Dragon summoners paired with other Elements.
Tips:
Quix the Devious deals -1 Ranged Attack and -1 Speed to all enemy monsters. Consider relying more heavily on magic and melee attacks.
Brighton Bloom gives all of the monsters on her team the Flying ability. This is particularly useful within the Earthquake ruleset. Be sure to include a monster with the Snare ability if flying monsters may be a concern in your next battle.
Drake of Arnak delivers +1 Armor to all monsters on his team. Consider relying more on magic monsters, or including a monster with Shatter or Piercing in your line up.
Rentable Game Changers
Renting powerful cards can help you break out of lower leagues and earn more rewards sooner. If you are looking to advance in the leagues, renting a high level deck can help you to achieve just that! Follow this guide learn How to Rent Cards.
*Keep in mind that several of these cards have a high mana cost, so make sure to consider this when selecting them for battles...
Summoners:

Yodin Zaku adds +1 to ranged attacks, blast, and health, allowing you to grant the power of destruction to even your lowest health and attack cards! Consider the implications of the Return Fire ruleset and ability - be sure that you do not dish out more than you can take!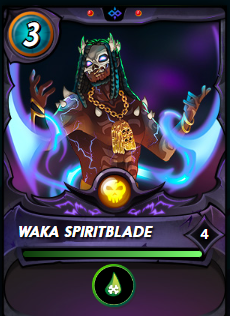 Waka Spiritblade is extremely effective in the lower leagues! Paired with the ability to Poison enemy monsters, your team will wreak havoc on your enemy!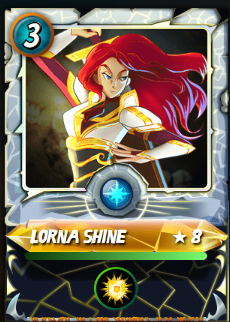 Armed with Divine Shield, Lorna Shine prevents all of your monsters from suffering damage from the first attack that strikes them! This is particularly useful for monsters with low speed, allowing them to get in an attack before taking damage.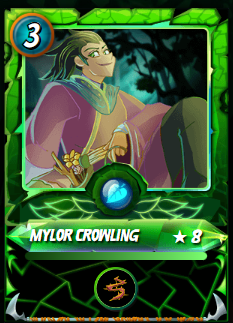 Mylor Crowling gives all of your monsters the Thorns ability. This causes melee monsters that attack your team to take damage themselves!
Monsters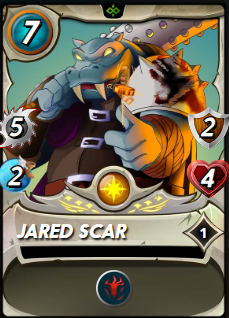 Consider renting Jared Scar to strengthen your Life team. With Bloodlust, "This monster revels in the glory of combat and becomes more dangerous as the battle goes on. Every time it defeats an opponent, it gets +1 to all stats (in the Reverse Speed ruleset, -1 to Speed)."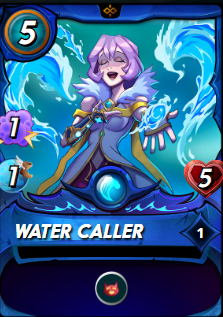 Using Stun, Water Caller is able to prevent the targeted monster from attacking. This can be a game changer if your opponent is heavily reliant on their tank for victory!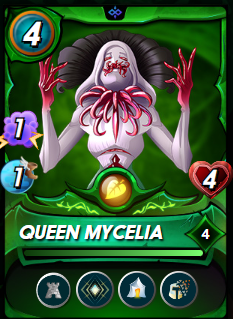 At level 1, Queen Mycelia not only Protects your team with +2 armor, but also delivers a +1 magic attack. When paired with the summoner Obsidian, Queen Mycelia is formidable indeed.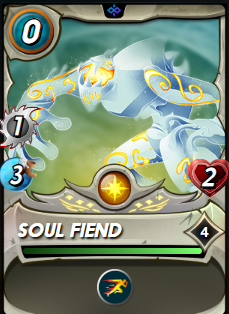 Low Mana cost cards ensure that your back line or any open spaces are filled. Consider renting Soul Fiend, Corpse Fiend, Scorch Fiend, Fungus Fiend, or Torrent Fiend for these 'monster shield' positions. Rent the Furious Chicken if you are playing in the Wild format!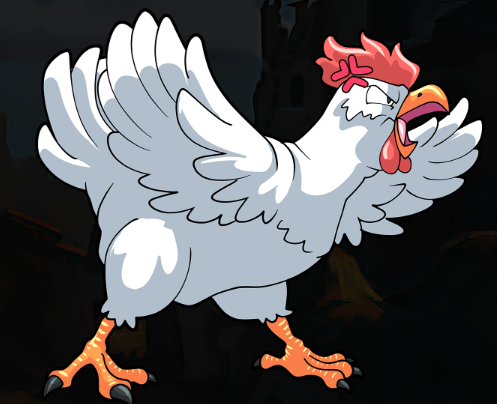 Gladiator Cards
In order to play Gladiator Cards, you must first join a guild and earn Merits. Next, your guild must have a Level 2 store in order to purchase Gladius Cases. Each case holds 5 Gladiator cards. Each Gladiator Card has the Bloodlust ability, which is invaluable in brawls (guilds enter these battles as individual players, yet group effort determines the ranking of your guild and the rewards are earned). Earn a Soulbound Summoner with the Conscript ability to bring a gladiator card into ranked battles.
For further information about Guilds, review:
To view Gladiator cards, select the "G" within the Edition filter in your Items. Next, click the drop down menu and select All Cards. Learn more about Using Card Market Filters in this article.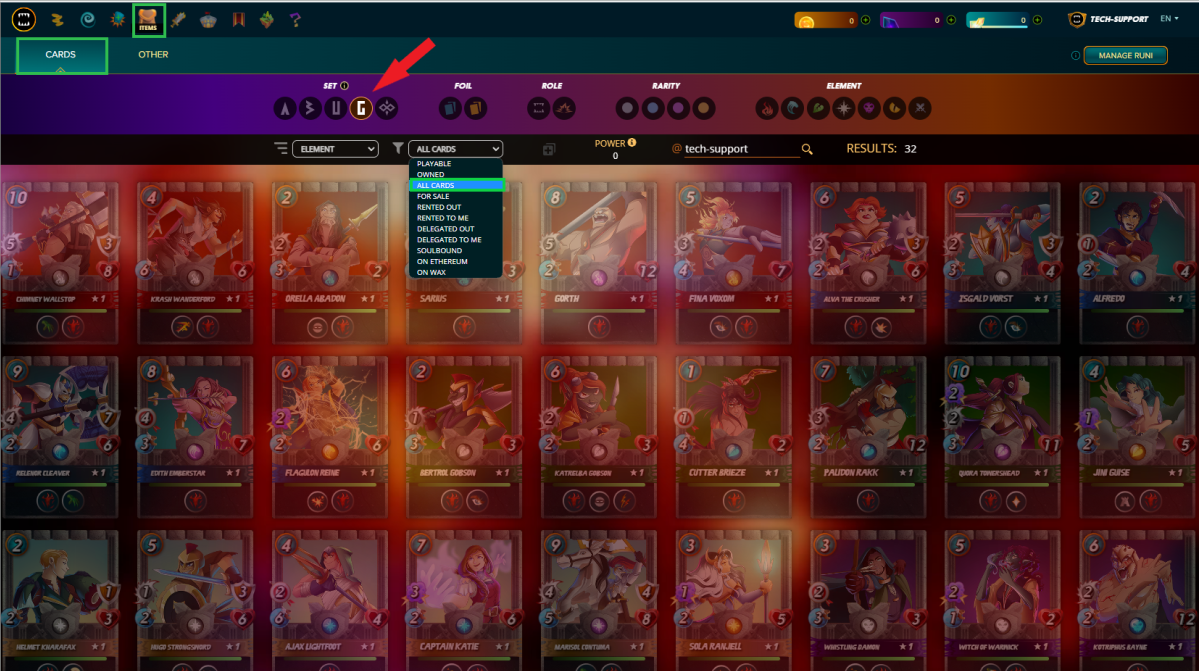 You can click on each card to learn more about the stats, lore, and abilities.
We have reached the end of New Player Guide: Gameplay. Please feel free to reach out to Tech Support if you have further questions, or need assistance or clarification with gameplay!
How Do I Request Clarification About a Battle from Tech Support?
Further Information:
How to Increase Card Levels by Combining Cards