As of Tuesday, March 21'st 2023, the Capture Rate (CR) system was replaced with a new Energy System. View the Official PeakD Post: Announcing a New Energy System for Splinterlands Ranked Battles.
What is the Energy System For?
The Energy System determines the amount of ranked battles that a user can play. It is essentially a measure of the Battle Mage's stamina - the amount of battles that can be played before rest is required. Energy is required for Ranked Play battles in both the modern and wild formats.
**Novice players do not need energy.
How Does the Energy System Work?
Each account will automatically be allocated a maximum of 50 energy
Each ranked battle will use 1 energy
Energy will regenerate at the rate of 1 energy per hour.

Note the timer that appears below the energy bar

The amount of Energy a player has does not impact the amount of rewards they can earn.

Once your energy is depleted, you will not be allowed to play unless additional energy is purchased.

Players may purchase additional energy per day with DEC/DEC-B tokens, or Credits.

The cost scales up by 50% after every 25 additional energy purchased per day.

DEC that is used to purchase energy is burned.
Credits that are used to purchases energy will have an equivalent amount of DEC burned.
How Can I Purchase Energy?

Players have the option to purchase up to 50 energy a day - allowing them to play, at most, 100 battles a day. Energy can be purchased with DEC/DEC-B tokens, or with credits. in both cases, DEC or the equivalent, will be burned. To purchase Energy, follow the steps below.

Step 1: Click the + next to the Energy Bar on the Battle Page:

Step 2: View the Purchase Energy page, and input your desired amount of Energy to purchase: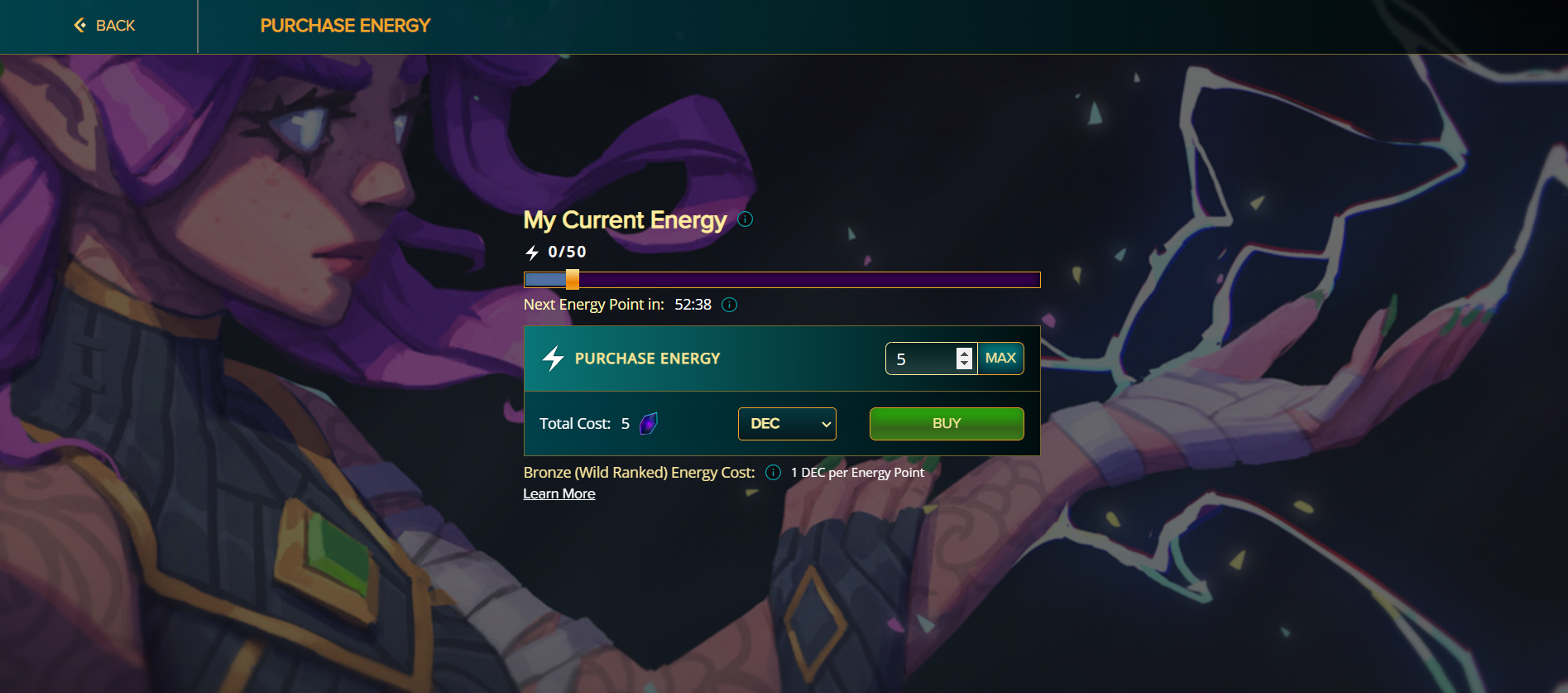 Step 3: Utilize the drop down menu to select DEC, DEC-B, or Credits: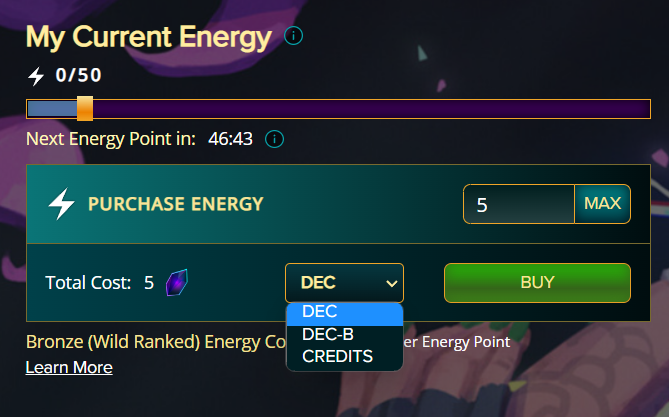 Step 4: Click BUY and confirm the transaction when prompted.
Step 5: Note your increased Energy:

Note: You cannot buy Energy if the bar is already full.

What is the Cost of Energy?
The cost of energy will vary by league. The cost below reflects the cost for 1 Energy in DEC.
Bronze - 1 DEC
Silver - 10 DEC
Gold - 50 DEC
Diamond - 150 DEC
Champion - 500 DEC
** Note - A maximum of 50 additional energy per day can be purchased.