What is a Summoner's Spellbook?
The Summoner's Spellbook is an item all players are required to purchase in order to earn rewards and gain full access to everything that Splinterlands has to offer. The Spellbook costs $10 and can be purchased through a variety of methods in the Shop in-game. The specific benefits and access that a Spellbook grants are listed here.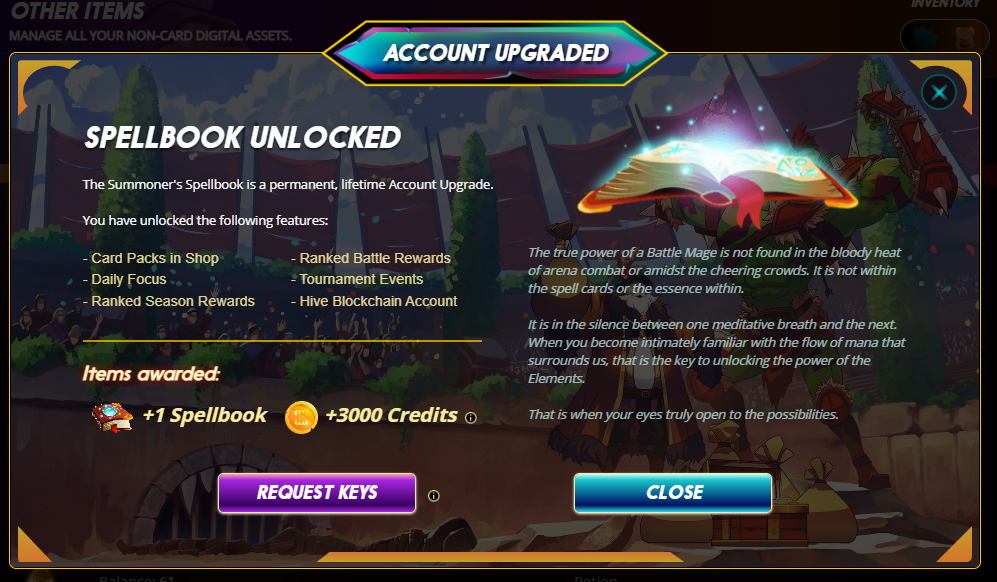 Once the Spellbook has been purchased, you can locate it in the Inventory section in-game, where it is stored as a unique non-transferable asset bound to your account.
Benefits of a Spellbook
A personal Hive Wallet (if you do not have one yet).

This wallet will also allow access to various Hive Dapps, both in the Splinterlands ecosystem but also on Hive more generally.

Unlocking access to earn rewards for playing. (SPS and in-game items via Focus Chests**)
3000 credits (value of $3, able to be used for in-game shop/market purchases and rentals).

Spellbooks obtained via promo codes will not receive the 3000 credits.

Access to the in-game shop to purchase packs, skins and more.
Access to the card markets, both rentals and sales.
Tournament access, as well as Guild access/Brawls.
** Note: You must have a rank of Bronze 3 or higher to earn SPS and Focus Points for your Daily Focus. You will not earn any SPS or Focus Points if you play with only starter cards (the cards with the blue S in the corner that you have access to when you first begin playing, prior to purchasing cards/packs). If you use some starter cards in addition to other rented or owned cards, your rewards will be reduced for each starter card used, as outlined here.
Interested in Purchasing a Spellbook? Please review the following:
How to Buy a Spellbook Using HIVE