Per the July 6th, 2023 update, Collection Power has been removed as a requirement to access higher leagues. Now, players can move up in leagues simply by battling and garnering more rating. However, in order to earn more RP per battle while advancing through leagues, players will want to have more staked SPS (either their own, or rented/delegated to them). More details can be found in the following post.
Maximum and Minimum Boost
Even if you have no SPS staked or delegated to you, it's still possible to earn some rewards as the minimum multiplier is 1x for 0 SPS staked. The more staked SPS you have (owned, rented, or delegated), the higher your multiplier will be, up to a maximum of 13.3x.
The table below shows the amount of SPS required to achieve different multipliers at various ratings. You can find a detailed explanation about how reward points are calculated here.
NOTE: League limits are still relevant in regards to this update! If you're in Bronze 1 (with a league limit/maximum of 999 rating) but your actual rating is 1200, your multiplier will be using 999 as the rating for determining your reward bonuses. This encourages players to move up in leagues, instead of staying lower and farming rewards; it also stops leaderboard players from earning a massive, outsized portion of rewards.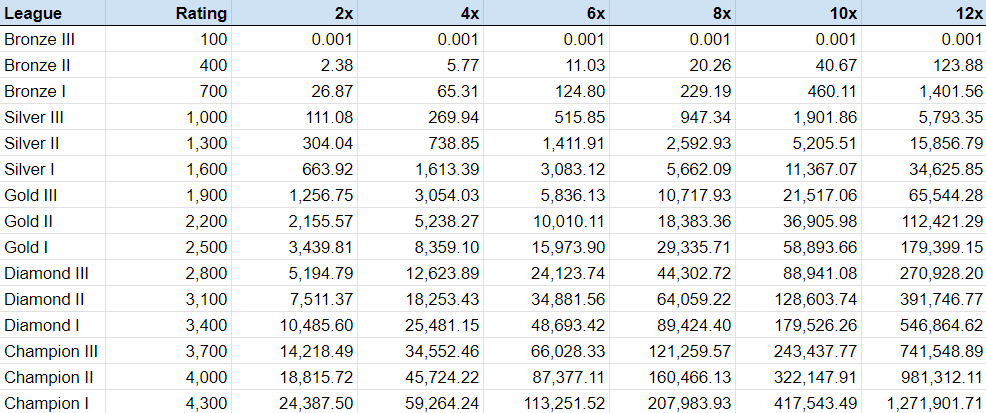 Ways to Gain More SPS
There are a few different ways you can access or gain more staked SPS and increase your multiplier, thereby boosting your rewards.