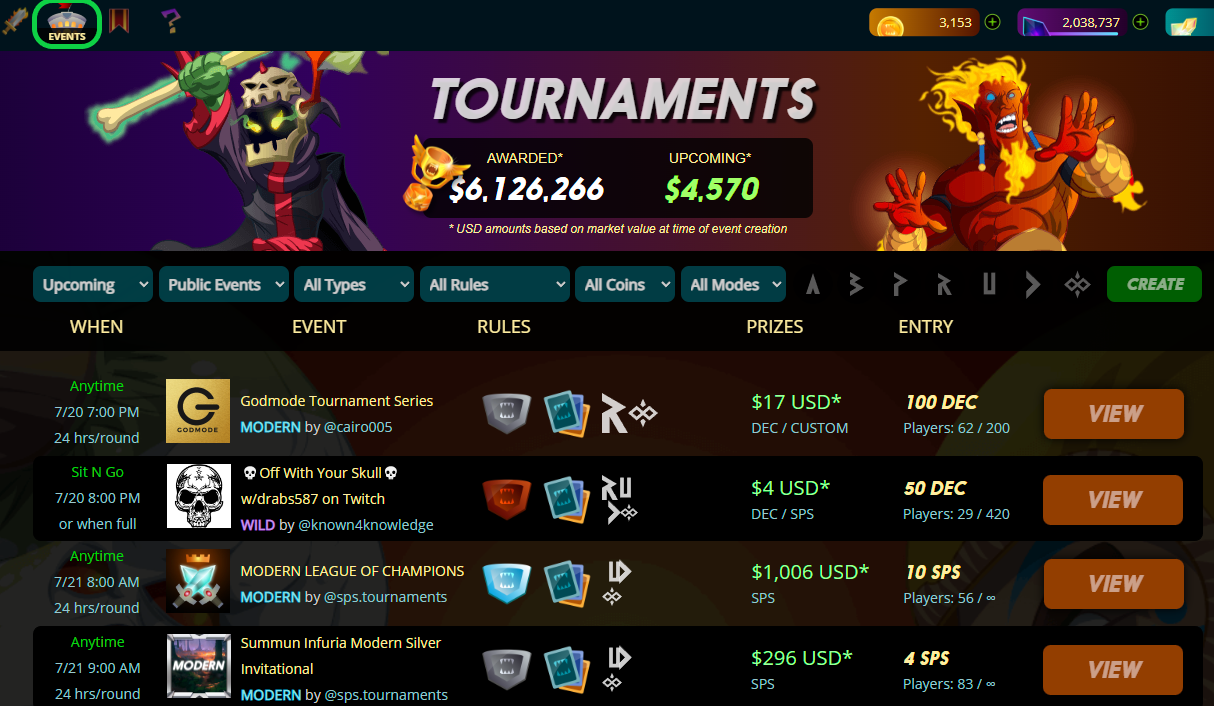 Click on the EVENTS icon that is shaped like a colosseum (circled in green) and you will be brought to the Events page, displaying a variety of tournaments with a selection of different rules, entry fees, and more.
Before competing, you should know the tournament types, the rules for these tournaments, and the special entry requirements for each one. Tournaments can vary greatly to suit the preferences of users interested in competing within different formats, leagues, and rules.
Types of Tournaments


There are two styles of tournament play; Single Elimination tournaments and Anytime tournaments, as well as a variant of these tournaments, called a Sit N Go. Note: Single Elimination tournaments are unlabeled (as shown above).

Single Elimination
Single Elimination tournaments start when the tournament time is met and the minimum players required have filled spots to compete. You will have 15 minutes before the tournament starts to click the Check In button.
For Single Elimination, you must submit your match for each round within a limited time frame. A match that is not submitted within the time limit is automatically surrendered. If defeated, you are eliminated, and the victor proceeds to the next round.
Once the rounds are concluded, placement is determined by when you were eliminated and how many wins were accumulated up to that point.
Note: If the minimum number of players does not check in on the tournament's page by the scheduled time, then the tournament is automatically canceled. (You may need to refresh the page in order to display the Check In button when conditions are met.)
Anytime
Anytime tournaments will start at the scheduled time as long as the minimum player requirements are met. After a player has paid their entry fee, Anytime tournaments do not require a check-in.
Rounds of an Anytime tournament proceed after a determined amount of time has elapsed (24 hours for most) since the start of the tournament. You will then have the opportunity to submit line-ups against a number of assigned opponents. After one round concludes, you will have another 24 hours to submit a new set of teams against more opponents.
Once each of these rounds has concluded, placement is then determined by the total number of wins, draws, and losses you have achieved.
Sit N Go
Players may choose to host either the Anytime or Single Elimination tournament as a Sit N Go. This sets the tournament up where the tournament will either start at the scheduled time if the minimum entrants are reached or will automatically begin as soon as the maximum number of entrants is fulfilled.
If the minimum required number of players does not sign-up on the tournament's page by the scheduled time, then the tournament is automatically canceled. (Check-in is not required for Sit N Go tournaments.)
Tournament Details
Tournaments have their own set choice of format, special rules, varying fees, prizes, and prize types. Keep in mind that many tournaments are player-created, which means the tournaments may not always contain fitting prizes for some users and may either be for fun or hosted by streamers. For example, spin-the-wheel-type prizes are mentioned within the descriptions of their tournaments.

Format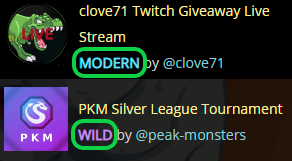 There are two different formats for tournaments; Wild and Modern. The difference between the two is that the Wild format will allow for all cards of any existing Splinterlands set to be played within the tournament, while the Modern format contains cards sharing borders with the last two core sets (or last two blocks).
Note: Cards that share borders are from the same block of cards that share the same border. For example, Untamed was a core set, and then Azmare Dice was the mini set released later. Any reward and promo cards released before the next core set after the Untamed set's release are within this same block.
Rules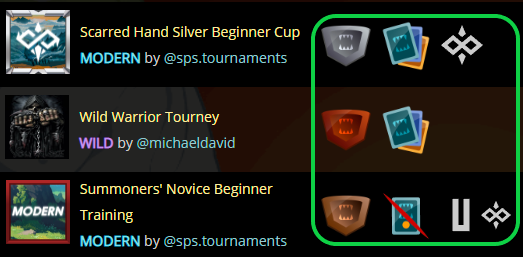 Another important factor to take note of for tournaments is the tournaments' league; this determines the level caps of all different rarities of summoners allowed for play within the league and what restrictions the tournament may carry. Leagues are determined by the shield icon colors as shown above.
You may also see symbols indicating that no legendary cards are permitted or only gold foils (which will instead display an icon that looks like a set of three gold foil cards).
Card set limitations are another attribute that may be linked to your tournament. For example, if you have a Modern tournament that limits sets to only Untamed and Chaos Legion (as shown above on the last row displayed), you may play cards of only these two sets. This means that the Untamed and Riftwatchers set will not be allowed access into the tournament, nor any reward or promo cards, even if they are from the same era as these particular sets.
Entry Requirements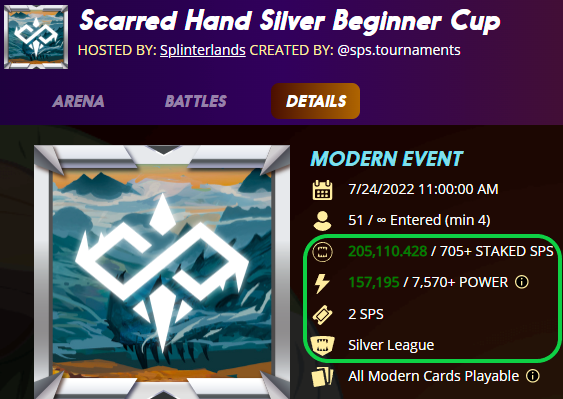 Tournaments may include special entry requirements in addition to the entry fee. While some tournaments may take an amount of SPS, DEC, or another Hive Token for entry, tournaments, such as ones hosted by Splinterlands, may include a required minimum amount of SPS staked and/or collection power to be held in order to participate. If your amount of staked SPS or held power drops below the minimum requirement for entry while the tournament is ongoing after having paid for entry, your account will automatically forfeit the tournament and be excluded from any winnings.

Another special entry requirement is identity verification. Though scarcely used, there is a possibility for users or officials to have tournaments that bar accounts from entering if they have not been verified. An example use-case for this feature would be to help mitigate multi-accounting within the tournament.
Prizes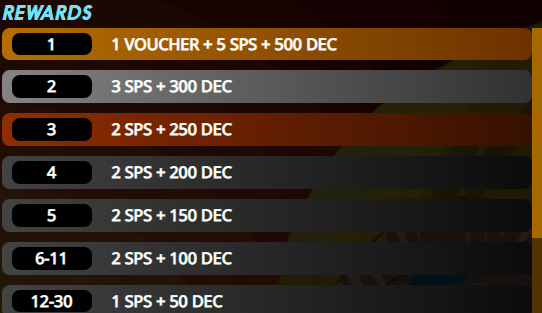 Prizes can come in a variety of different assets, including Splinterlands cards. Placements can reward multiple different token types as well and these tokens are not always Splinterlands related.
Since your Splinterlands account also doubles as a Hive Wallet, these tokens become stored on your account and may be accessed via Hive-engine or Tribaldex as long as you have claimed your private keys (so that you can log into these pages with the appropriate permissions for the wallet). We do recommend Hive Keychain for logging in if you are using your private keys to log into any Hive-related websites, including Splinterlands.

Also see these related tournament-related articles:

Why was my tournament prize split?
How To Create a Splinterlands Tournament?
Why Are the Tournament Entry Fees So High?
Why Didn't I Receive My Prize in Tournaments?
Why Don't I Have Any Battles for the Tournament That I Entered?