A tournament is a competitive way to play and earn in Splinterlands. The tournaments use a knock-out system, but even when you drop out, you can still win more than what you paid to sign up.

Step 1: Enter the Events page by selecting the Colosseum icon. Then, click the Create button and you will be directed to a page to host a tournament (not play it).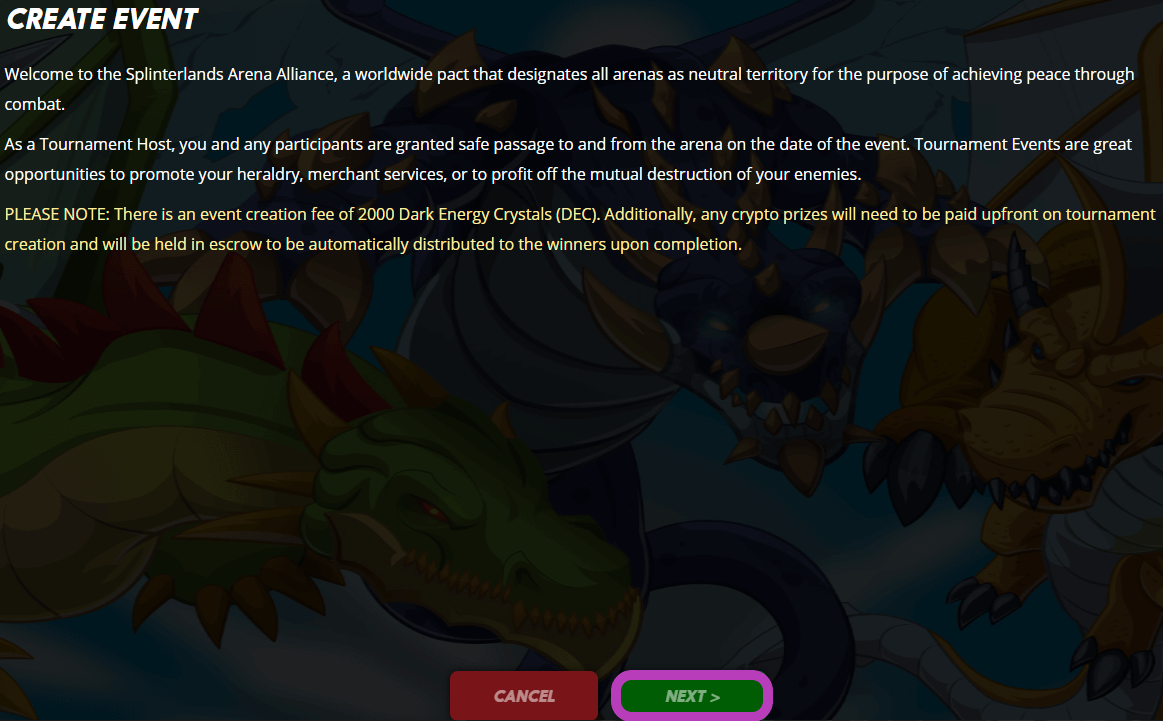 Step 2: On the Create Event page, you will be informed of a 2,000 DEC tournament creation fee, as well as a message stating any prizes (=rewards for the tournament players) will need to be paid upfront upon the creation of the tournament. These prices will be held in escrow and automatically distributed to any of the winners of this tournament.
If a tournament is canceled, whether by you or by the lack of a required minimum of participants signing up or checking in, the creation fee (2,000 DEC) cannot be refunded. The prizes that you as a host paid, will be refunded to you on the cancelation of a tournament.
Note: Rare exceptions may be made for tournaments prevented from operating or canceled due to any maintenance/outage/issues of the webpage on Splinterlands' end. In these cases, please submit a ticket to Support to inquire about a refund.
Click Next.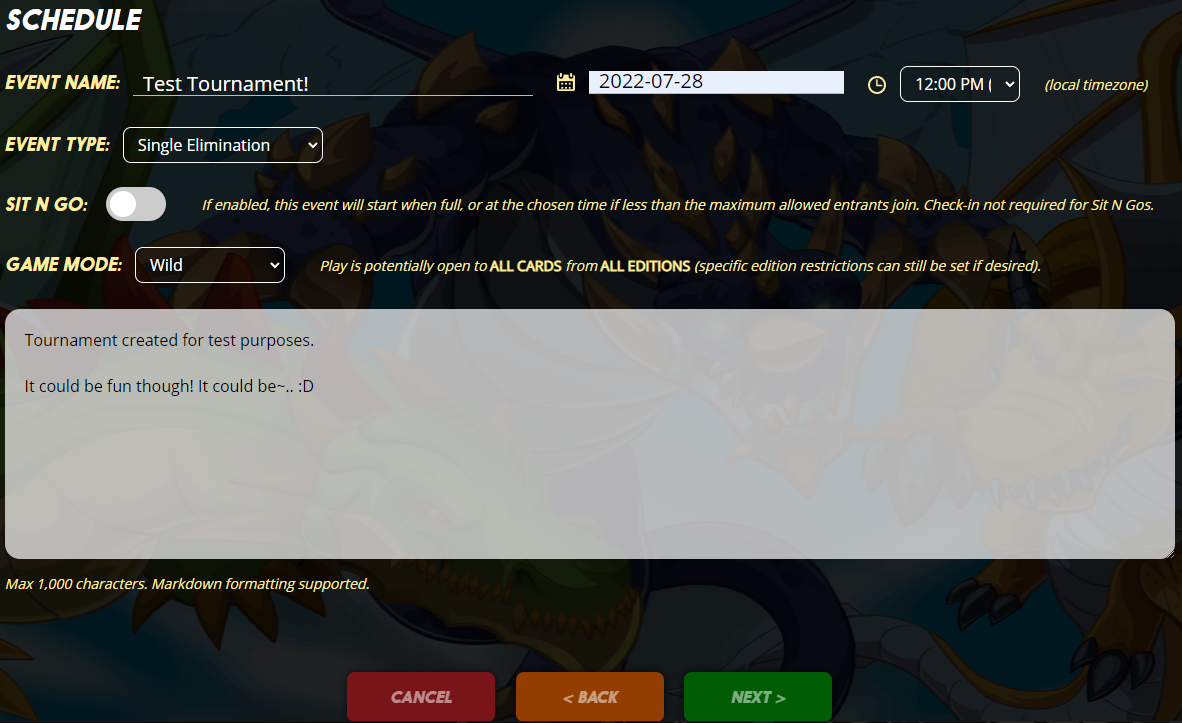 Step 3: In the Schedule window, enter the following details of your tournament:
Event name
Dates: Start date of the tournament
Time: Start time of the tournament
Event Type: Single Elimination or an Anytime tournament
Sit n Go: On or off
Game Mode: Modern or Wild
Description: Describe what the event is and where players can contact you. You may also promote your brand, guild, or (social media) websites
An explanation for these event types and variants is provided here.
Click Next to continue.
Note: Make sure you don't host a tournament last minute. The system will require time to register the tournament and the players. You also need to spend time filling in the rest of the wizard.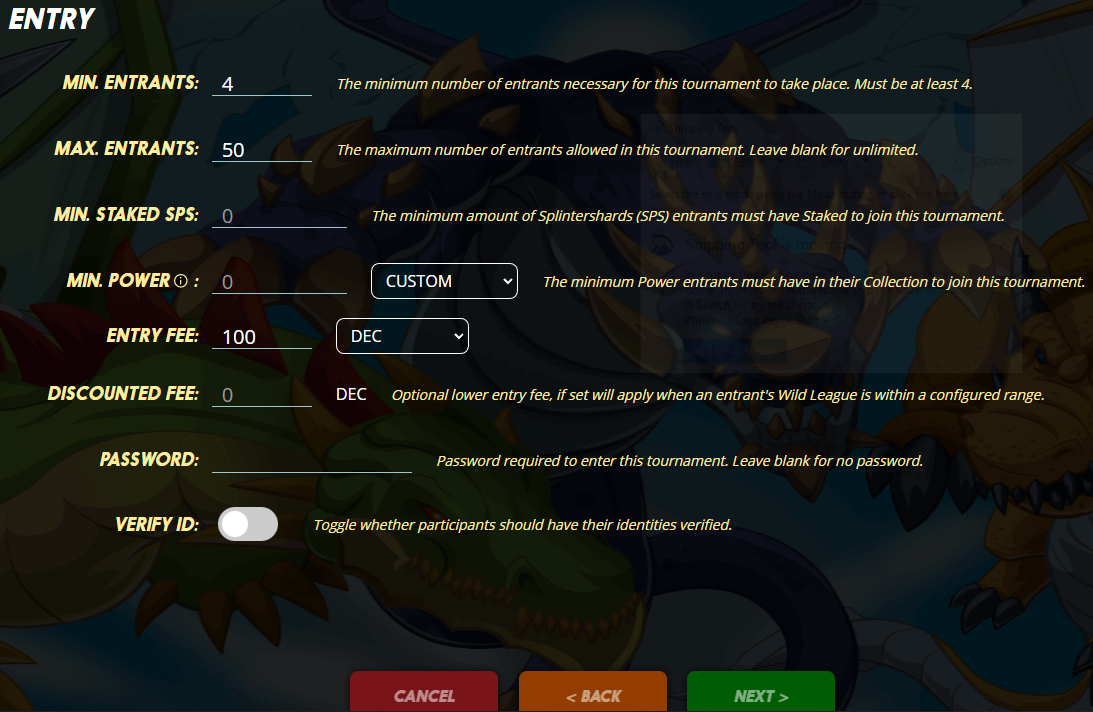 Step 4: In the Entry window, you can change the settings for entry requirements, costs, and limitations. Not all of those fields are required, but you must have a minimum of 4 participants and the maximum number of participants (leave the field blank to remove the max limit).
You can also require a minimum amount of SPS staked or minimum power held as an optional limitation, as well as whether or not to limit the tournament to users who have chosen to complete KYC verification with Splinterlands.
Your entry requirements to join are customizable in the amount and type of asset required. The discount option gives you the possibility for higher league players and players with much more assets to pay so much that they most likely will not want to enter.
The password option allows you to make this a private invitational event.
Note: If you are making a private password-protected tournament make sure the password field has something in it every time you leave this screen.
Click the Next button to continue.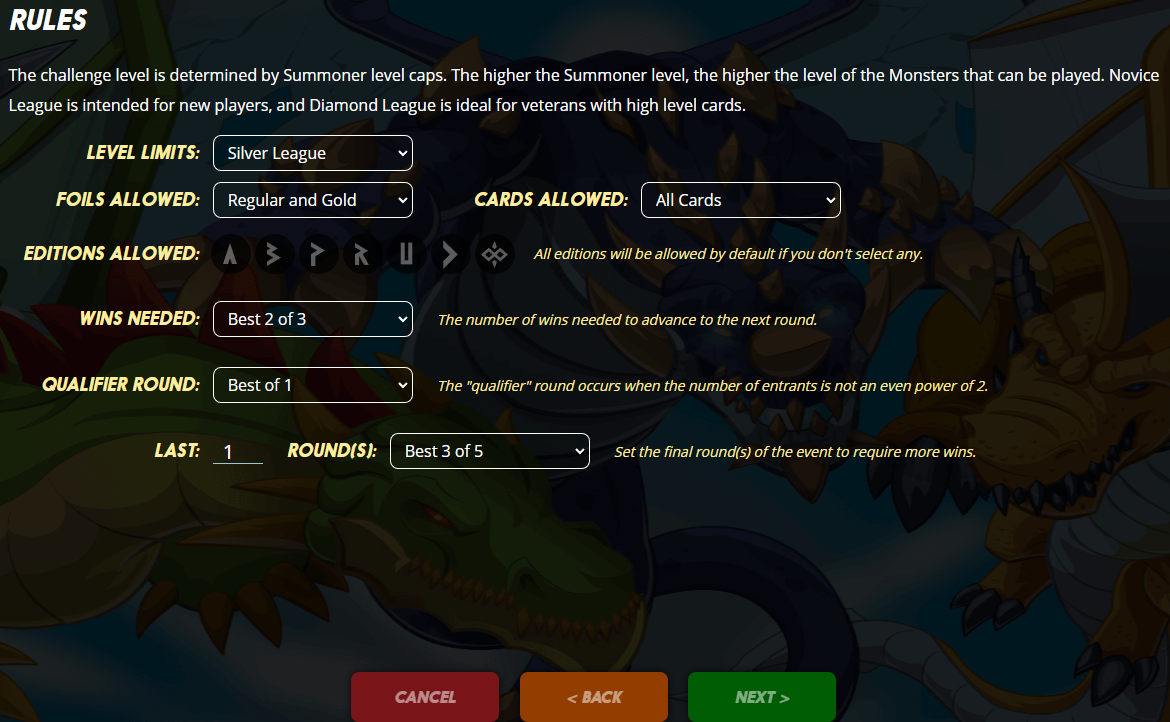 Step 5: The Rules window allows you to set up what league the tournament is to be played in, what Set of Cards you would like to allow, and whether you would like to allow for any cards from certain sets, or disallow legendary cards or legendary summoners from being played.
The number of wins needed per normal round, for the qualifier and for the final rounds may also be determined on this page.
Click the Next button to continue.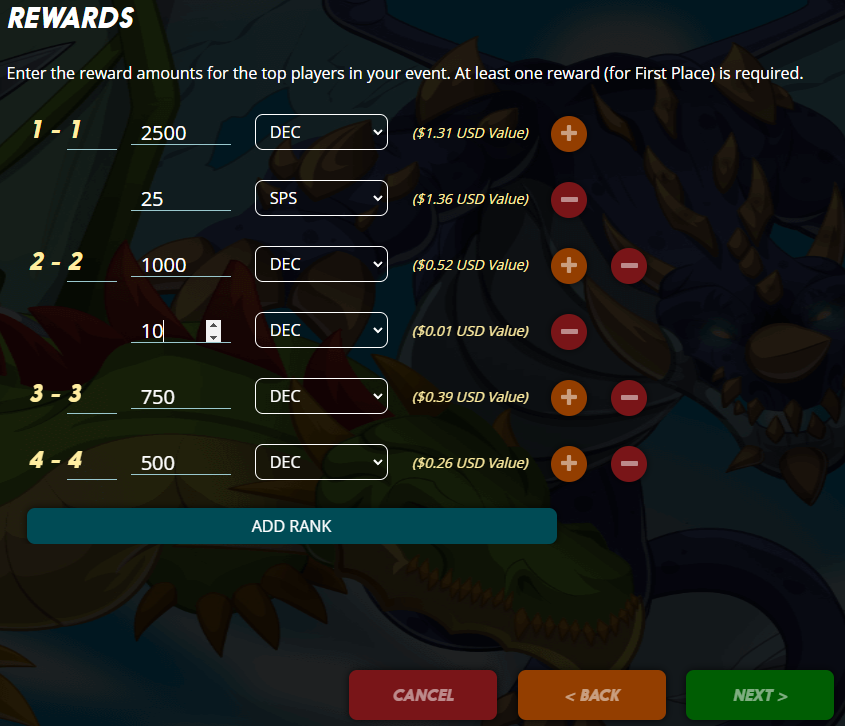 Step 6: The Reward window allows you to set up the rewards per final position in the tournament. As noted, any prizes must be paid upfront before a tournament may be successfully started for its scheduled time.
You may add multiple types of prizes per placement slot by clicking on the "+" icon, and then utilizing the dropdown arrow to choose what another asset is to be rewarded. You may click on the "-" icon if you need to retract the slot.
If you want to add a new range for placements, click on the "Add rank" button. This will add a whole new line to customize the rewards in any way you as a host would like. For example, if you would like to reward placements #4 through #8 with the same reward, you may input an 8 to replace the underlined 4 so that the field then says 4-8.
Note: The dropdown list for selectable reward assets includes the following, but may not be limited to;
DEC, SPS, HIVE, HBD, SIM, ENTRY, CINE, PKM, STSUPER, STREGULAR, STMINI, STJUMBO, VOUCHER, and THGAMING.

There is a custom prize slot as well. This way, other prices can be given away, even if they are not Splinterlands Assets. Users should use their own judgment when it comes to trusting tournaments using these custom rewards. Since these custom prizes are often manually paid out, it is a good idea to link a form of contact within the details of your tournament, whether it be a Discord server, Discord DM, Telegram room, or something else, so that users can keep in touch with you as a host, in case they do not receive payment for any reason or want a better understanding as to what the rewards are.
Click the Next button to continue.

Step 7: The next window, the Sponsor Info, allows you to enter your host/sponsor name and a sponsored link. Also, you can add a picture here.
Click the Next button to continue.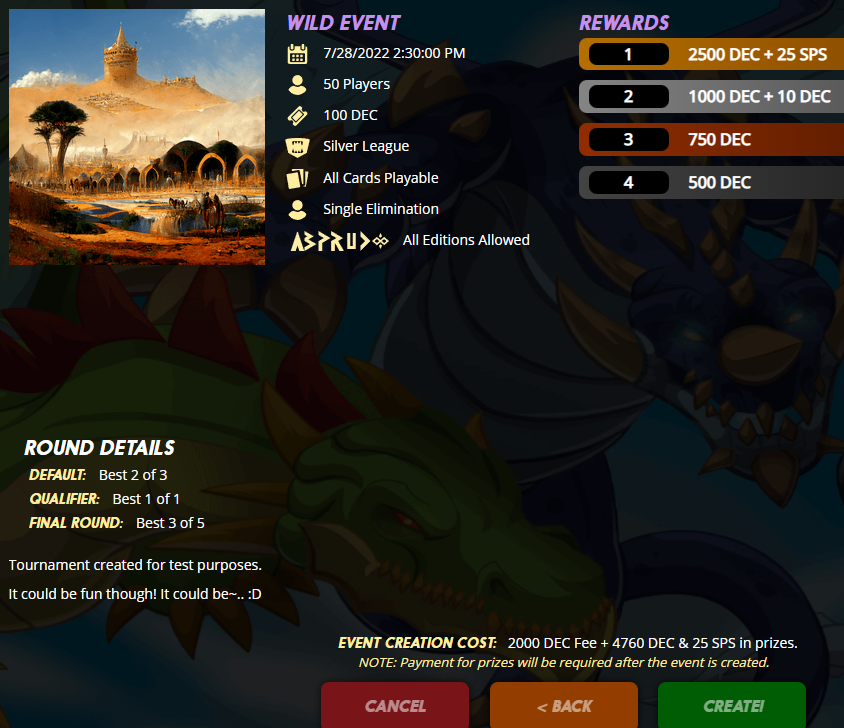 Step 8: In the next window you review the details for your tournaments. Once you have checked and made sure everything appears correct, you can click on the Create button to initiate the transaction for completing the tournament.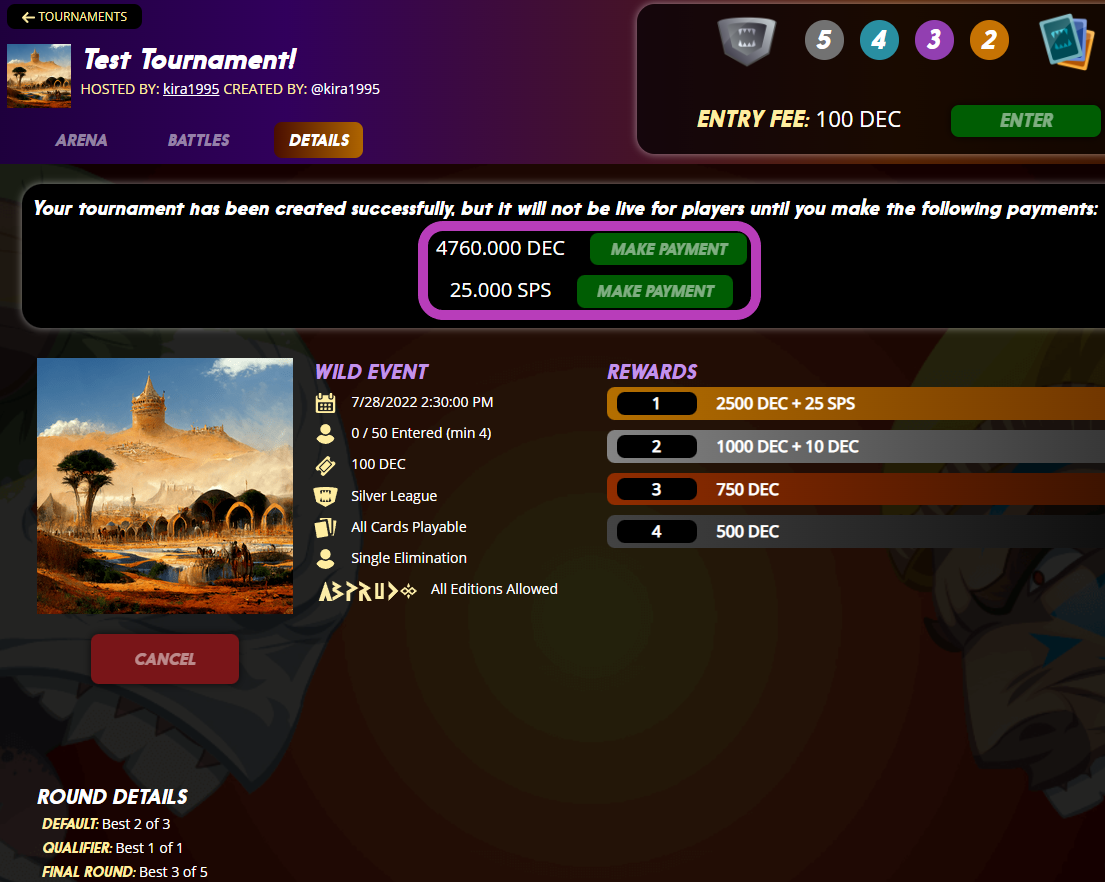 Step 9: Once the tournament has successfully been created with the initial 2,000 DEC, your tournament page should show that it is currently awaiting payments for funding the prize payouts. If the tournament is canceled, the initial payment of 2,000 DEC will become lost.
Click on any of the make payment buttons to provide all of your payments.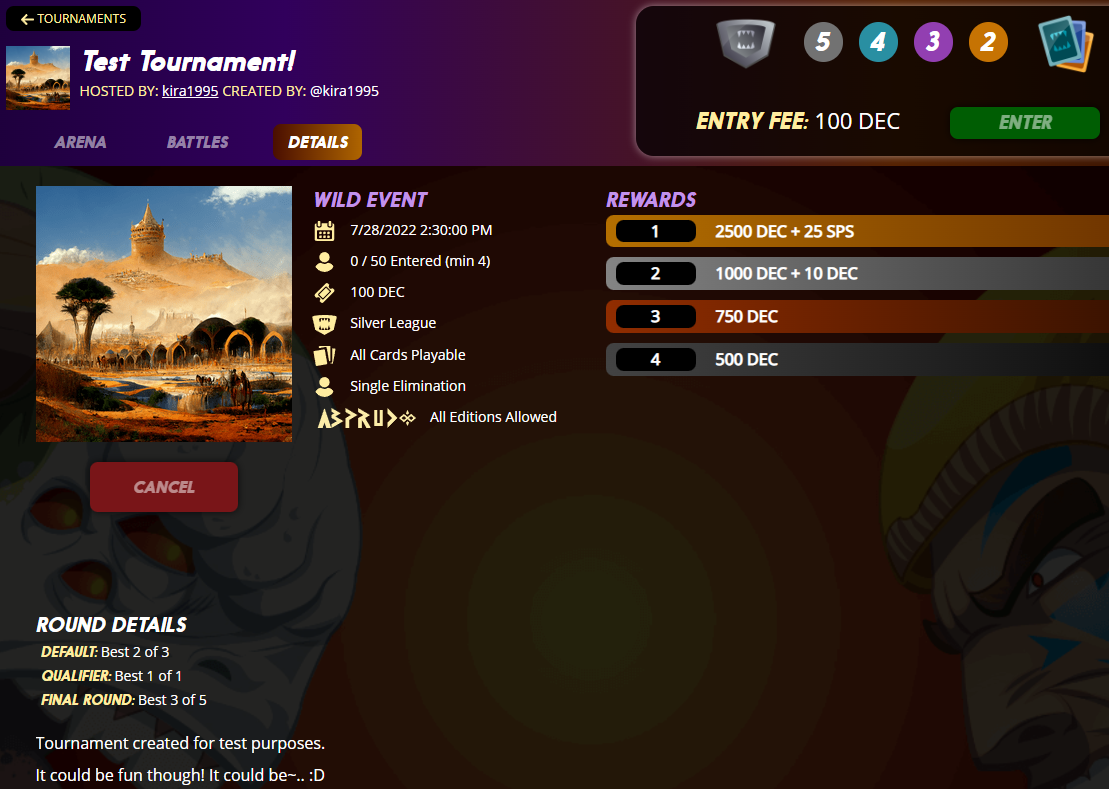 Your tournament is now ready to take in entrants! You could even enter this tournament yourself.
If you want to learn more about tournament participation rather than tournament creation, please follow this article for more information. Or see these other articles for more tournament-related topics:

Why was my tournament prize split?
Why Are the Tournament Entry Fees So High?
Why Didn't I Receive My Prize in Tournaments?
Why Don't I Have Any Battles for the Tournament That I Entered?