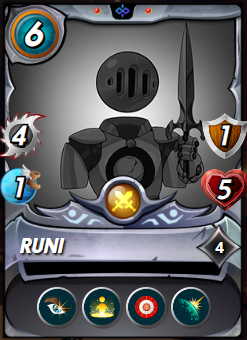 The Runicore (Runi) is Splinterland's first NFT minted on the Ethereum blockchain. Playable within the Splinterlands game, Runi can be bought and sold on Opensea.io. Learn more about the Runicore in the Official Peakd post and How to Manage Runi. Read about the Value of Runi on Land in the whitepaper.
Runi Trait Details
View the Trait Details of your Runi within the Manage Runi Page.

The Traits of a Runi include the Head, Headwear, Left Hand, Body, Power Core, and Background. View the Trait Details of your Runi by clicking on it.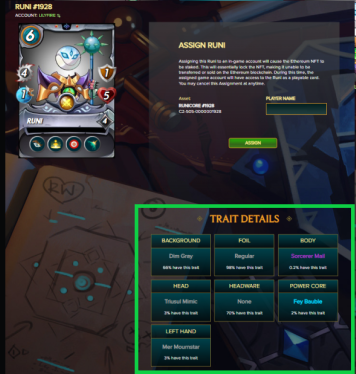 View the rarity, and specific trait details.
You can also utilize Filtering to view the traits of your Runi by rarity.
Sort available Runi by traits on https://opensea.io/collection/runi
Simply select a trait from the menu on the left, and click the drop down menu to view the list.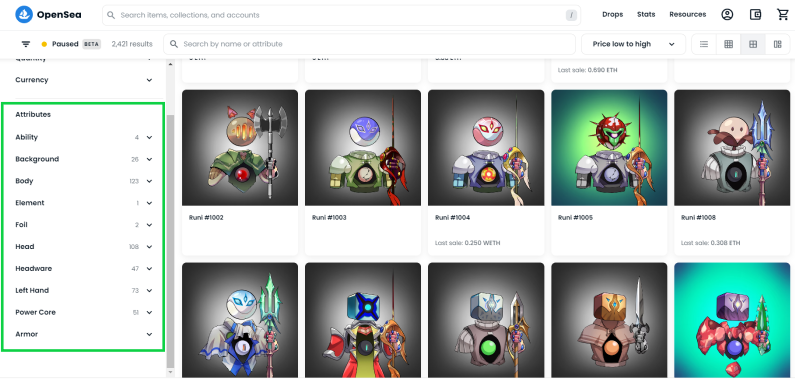 Runi Abilities
The new Rebirth ability allows the Runi to resurrect itself once. Runi also possess the Opportunity ability at Level 1, The True Strike ability at Level 2, and the Reflection Shield ability at Level 3. Runi can also be used as your Splinterlands Avatar.