**Land 1.5 is currently only available on the Maverick's Server.
For a comprehensive look at Dark Energy, review The Secret of Praetoria - Phase 1.5.
What is Dark Energy?
Dark Energy is created by staking DEC to land. It is required to maintain the functionality of Power Sources which in turn power worker cards. Dark Energy works as fuel without actual burn - meaning that the amount does not diminish despite use. Dark Energy makes Power Sources function and only requires DEC to be staked on land (How to Add (Stake) Dark Energy to Land).
How much DEC must be staked on land to power workers via the Power Source?
You may stake varying amounts of DEC to power workers on land. Please note that the more DEC you stake (relative to the requirement) the more productive your workers will be. 10,000 DEC per max-level card is required. Cards less then the max level will require proportionally less DEC.

In order to determine how much dark energy is required to power your workers, you must first Stake Cards and Items to Land. Note the Energy Required field within the Edit Slots screen. After saving your changes, you may then click the green + next to your Dark Energy balance.

Within the Stake/Unstake DEC screen, you may view the amount of energy required.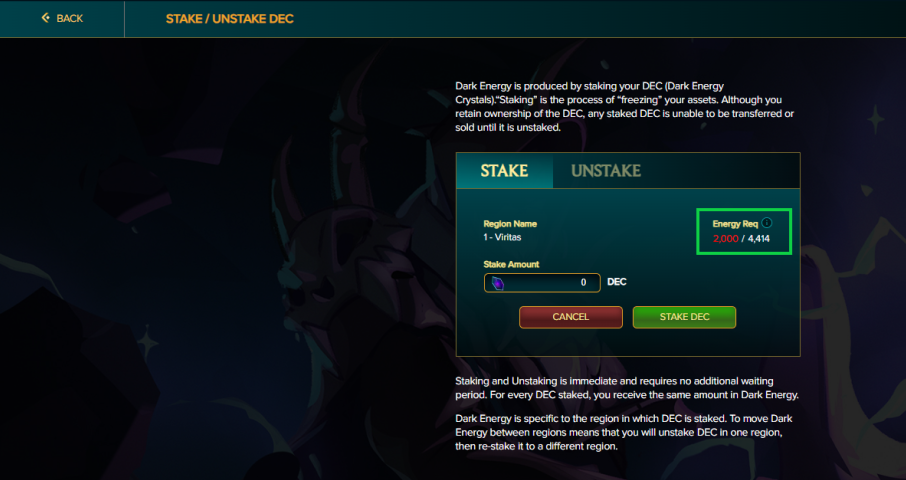 You may also view the energy demand for a particular plot within the basic plot view.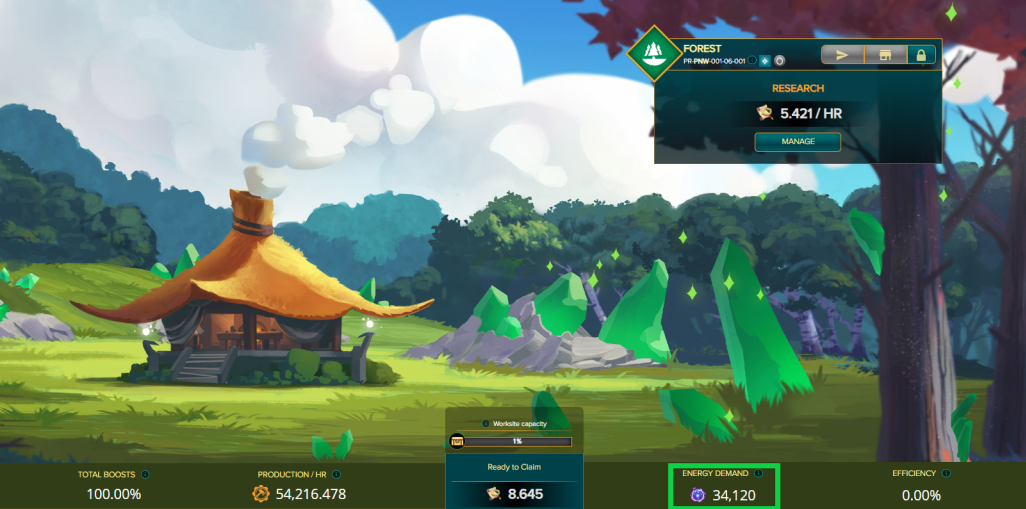 You may view the Dark Energy by region within the Production Overview screen. Here, you may Stake DEC and Unstake DEC.

How do I get Dark Energy?
DEC must be staked in order to get Dark Energy. It can be staked and unstaked instantly at any time. DEC can be purchased directly on the Splinterlands website. You can also buy SPS/DEC in Pancake Swap with Metamask.
**Please note: Once staked, dark energy will be unable to be transferred or sold until it is unstaked.
Can I remove Dark Energy from Land?
Dark energy may be unstaked from land instantly if it is not currently in use. Unstaking DEC that is in use requires unstaking cards and items from land prior to removing dark energy from land.
To move Dark Energy between regions means that you will unstake DEC in one region, then re-stake it to a different region.
How does Dark Energy interact with Harvesting?
During Harvest, the amount of Dark Energy staked within each requin will be compared against the total amount needed. If the amount of Dark Energy staked is less than what is needed, production is reduced.
From the Whitepaper:
"For example, if a player has 10 plots within a region, and they have 5 max level cards working on each of the plots, then they would require at least 500k DEC to be staked in total in that region (10 plots * 5 max level cards per plot * 10k DEC per max level card). If the player only has 400k DEC staked in the region then their production output on all plots within the region would be 80% (400k/500k) of the normal total."