When searching for particular cards in the card market, you may be confronted with an overwhelming number of cards. Review the article for guidance with using Card Market Filters
Horizontal Drop Down Sorting Filters

At the top of the market view screen, note the ability to sort cards by level and a variety of options. These include Price, Rarity, Mana Cost, Armor, Attack, Health, Magic, Ranged, Speed, or by Alphabetical order. Use the drop down menus to select your preference.
Side Bar Filters

View the side bar to the left of the card view. Here, you will be able to:
Search for an individual card name
Sort by Modern of Wild format
Sort by Card Set
Sort by Foil (Regular of Gold Foil)
Sort by Role (Unit or Summoner)
Search for cards with specific abilities
Sort by Rarity (Common, Rare, Epic, Legendary)
Sort by Element (Fire, Water, Earth, Neutral, Death, Like, Dragon)
Sort by Attack Type (Melee, Magic, Ranged, No Attack)
Search By Name

It is now possible to search for individual cards by name. Locate the search bar to the left of the screen, beneath the Card Sales tab. You can begin typing in the name to reveal matches, or scroll down an alphabetical list to locate your desired card.
Modern and Wild Format Filters

Splinterlands provides all players the ability to determine which format they play in: Modern or Wild. Both have benefits and whether you choose one, the other, or both is totally up to you. Consider your collection as well as style of play when determining whether to compete in Modern or Wild. Wild Format includes all card sets, whereas modern format utilizes only the two most recently released sets. (Chaos Legion and Untamed currently. Review Modern and Wild: FAQ to learn more.
Set Filters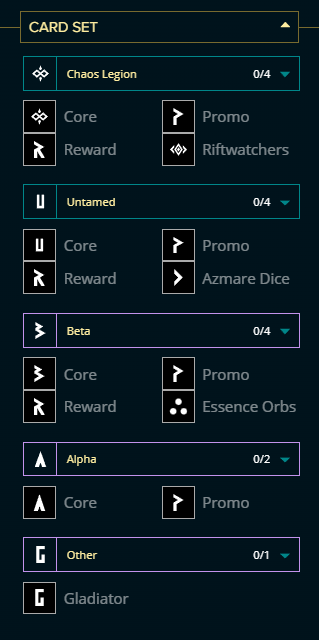 A set consists of its core edition plus all associated reward, promo, and expansion cards. You can filter these categories further by selecting the subset within the chosen set.
The Sets are as follows:
Alpha Set: Alpha + Promo cards with Alpha borders
Beta Set: Beta + Promo cards with Beta borders + Reward cards with Beta borders
Untamed Set: Untamed + Promo cards with Untamed borders + Reward cards with Untamed borders + Dice
Chaos Legion Set: Chaos Legion + Promo cards with Chaos Legion borders + Reward cards with Chaos Legion borders + Riftwatchers edition
Foil and Role Filters
If you are looking for a selection of summoners, or a selection of monsters, you may toggle either icon to filter in or filter out the chosen role. You can further divide these by foil - either regular or gold foil. The screenshot above shows the summoner and gold foil filters toggled so that only gold foil summoners may appear within your search.
Search by Ability

It is now possible to search by single and multiple abilities. Locate the search bar to the left of the screen, and begin typing in the ability. You can also scroll down an alphabetical list.
Level & Rarity Filters

Suppose you seek cards of specific levels among various rarities, particularly for building a collection for competing in new leagues. In that case, you may want to use the two filters circled in green. So, for example, if you're going to cap some of your cards for bronze league competition, you can select the common rarity and set the level filter on level 3. You may instead want to buy the remainder of single copies and combine them too, which in some cases might be cheaper.
In addition, you may also learn what the level caps for each rarity are of your monsters and summoners per league.
Element Filter

The element filter displays only the selected element(s) you would like to view, as shown above.
Attack Type Filter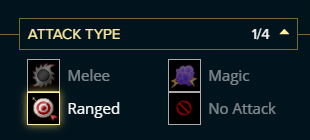 Previously unavailable, you can now sort cards by Attack Type. If you are a new player, review Intro to Stats: Anatomy of a Card for specific information regarding attack types.

Combining Filters
You may also combine multiple filters. This will improve your ability to search for specific cards, or groups of cards. Remember, you can always reset all filters to start from new.