This Guide provides a walkthrough regarding surveying Land within the SAME region. If you have plots in various regions that you wish to claim together, follow this guide: How to Survey Land Within Different Regions.
100 plots must be surveyed together to receive the Guaranteed Minimums.
For the smoothest experience Surveying Land, ensure that you have signed in with Hive Keychain.
Surveying Land: A Quick Walkthrough
To Survey Land:
Step 1: Click the Land icon available in the options at the top of the screen.

Step 2: Ensure that you have Claimed Land - How to Claim your Land Deed.
Step 3: Navigate to your Owned Land and choose whether you want to view plots in List or Block View (pictured below).

Step 4: Click View Plots.
Step 5: View your plots, and select the ones you want to survey with the checkbox (this is visible in both list and block views).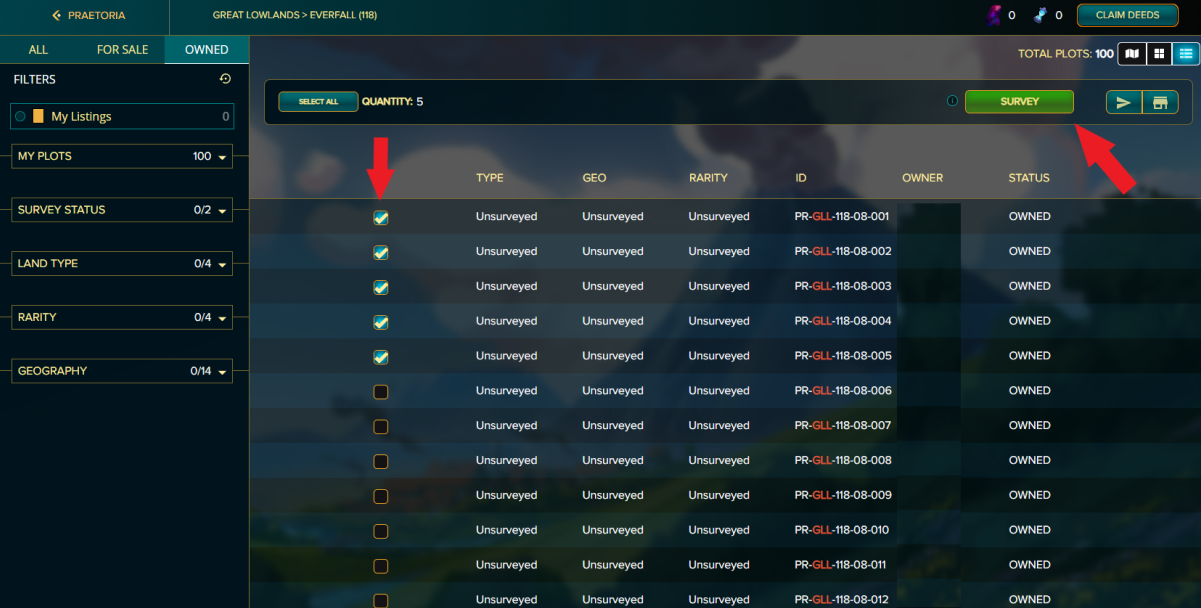 Step 6: When you are ready, click Survey.
Step 7: Next, you will have the option to purchase Survey Boosts.
Learn about the Survey Boosts by hovering over the little (information) icon in the upper right corner of each boost or within the The Secret of Praetoria whitepaper.
Use the add or remove all buttons under each boost or select boosts individually by clicking the boost icons to the left of each deed.
Boosts can be paid for in DEC or DEC-B - use the drop down arrow to select your preference.
Survey Boosts must be purchased before you survey. They can not be added retroactively.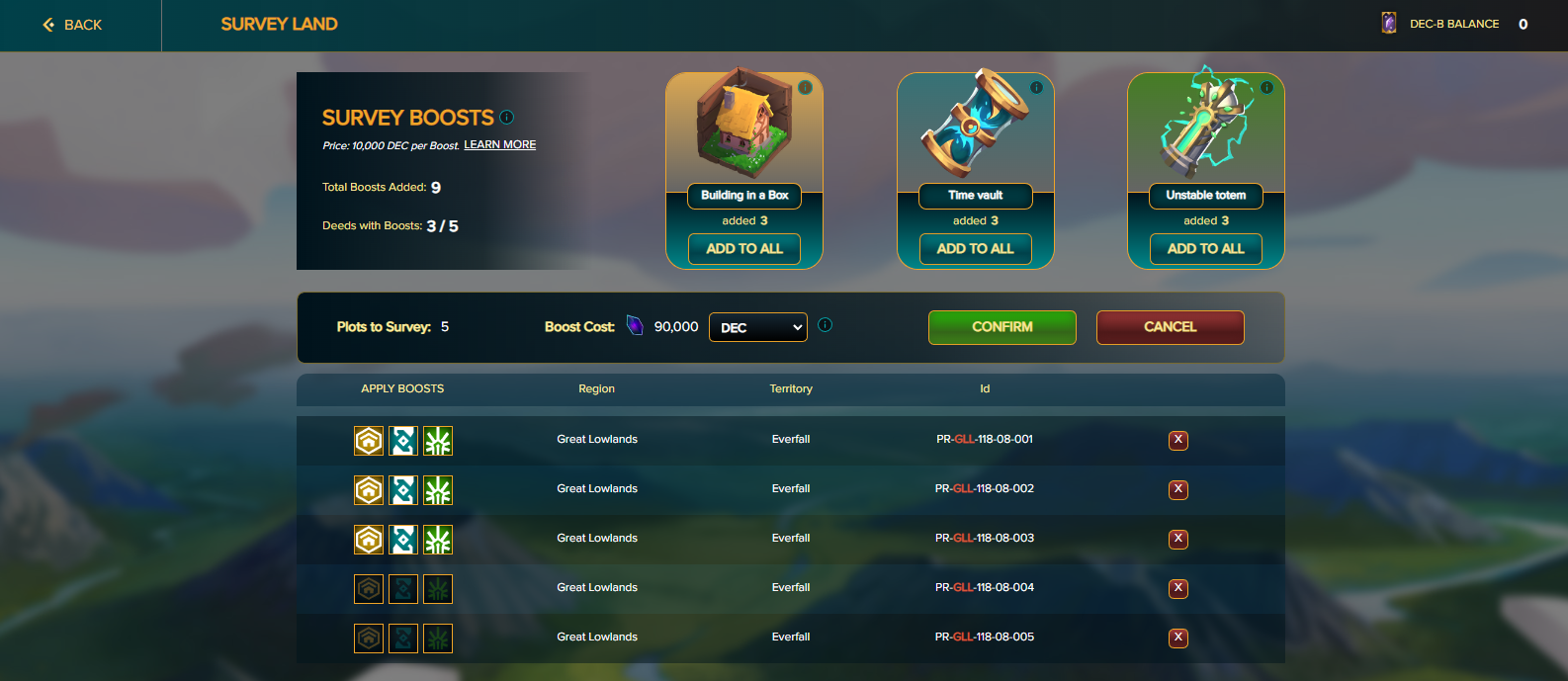 Step 8: When you are ready, Click Confirm and sign the transaction when prompted.
100 plots must be surveyed together to receive the Guaranteed Minimums.
Step 9: Click Reveal All or flip each plot individually by clicking them.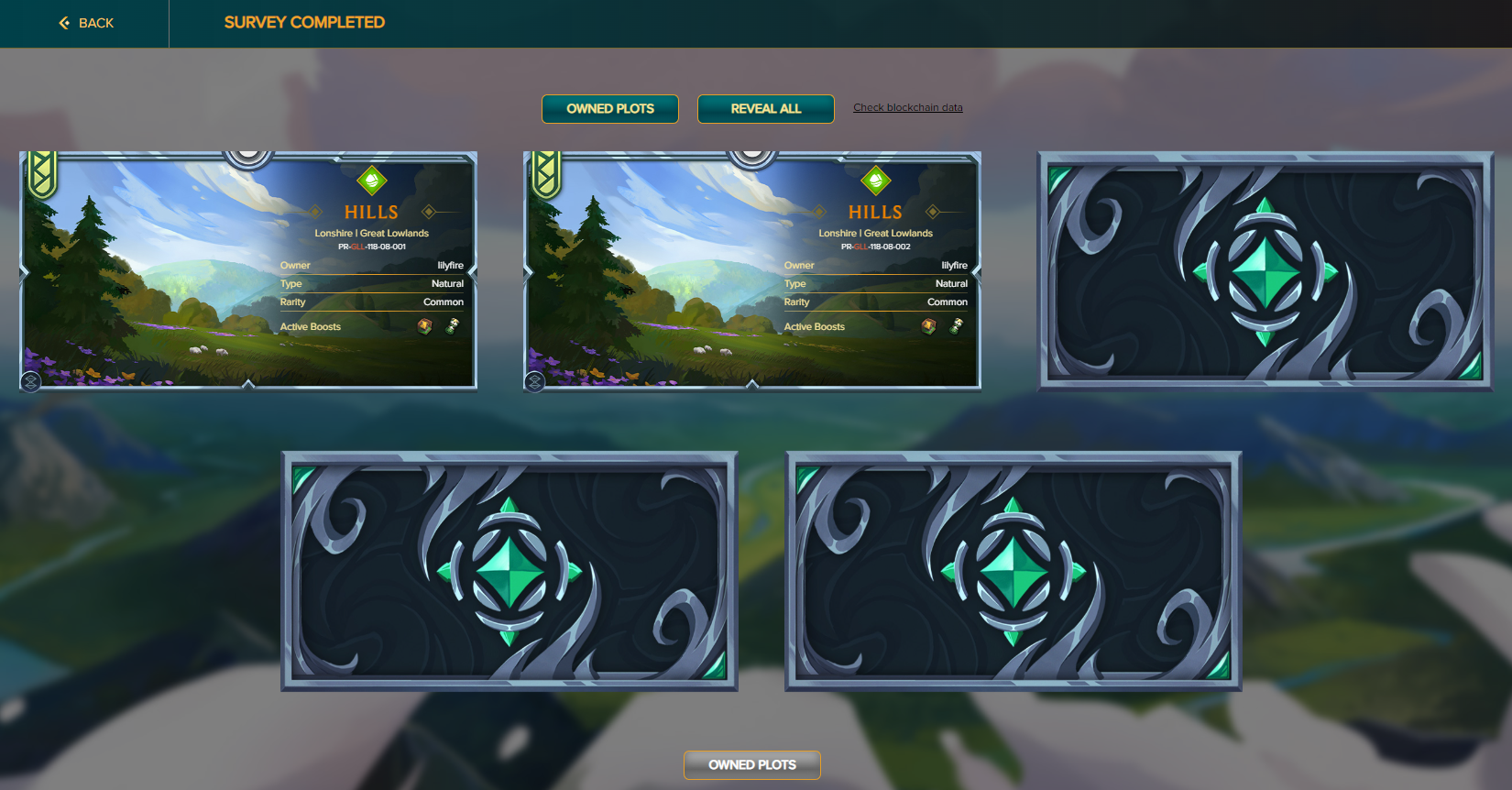 Congratulations on completing your survey, and now owning a Surveyed Plot(s)!
Interested in buying more Land?
Unclaimed Land can be bought/sold on the Non Card Market:
Claimed Land can be bought/sold within Praetoria:
Questions? Submit a request – Splinterlands