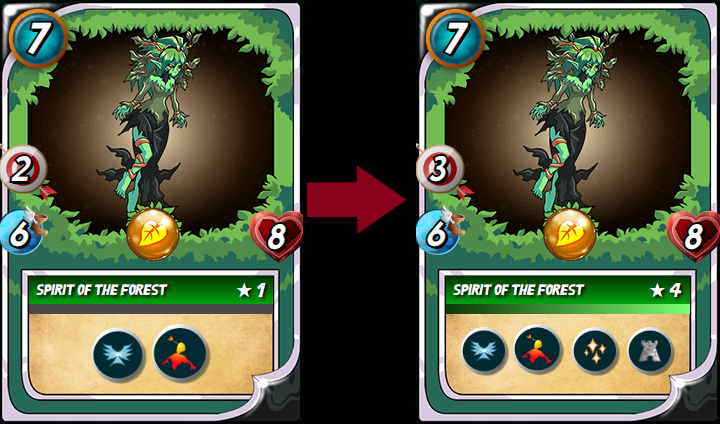 Combining multiple cards with the same name will increase the cards' level, which in most cases, will change the stats of monster cards. Combining summoner cards to level them up will allow you to play higher-level monster cards.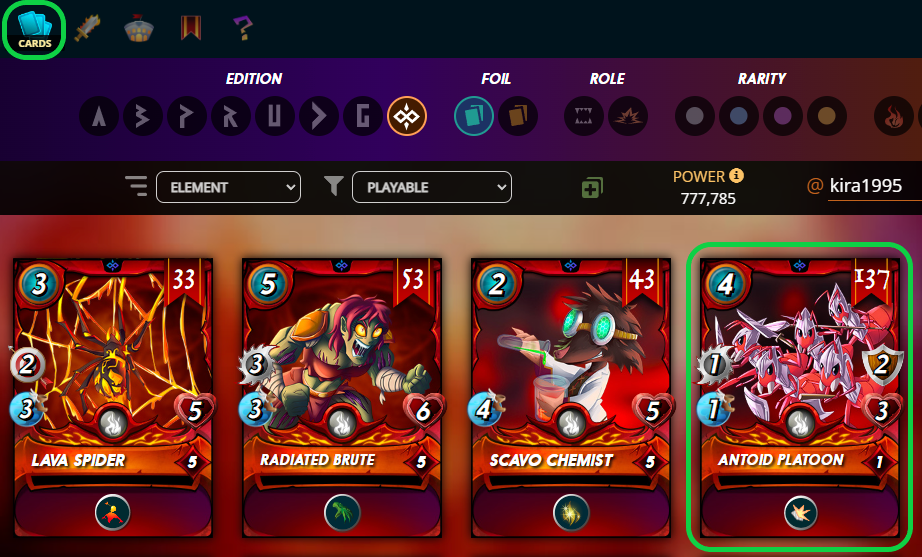 Step 1: The first step is to go to your card collection by clicking on the Cards icon (circled above) to select the card you wish to level up.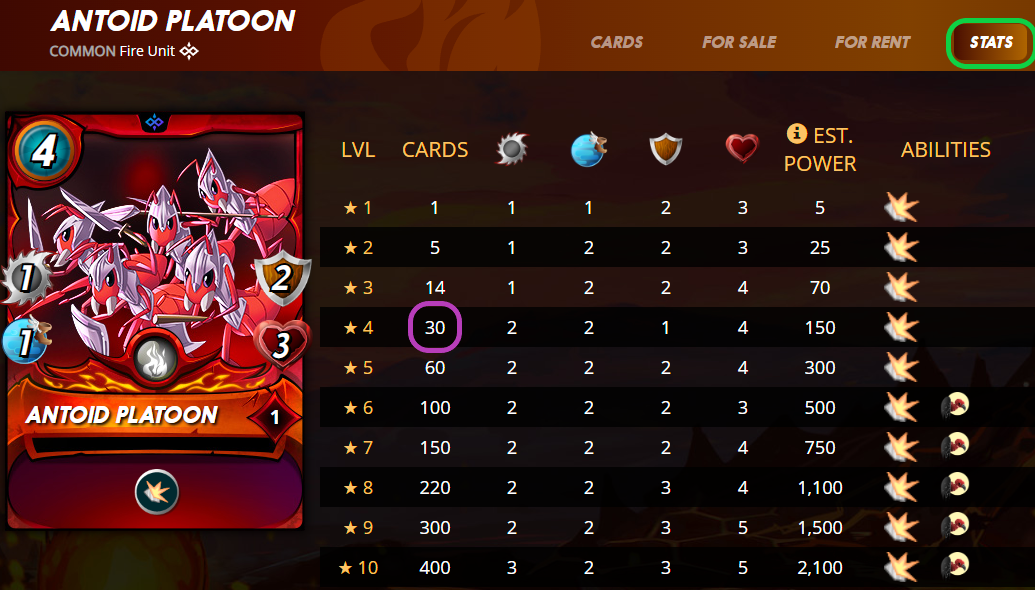 Step 2: If you click on the "Stats" tab, you will see how many cards are required to level up this card. You can also see the changes in stats and abilities in this tab. For example, 30 Antoid Platoon cards are needed for a level 4 version of this card. The card will go from 1 to 2 attack power and from 2 armor to 1 armor, compared to the level 3 version. This is because attack and ability attributes are often considered greater properties than other attributes. So to combine the level 3 card into a level 4 card, we will need to add 16 more cards to go from 14 to 30 cards.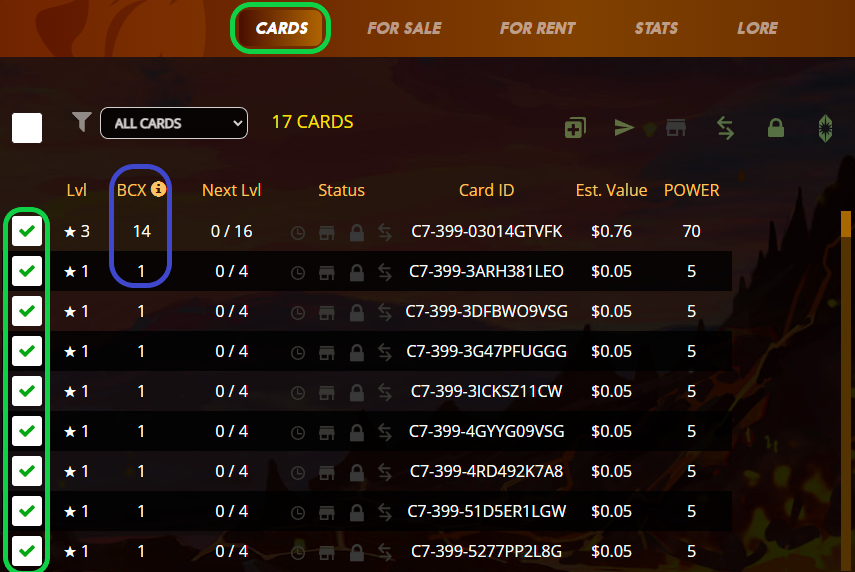 Step 3: Now that you know what stats will change and decide to combine the card into a higher level card, go to the "Cards" tab.
The BCX column displays the number of single cards that are currently on the cards you are planning to combine. Since 30 cards are the amount we need for level 4, we need to add 16 other cards to the level 3 card to achieve level 4. This could be 16 single cards or any combination of 16 BCX. In this example, we will combine a 14 BCX card with 16 pieces of a 1 BCX card. You could also combine a 14 BCX card with another 14 BCX card and a 2BCX card or any other combination as long as they add up to 30 pieces.
Step 4: Select cards up to the amount needed for the next level.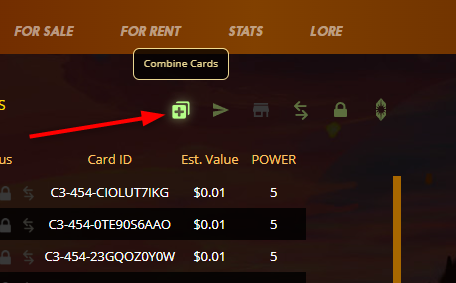 Step 5: Press the "Combine" icon.
Note: Technically, pressing this button will send a command to the Hive Blockchain to combine all the unique cards into one unique card.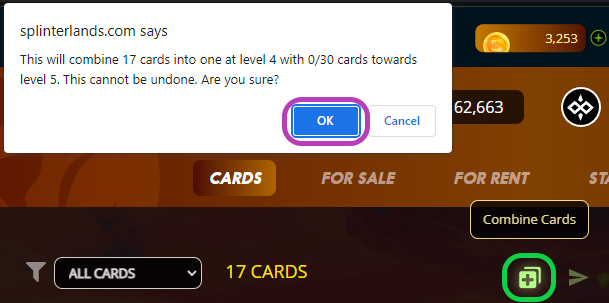 Step 6: In the window that asks if you are certain that you would like to proceed with this action, click on the "OK" button.

Note: you can also do a final check here if you counted well. If you combined just enough cards to reach that level and did not add an extra card, the number in front should always say 0.

Step 7 (Optional): You may get a pop-up to verify and confirm this blockchain transaction, depending on your selected method for submitting such Hive Transactions.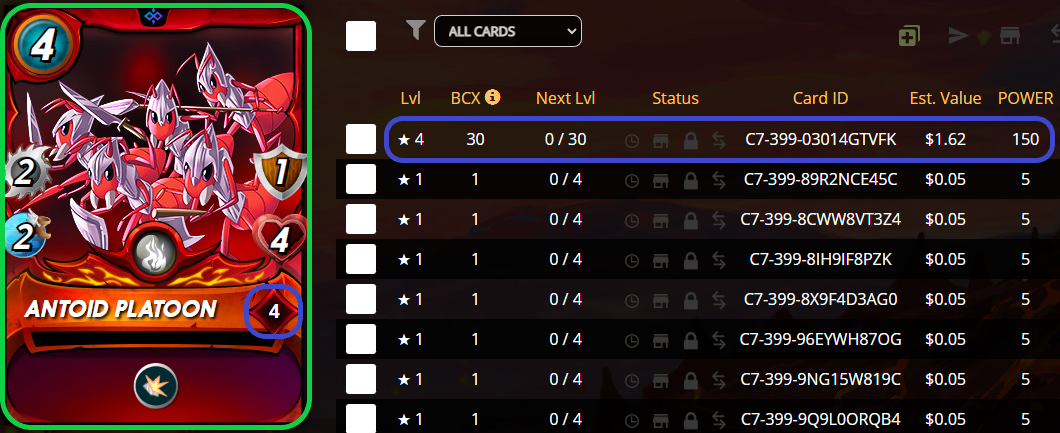 Once the transaction is fully submitted and the page reloads itself, you should now see your cards' level and stats have changed.

This card should now be playable within appropriate formats, league-level limits, and rulesets that would allow for its play and will be played at this new level as long as a summoner of a high enough level is able to summon it. Otherwise, the card may only play to the highest level version that any summoner or league level limits will allow for.