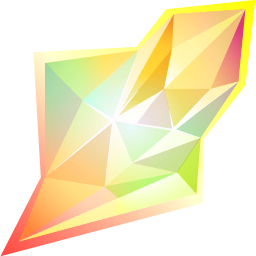 This guide briefly explains how staking and unstaking splintershards (SPS) works and how you can benefit from leaving SPS staked within your account.
Staking locks the SPS in exchange for gaining passive rewards (returning both SPS & vouchers). The amount rewarded to each player depends on the total percentage of your stake vs. everyone else's amount staked so that each player receives their share (dependent on the value staked). These funds may be unlocked at any time, but take four weeks for the entirety to be returned.

Staking

If you have SPS in your account that you would like to stake, go to the SPS management screen by clicking on the SPS icon. This button is located next to your username on the top of your screen.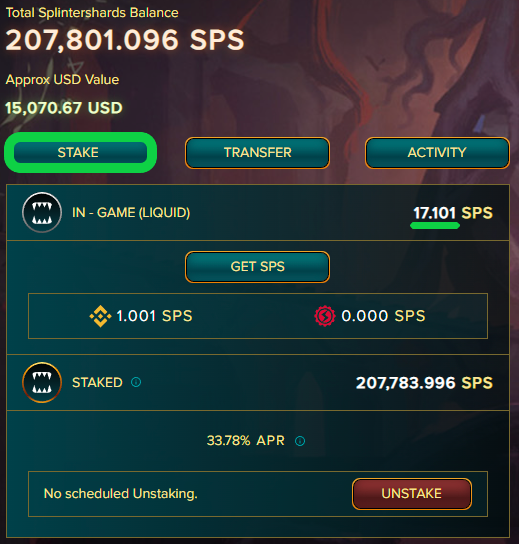 Once you arrive at the SPS management screen, you will see the total amount of liquid SPS in your account (underlined in green above). This is the amount of SPS that is not currently staked/locked, which means it is spendable and transferrable. If you wish to stake the SPS for rewards, you must click the Stake button (circled in green above).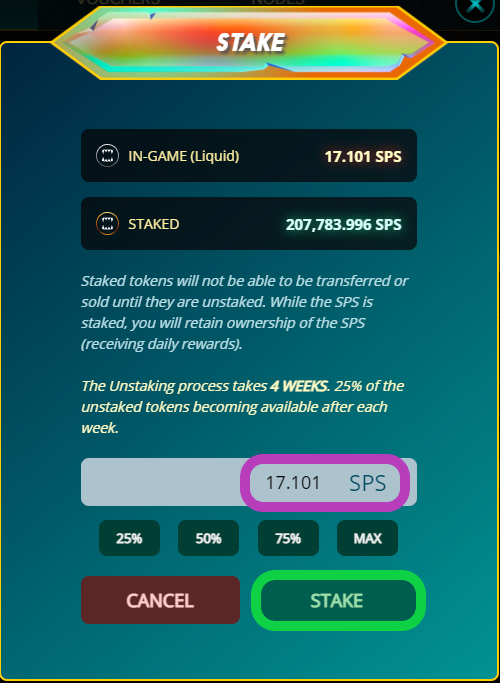 After clicking the Stake button, you will see this screen, which allows you to enter your SPS amount. You can enter a percentage of your total liquid SPS to stake or enter the value manually. To lock the amount in, click Stake.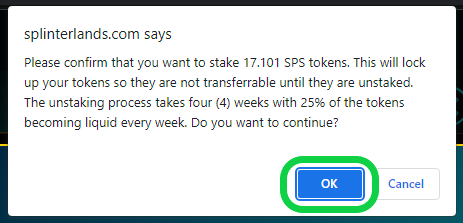 You will then receive this message asking if you are sure that you would like to confirm this transaction. This message will explain how long it will take to unstake your assets if you want them unlocked.
After confirming, your total amount staked should now be updated with your selected amount. The staked amount will look similiar to the above (underlined in green). Once it's staked, the SPS is locked, and you can no longer transfer it.

Note: If you had SPS or Vouchers ready to be claimed before staking, these rewards would automatically be claimed and added to the liquid balance (underlined in purple).



Unstaking

When you want to unstake SPS, click on the SPS icon to be taken to the SPS management screen.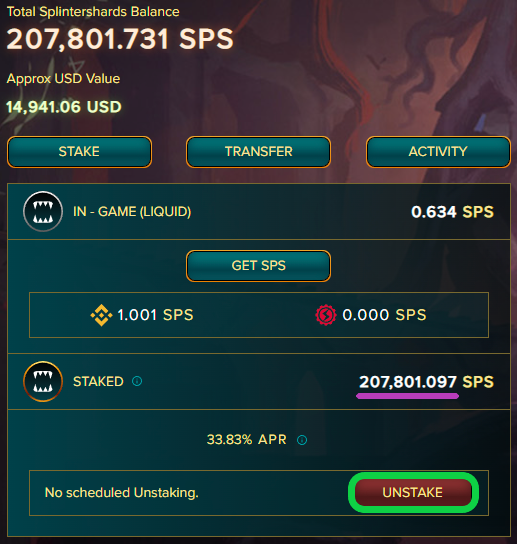 You will see the total amount of SPS staked (underlined in purple above). To proceed with the unstaking, select the amount of SPS you currently have locked in and click Unstake (circled in green).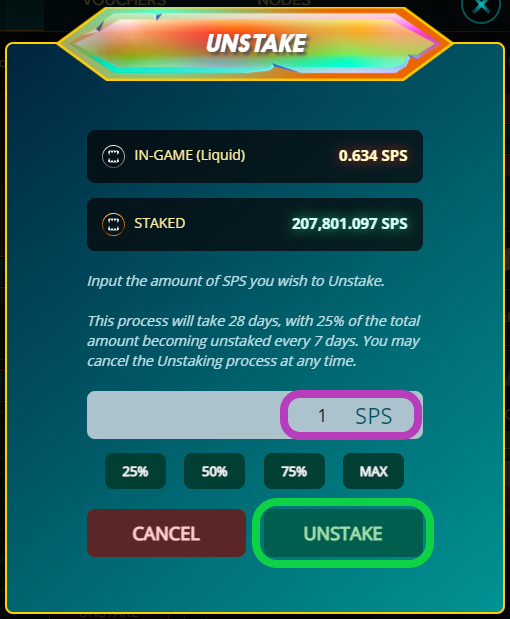 From the next window, you will enter the total amount of SPS you would like to start unstaking. Click Unstake after entering the amount you want unstaked. The unstaking process will take a period of four weeks. You will receive 25% of the designated amount per week.
Example: If you unstake 4 SPS, then you will receive 1 SPS for each week that passes. For 100 SPS, you will receive 25 SPS weekly, and so on.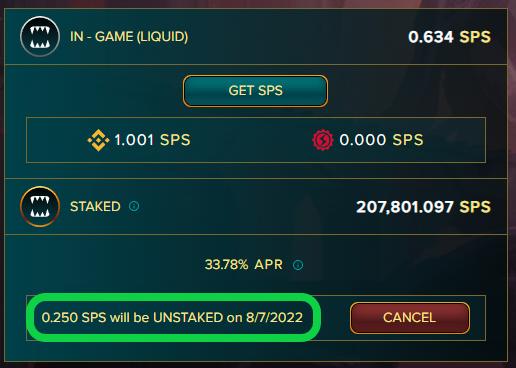 Once processed, you will see a new message on the SPS management page displaying the next date your SPS will be returned. One week from the date that your amount is staked, you will receive a quarter of your value, and then the action repeats for three more weeks. After four weeks, you will have the full amount for your unstake transaction.