Staked Splintershards may be delegated to other players. Please note:
Only the owner of the delegated SPS earns staking rewards. The account that receives the delegation does not earn staking rewards.
Users may not enter tournaments with SPS they have delegated out.
Proposal voting power may not be delegated. Votes will still count as the full Staked SPS amount a user has in their possession.
Delegated SPS cannot be Unstaked. You must first cancel the delegation before you are able to unstake the SPS.
SPS cannot be undelegated for the first 7 days after the most recent delegation.
How to Delegate SPS:
Step 1: Navigate to your SPS management screen by clicking your liquid SPS balance (red arrow below).
Step 2: Click Manage - located to the right of SPS Delegation.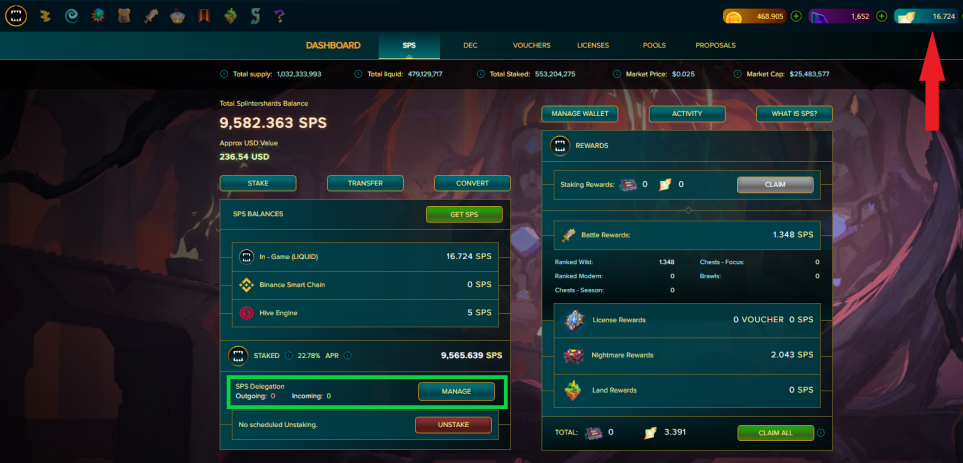 Step 3: Click Delegate:

Step 4: View the pop-up, and input the username of the account you wish to delegate to, as well as the amount of SPS. You may type in an exact number or pick a percentage of the amount you have available for delegation. (SPS that is already delegated, or is in the process of Unstaking may not be delegated out).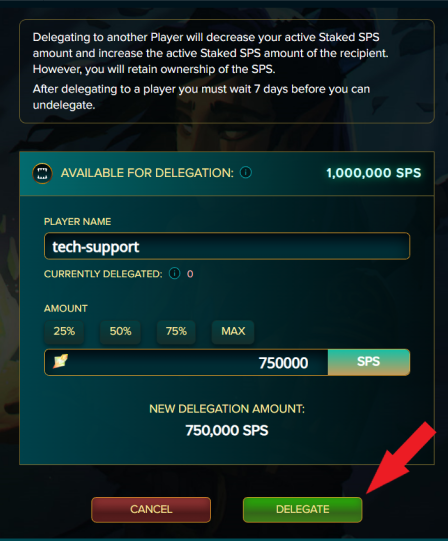 Step 5: Click Confirm and sign the transaction when prompted. Note the updated SPS delegation amount on your SPS management screen. You may keep track of your delegations by clicking Manage.

You may manage your delegations at any time by clicking the green + button to add staked SPS, and the red - button to lower the amount, or cancel it altogether.
Questions? Submit a request – Splinterlands