What is Burning SPS for DEC?
The SPS for DEC mechanic was created as a system to constantly burn SPS from circulation. This feature allows user to convert their SPS to DEC through an in-game interface, taking the SPS out of circulation while minting new DEC. However, due to how the amount of DEC given is implemented, it may not be worth it sometimes to convert the SPS to DEC.
How to Convert SPS to DEC
Step 1: To convert your SPS to DEC through the process of burning, go to the SPS homepage by clicking on your SPS amount on the header bar. Under your in-game (liquid) balance, click on the CONVERT SPS button.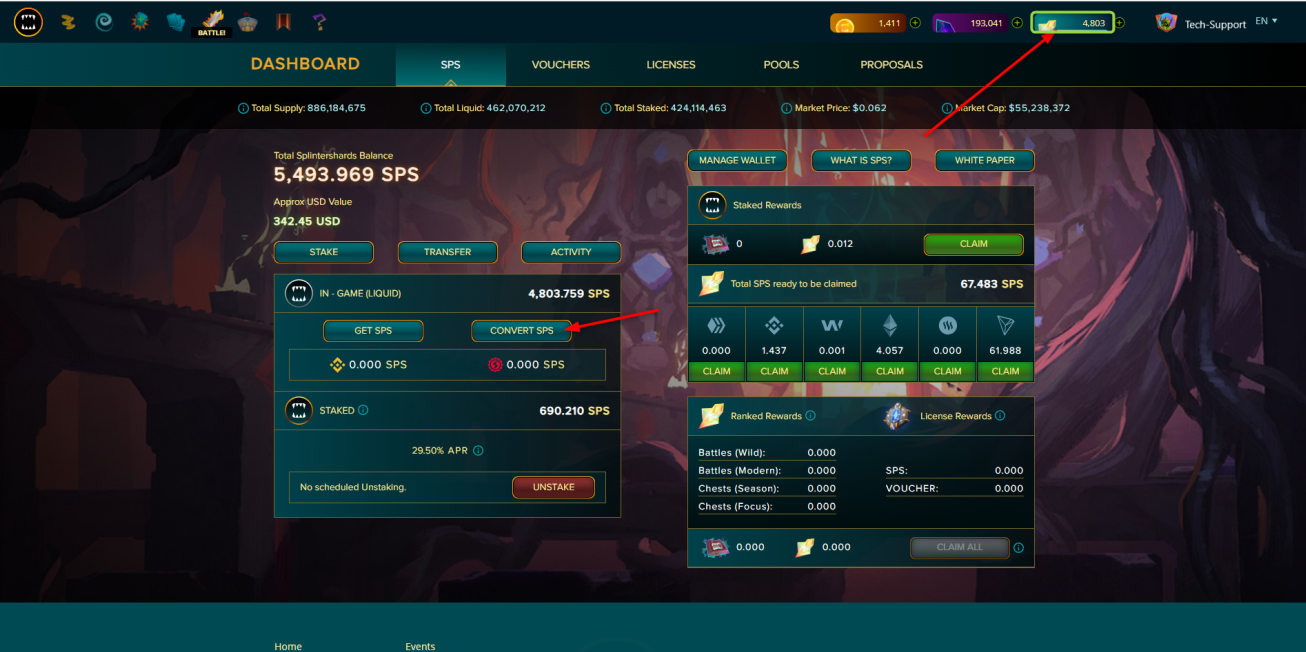 Step 2: A pop-up will appear with the market price of SPS and DEC. Enter in the amount of SPS you wish to convert in the SPS box, and the amount of DEC you will receive will appear in the bottom box. Press the CONFIRM button once you have confirmed all the information and confirmed the transaction, the DEC will show up in the account shortly.
HINT: If you require a certain amount of DEC, filling in the DEC box will automatically fill in the required amount of SPS.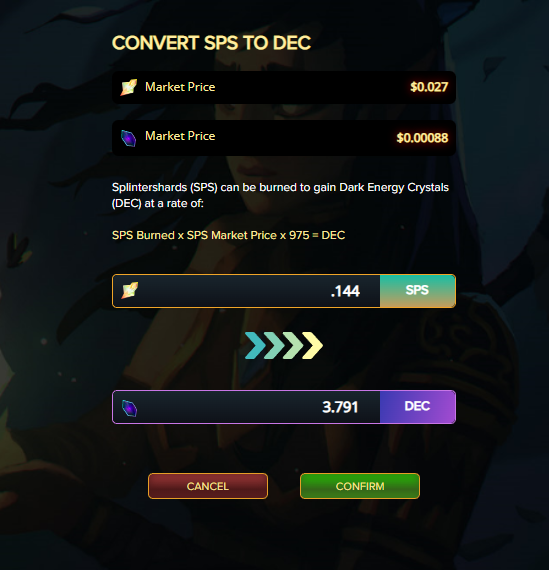 When is a Good Time to Convert My SPS
The equation used to calculate the conversion rate as shown on the conversion page:
(SPS Burned x Market Price) x 975 = DEC
There are times when it is better to use the 3rd party markets to convert the SPS to DEC. To break down this equation, (SPS Burned x Market Price) will be the dollar value of the SPS you are converting. The final x 975 represents that you will be getting 975 DEC per dollar of SPS you are converting. Following this, it may not be worth it to convert SPS to DEC through this method when DEC prices are under $0.001025/DEC.
To use exchange sites to swap SPS to DEC when DEC is below that price point, please refer to the articles below: