General Questions
What is a Season?
A Season is the length of time in which a player can earn end of season rewards and advance their ratings. While the daily focus is an opportunity to earn chests daily, season chests accumulate over the length of the season.
End of season (EOS) is the time when one season ends and another begins. This is the time when EOS chests are claimable.

How long is a Season?
The length of a season varies between 12 and 18 days. The purpose of this is to ensure that players all over the world have a chance to actively experience End of Season. You can view the length of the current season by navigating to your Splinterlands Battle page, then viewing the box to the left and under the Modern and Wild toggle.

What are the time constraints around End of Season?

End of Season is an important milestone for every player. In order to ensure that leaderboard rank and rewards processing goes smoothly, battles are disabled 5 minutes before, and 15 minutes after EOS. This helps to make sure any battles that are in progress or pending are submitted - allowing for a smooth transition to the next season. This also reduces processing load, to allow for smooth claiming of EOS rewards.

Be sure to plan for battles being unavailable 5 minutes before EOS if you are grinding right up until the end.

**To avoid delays in processing, claim 20 or more minutes after End of Season. If you are missing rewards, see: Where can I see my rewards?
Leagues
Why am I in a lower league after EOS?
At the end of each season. players ratings are reset. You can view the parameters of this reset by navigating to your battle page then clicking on Leagues, then League Rewards. Learn more about the EOS Ratings Reset.
Season Points
Where can I see how many season points I earn per battle?
After playing a ranked battle, you can view how many season points you earned for that battle by hovering over the ⓘ next to RP earned. Review this article detailing What Bonuses are Applied to Rshares? for more in-depth information about the other statistics contained within this pop-up.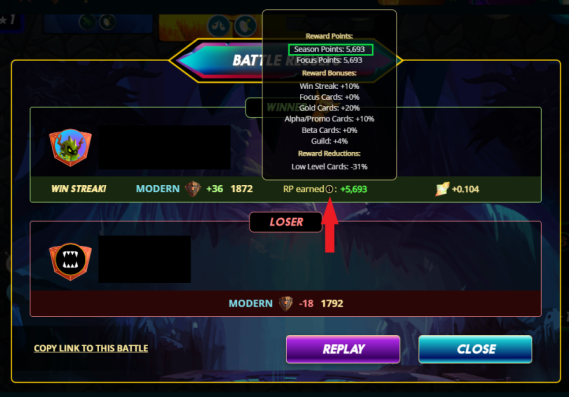 Where can I see my total Season Reward Points?

Navigate to your battle page, and view the Season Ends box.

How can I earn Daily Focus and Season Rewards?
Review: How to Earn Daily Focus Rewards and Season Rewards?
Review: What Bonuses are Applied to Rshares?
What can I expect in my Season Reward chests?
Review this article: Daily Quest & Season Reward Chests
Why don't my reward chests reflect my rating?
After the Ranked Reward Update in 2022, EOS reward chests are determined based on the highest rank you achieved the PREVIOUS season.
Why can't I claim my end of season chests?
1. There may be a delay in processing. At times, you will see a notification stating that there are delays in block processing. If that is the case, please wait some time before attempting to claim.
2. Verify that you qualify for End of Season Chests. If you did not play any ranked battles within the previous season, you do not qualify for rewards.
Where can I see my end of season rewards if I encounter a UI issue?
If you claim your season reward chests, but are directed away from the page, there are several places you can view your rewards. Learn how to view your rewards on the Official Splinterlands Website, Peakmonsters Explorer, and SplinterShare.

What if I believe there is a problem with my end of season chests?
If you believe there is a problem with with your end of season chests, we require documentation of your claims. It is ideal to take a screenshot of your expected chests before the of end season, and take a screenshot of your received chests.
The more information you supply Tech Support, the more efficiently we can review your claims and follow up with you. We recommend that all users keep track of their rewards and transactions. If our research is consistent with the rewards you have received, there is no recourse unless we have verifiable proof that a problem occurred.
If there is verifiable problem, can I get compensation?
As described in our Terms of Service, it is unlikely that compensation will be given. However we very much appreciate inaccuracy reports as they help us to identify and resolve issues.
Please submit a ticket to tech support detailing the issue and all relevant information . We at Splinterlands strive to make for the best customer experience and actively try to address any issues our users encounter.