Retrieving your Google Play Receipt
Step 1: Open the Google Play Store on your device by clicking the area circled in red below.
Step 2: Next, click Payments & subscriptions.
Step 3: Go to the Payments & subscriptions tab. Please click the payment methods link.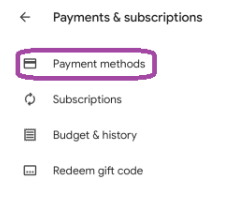 Step 4: Scroll to the bottom of payment methods and click the More payment settings. This will take you out of the google play store and into your browser.
​
Step 5: Click on the hamburger in the upper left corner, circled in green.
Step 6: In the dropdown that will show up on the left side of the screen, please click Activity.
​
Step 7: This will show you your purchases via the play store. You will need to search for one that has the correct date and says Summoners Spellbook on it.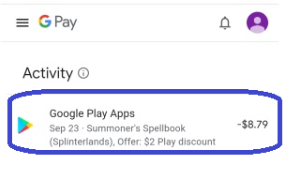 Step 8: Click on the transaction to get more details.
**Please include the GPA as text and the GPA receipt in your request for tech support.
​