For a comprehensive look at Secret of Praetoria research, review The Secret of Praetoria - Phase 1.5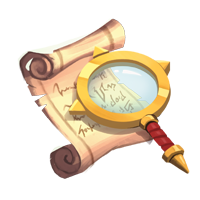 What is research?
The Secret of Praetoria can only be uncovered through work by all landowners in each of the seven territories. Research is the means by which landowners can work together to uncover the secret.
What are the benefits to doing research?
For every 10,000 PP a landowner devotes to research, they will receive 1 research token (minus 10% for taxes). As non-transferable tokens, these will stay within your account and will be associated with the territory in which the research was performed.
Those who contribute to the project will receive certain benefits when Land Phase 2 is released. Pending the full release of Land Phase 1.5, landowners may compete for Pre-fix titles based on who has completed the most research per territory.
How do I research in land?
In order to Research, select the Research Hut worksite when building your worksite. Building a Research Hut on a magical plot provides a 100% production bonus.