Formula
rshares = (rating * (1 - % of starter))³, divided by 1,000²
When calculating the number of rshares received, the formula above is used among various bonuses. It depends on the types of cards played, your rating, whether you are on a win-streak, what your guild's lodge building is leveled to, your remaining energy capture rate (ECR), and what league you are competing in because the formula registers a capped rating when hitting the required rating to advance towards the next league.
For example, if you are in Silver 1 League and needed a 1,900 rating to advance to the Gold 3 League, then your max qualifying rating would only ever be at 1,900.

Bonuses that may be applied are as follows:
Win Streak: 5% per win, up to a max of 50%
Focus Cards: 10% applied per card containing focus challenge attribute
Gold Foils: 10% applied per gold card used
Alpha/Promo: 10% per Alpha or Promo card used
Beta: 5% per Beta card used
Guild: From 1% up to 20% (Depending on the guild lodge's level)
Energy Capture Rate: After bonuses applied, the % your ECR was for this match is equal to the % cut of the reward received in the end. (90% ECR means you receive 90% of the reward.)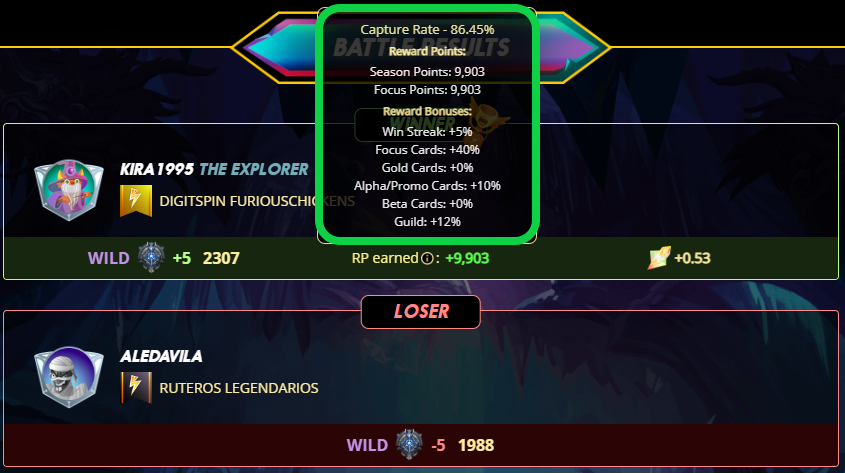 In the match shown, you can see that the winner earned a total of 9,903 rshares for the match played in Silver 1, which needs a total of 1,900 rating to advance to gold. For example, we will use the formula to show what we should have gotten and compare it to the amount we actually received for this match.

The rating 1,900 when cubed (since we cannot count the full 2,307 rating due to league limits), which is 1,900 * 1,900 * 1,900, amounts to a total of 6,859,000,000. Then when divided by 1,000², we get 6,859. The equation should now be (6,859 * ECR * bonuses). Our ECR during the time of winning this match was as 86.45%, which may be multiplied as 6,859 * 0.8645 = 5929.6055. The bonuses for the match added up to a total of 67%. In order to add the 67% to the current 5,929.6055, we can multiply this number by 1.67. So then 5,929.6055 * 1.67 = 9,902.441185, which comes close to our 9,903 rshares as shown within our battle results above.

The effect of starter cards on this calculation can be found here: Why didn't I receive any SPS for my ranked battle?