Bonuses that may be applied to Rshares:
Rating - Based on the minimum of the player's current rating and the maximum rating for their current league.
Ranked Reward Pool - The SPS reward pool that can be earned is 1.8 million SPS per month and it does not fluctuate based on the price of SPS.
Win Streak - Players earn more SPS per win when that win is part of a winning streak (3 or more in a row).

Note: You can earn a maximum of 50% bonus for win streaks per battle.

Gold Foil Cards - Players earn 10% more SPS for every gold foil card played.
Alpha/Promo Cards - Players earn 10% more SPS for every Alpha/Promo card played.
Beta Cards - Players earn 5% more SPS for every Beta card played.
Guild Bonuses - Members of guilds earn an SPS bonus depending on the level of the guilds Quest Lodge.
Focus Cards- This provides a bonus to the overall reward shares earned.
Starter Cards - Rewards are reduced for each starter card used.
Capture Rate has been retired and replaced with a new Energy System.

The amount of play no longer impacts rewards.
Where Can I view my Rshares?
Rshares for a specific battle can be viewed on the Battle Results screen. Simply hover over the little i next to RP earned.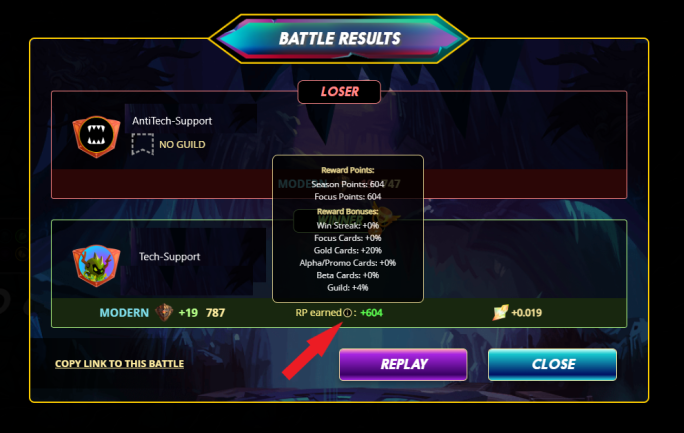 These battle results are used in the example below
How can I calculate Rshares with the Formula?

To calculate your Rshares:
Step 1: Post Battle, Locate your Rating.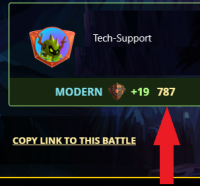 Step 2: Multiply your Rating by percent of Starter Cards used (if any)
Step 3: Cube the results.
Rating of 787 cubed = 487,443,403.
Step 4: Divide the resulting number by 1,000²
487,443,403. divide this by 1,000² = 487.443403
Step 5: Add up your bonuses
20% for Gold Cards + 4% for Guild = 24%
Because we want to retain the base amount and add the percentage it it, add a 1 in front of your bonus amount.
1.24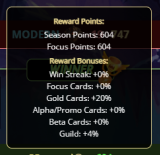 Step 6: Multiply the results of your rating calculation by your bonuses.
487.443403 x 1.24 (bonuses - 24%)

604.429 = 604 rounded down.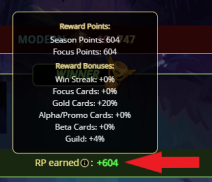 In the match shown, you can see that the winner earned a total of 604 rshares for the match played in Bronze 1.