Daily Rentals vs. Season Rentals
Daily Rentals
Daily rentals require you input the number of days (between 2 and 180) that you wish to rent.
The total amount is deducted up front and will be held in escrow, distributed to the card owner every 24 hours. A prorated amount will be returned if the rental is cancelled early by either party.
When you rent a card for multiple days, it can be canceled at any time by either party (minimal rental time is 48 hours). You will still be able to use the card for the remaining 24 hours on the day it was canceled.
The price of rentals can be changed after each rental period, however beginning March 7th, 2023, there will be a 1 DEC fee for such actions.
Season Rentals
The total amount for reason rentals is required up front. It will be distributed immediately, as season rentals cannot be canceled.
With 7 or more days left in current the season, Season Rentals will be active from time of renting until the end of the current season, at which point they can be cancelled.
With fewer than 7 days left in the season, Season Rentals will remain active through the end of the current season, and through the end of the next season.
Season rentals can not be cancelled by either party until the end of the specified season.
How Do I Rent Cards (Daily)?
Step 1: To rent a card, go to the Splinterlands market page and click on the "Card Rentals" tab.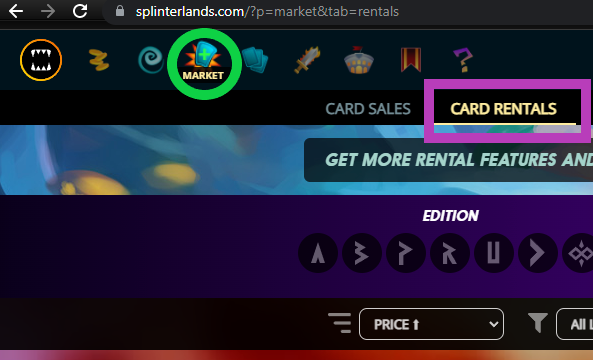 Step 2: Use Card Market Filters to order cards based on pricing, foil, type, element, and summoner.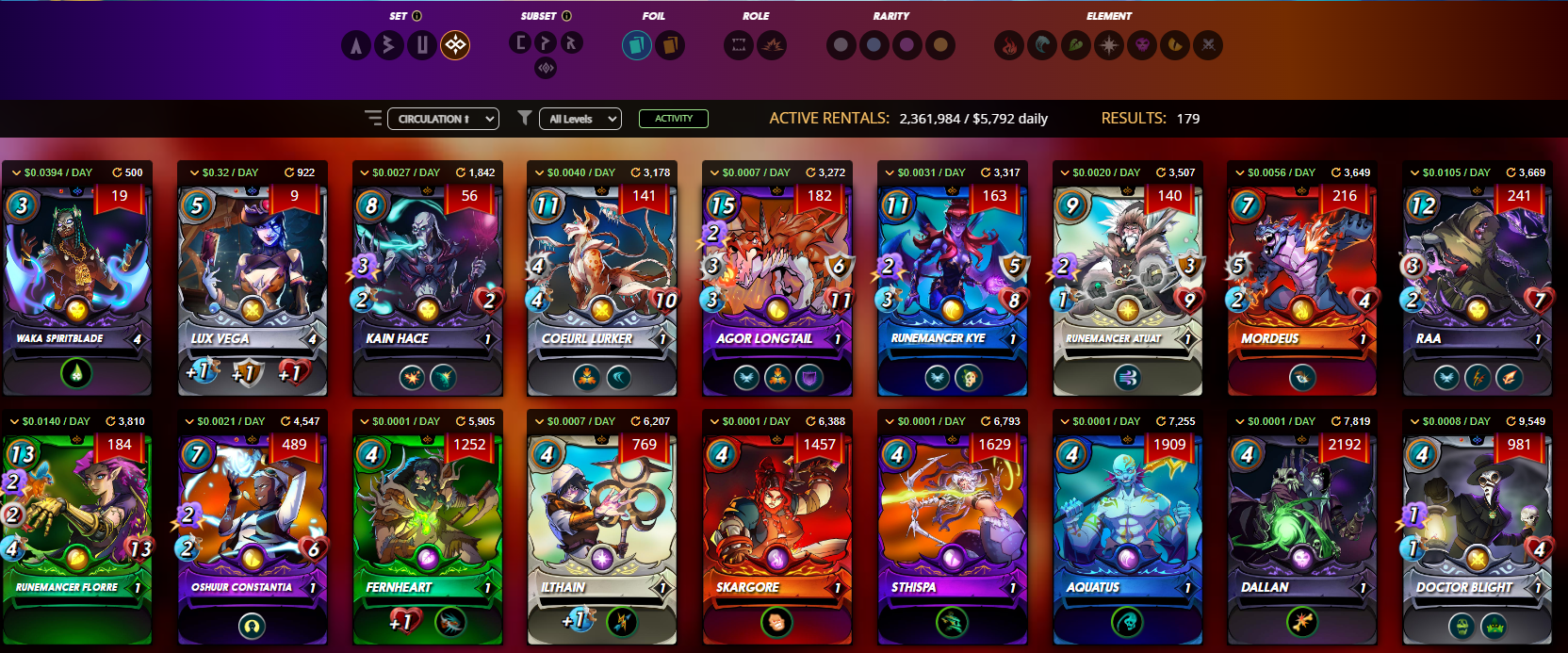 Step 3: Select a card and click on the checkbox (circled below in green) to the left of it. Select a payment method by choosing credits or DEC on the dropdown bar next to the rent button (in purple square below). After choosing your payment method, click the "Rent" button.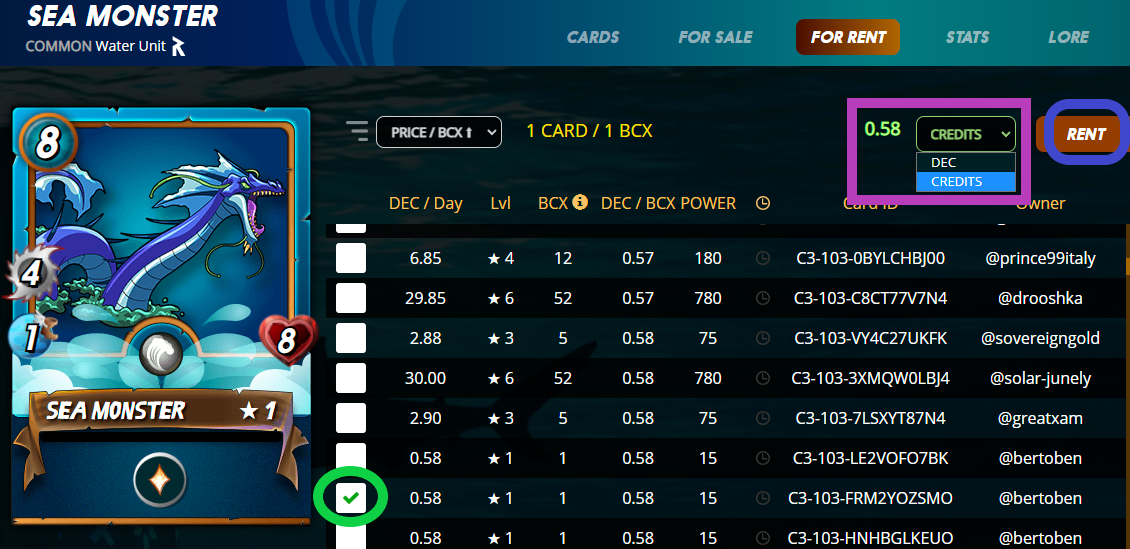 Step 4: Enter the number of days you would like to rent this card for, and click on the "Rent" button. You are reminded of how the Rental Contract works in the text at the bottom of this pop-up (pictured below).
* Since an update on 7/21/2022, the minimal rental period is 2 days.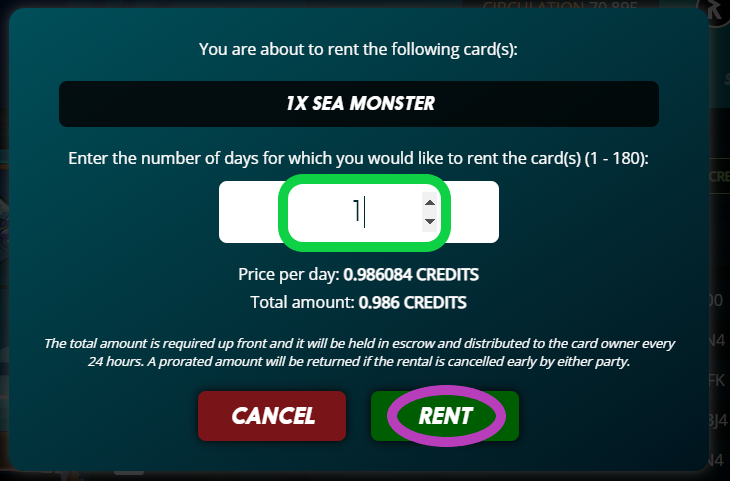 Step 5: Confirm via the pop-up pictured below the total credits or DEC that will be used for this rental payment.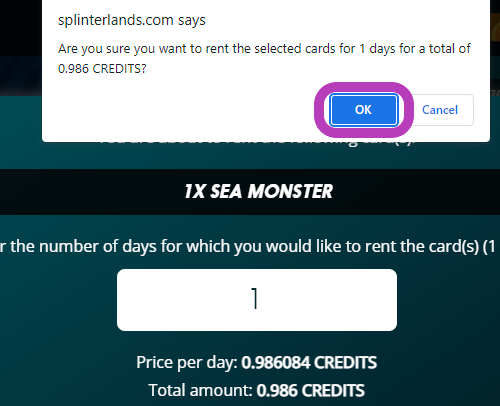 Step 5: If you are using Hive keychain, you will be asked to confirm the transaction via Keychain (pictured below).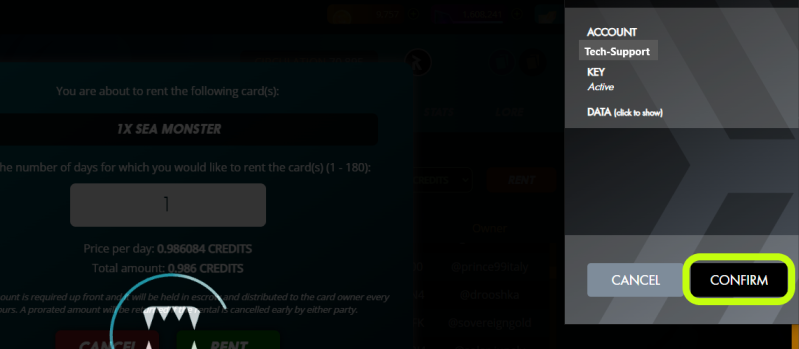 If you are not using Hive Keychain, input your private Active Key manually (pictured below). We highly recommend installing Hive Keychain for better security and easy key management.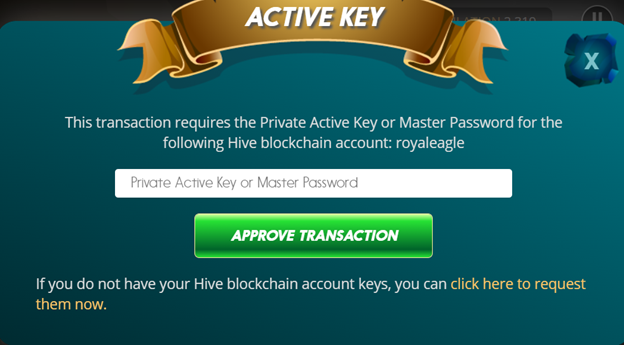 Step 6: After confirming your transaction, your card will have been successfully rented and is available for use in battle for the number of days you specified.