Different Types of Packs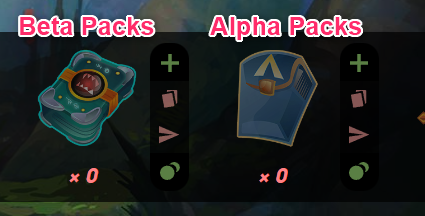 There are seven pack types currently: Chaos, Gladius, Dice, Untamed, Orbs, Beta, & Alpha. Each has the same pull rate, even though the potions corresponding to each pack may vary.
Pull Rates
The chances of getting a type of rarity in a pack are the following:
Commons: 75.2%
Rares: 20%
Epics: 4%
Legendaries: 0.8%
In addition, each card has another 2% chance of turning into a gold foil once opened. Furthermore, packs are guaranteed to net you at least one rare or higher for every pack opened.
Using a Legendary Potion increases the drop rates of legendary cards and Alchemy Potions increase the gold card drop rate. One potion is applied to each card, so you will need five potions per pack.
If you choose to use the Legendary Potion, the legendary drop rates will double and the common drop rates will decrease as a result. That means that commons will now have a 74.4% pull rate and legendaries will have a 1.6% chance. A chart with all the variations can be found below:

No potion pack drop rates

Legendary Potion pack drop rates

Alchemy Potion pack drop rates

Both Potions pack drop rates
Summoner Drop Rates
The summoner drop rates are the same as the monster drop rates of their rarity, for example, a Legendary Summoner Quix the Devious has the same chance of dropping as a Legendary Monster such as Void Dragon. The only reason it may seem like summoners have a lower drop rate chance is because there are more monsters of that rarity than there are summoners, so there is a higher chance of getting a monster of that rarity.