The Metamask wallet extension can be installed on various browsers including Chrome, Firefox, Brave, and Edge, to allow users to interface with various Web3 decentralized apps, exchanges, games and more. In this guide, we will outline how to connect to the Ethereum (ETH) network by creating a new wallet (or importing an existing one) within the Metamask wallet extension.
How to Install Metamask and Create an ETH Wallet
Step 1: Visit the official Metamask website, and click the Download button on the top bar:

Step 2: The site should automatically detect what browser you're using, and give you a button to click (seen below, Install Metamask for Chrome) to install Metamask within it. If for some reason it does not show the correct browser immediately, there are other 'Supported Browser(s)' options further down the page that will take you directly to various extension download pages. Click the Install Metamask for... button: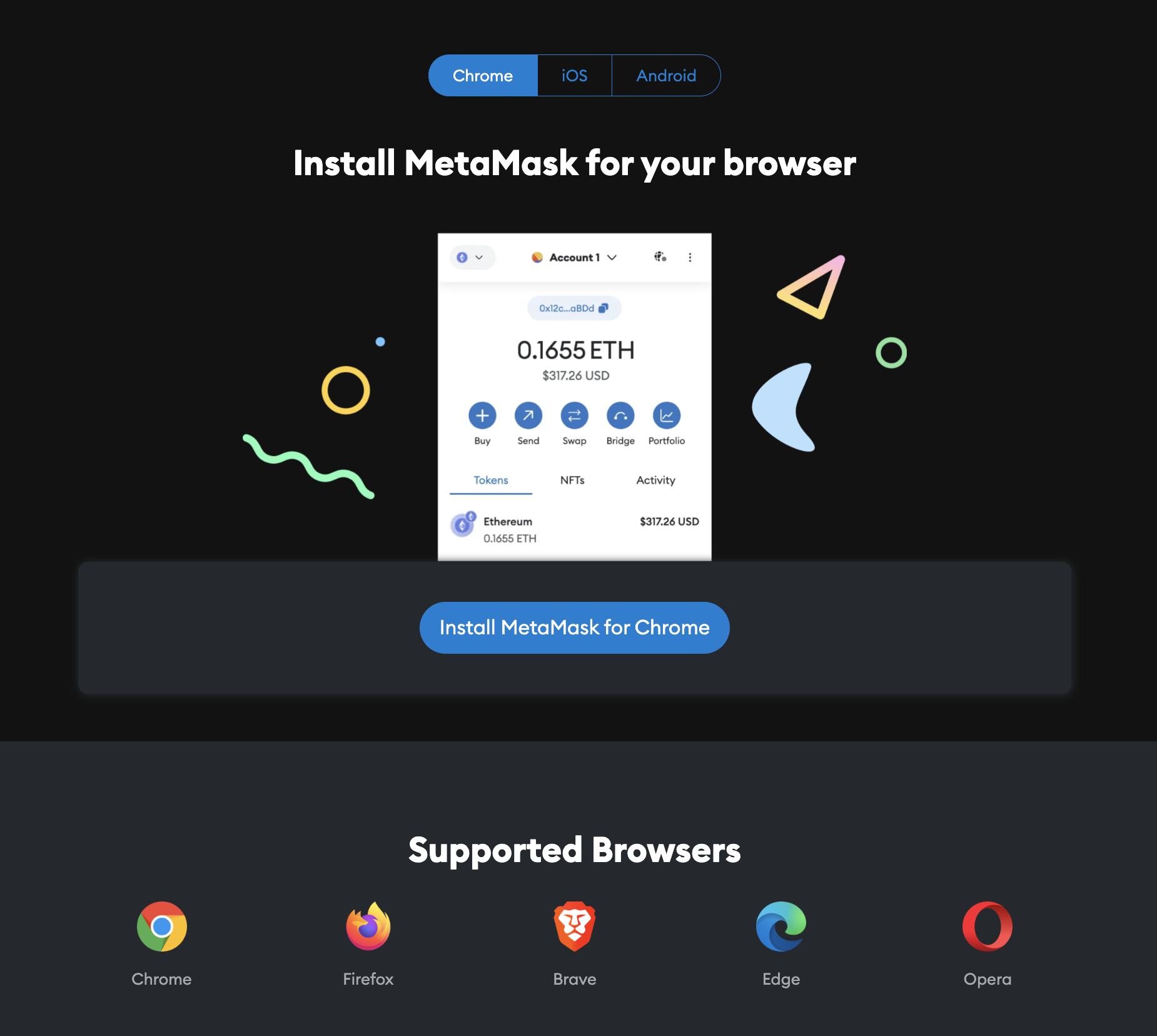 Step 3: This should forward you to whatever service your browser uses to install extensions. In the case of Chrome and Brave, this will be the Google Play Store. We'll use Chrome for the example here. In that Google Play Store page, click Add to Chrome:

Step 4: In the case of Chrome, a pop-up will appear (other browsers will work in similar ways, though the exact steps may look a bit different). Click Add Extension: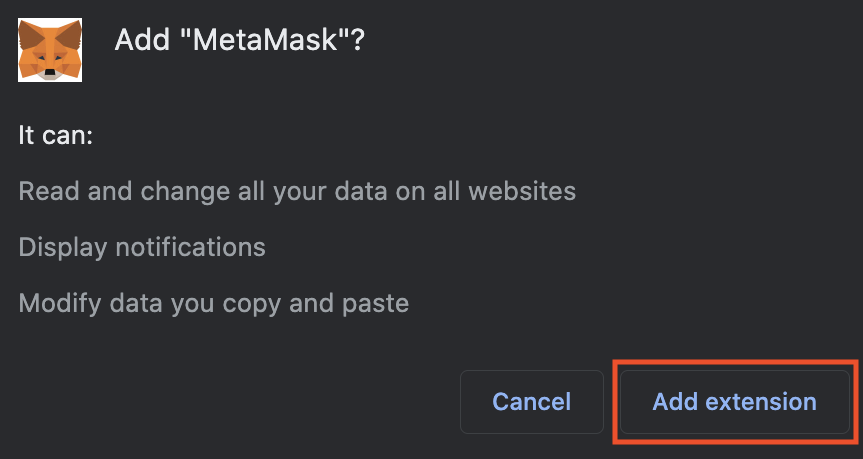 **Note: If you do not see the pop-up above, you may have to disable your popup blocker or other security measurements for this page
Step 5: The Metamask welcome screen should now open automatically. If this doesn't happen, you may need to click the puzzle piece icon in the top right of Chrome (other browsers may have extension menus elsewhere), and give Metamask access permissions.
Once you are on that welcome screen, click the checkbox to agree to Metamask's Terms of Use, then either Create a new wallet or Import an existing wallet: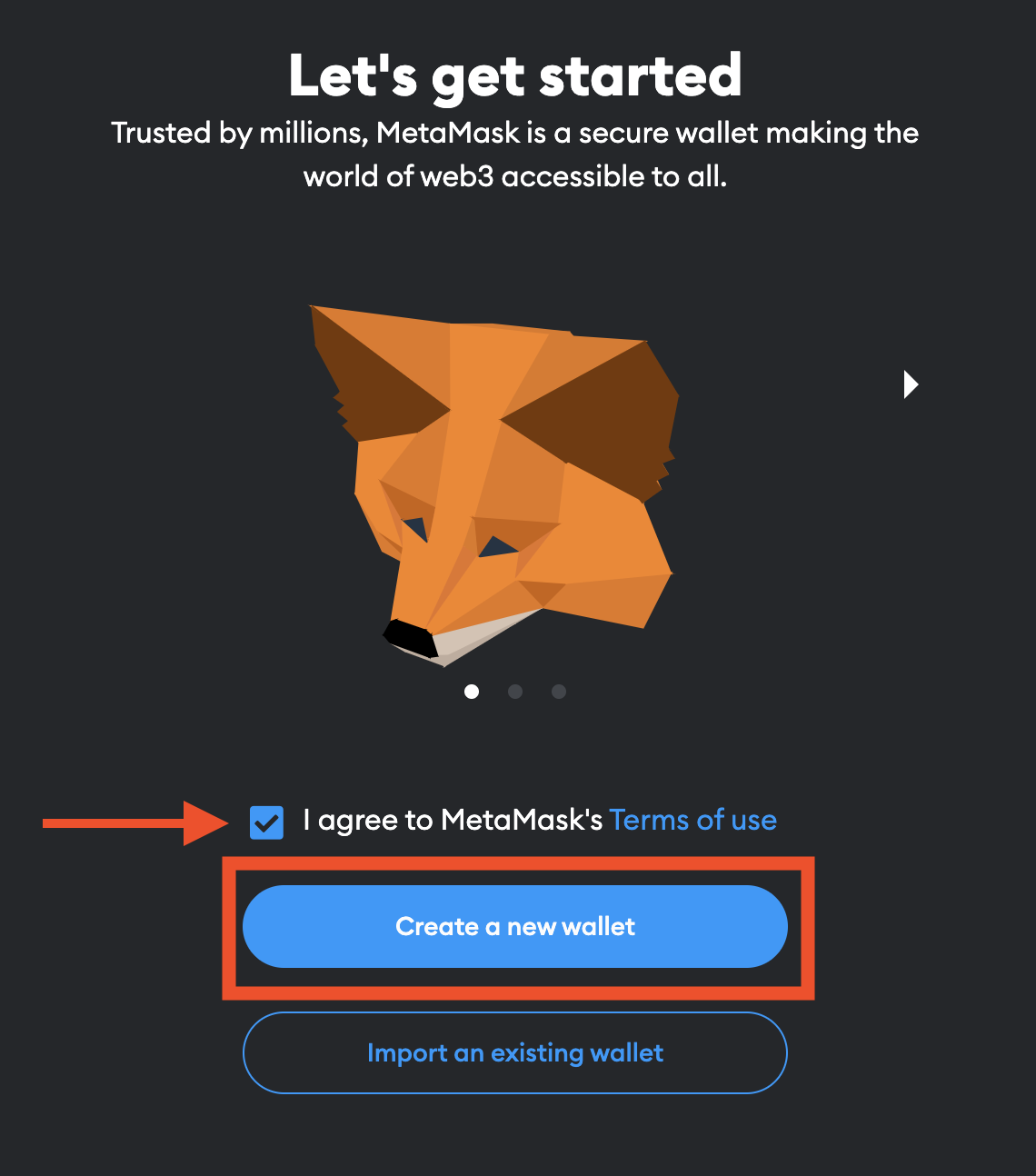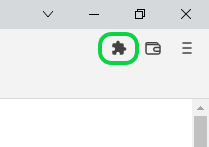 Step 6a (New wallet): If you are creating a new wallet, select the Create a Wallet option (If you want to use an existing wallet, please skip ahead to Step 6b). You will be prompted to first create a password to open and access the Metamask extension, as seen below, then you will click Create a new wallet: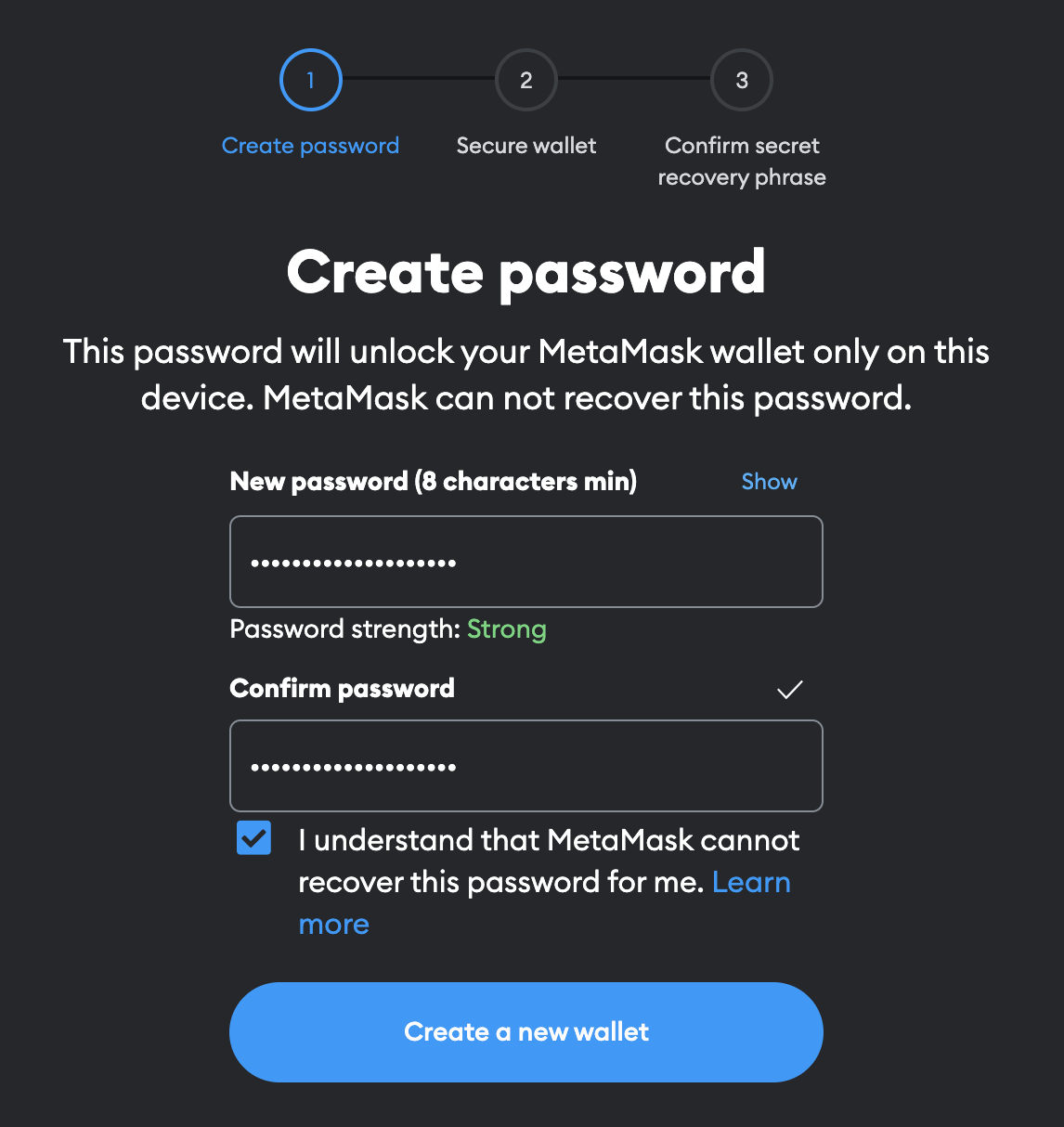 Next, you will see the following page, with a quick video outlining wallet security. You can either choose to access and save your 12 word secret phrase here (the Secure my wallet button), or skip that step and return to it later (the Remind me later button):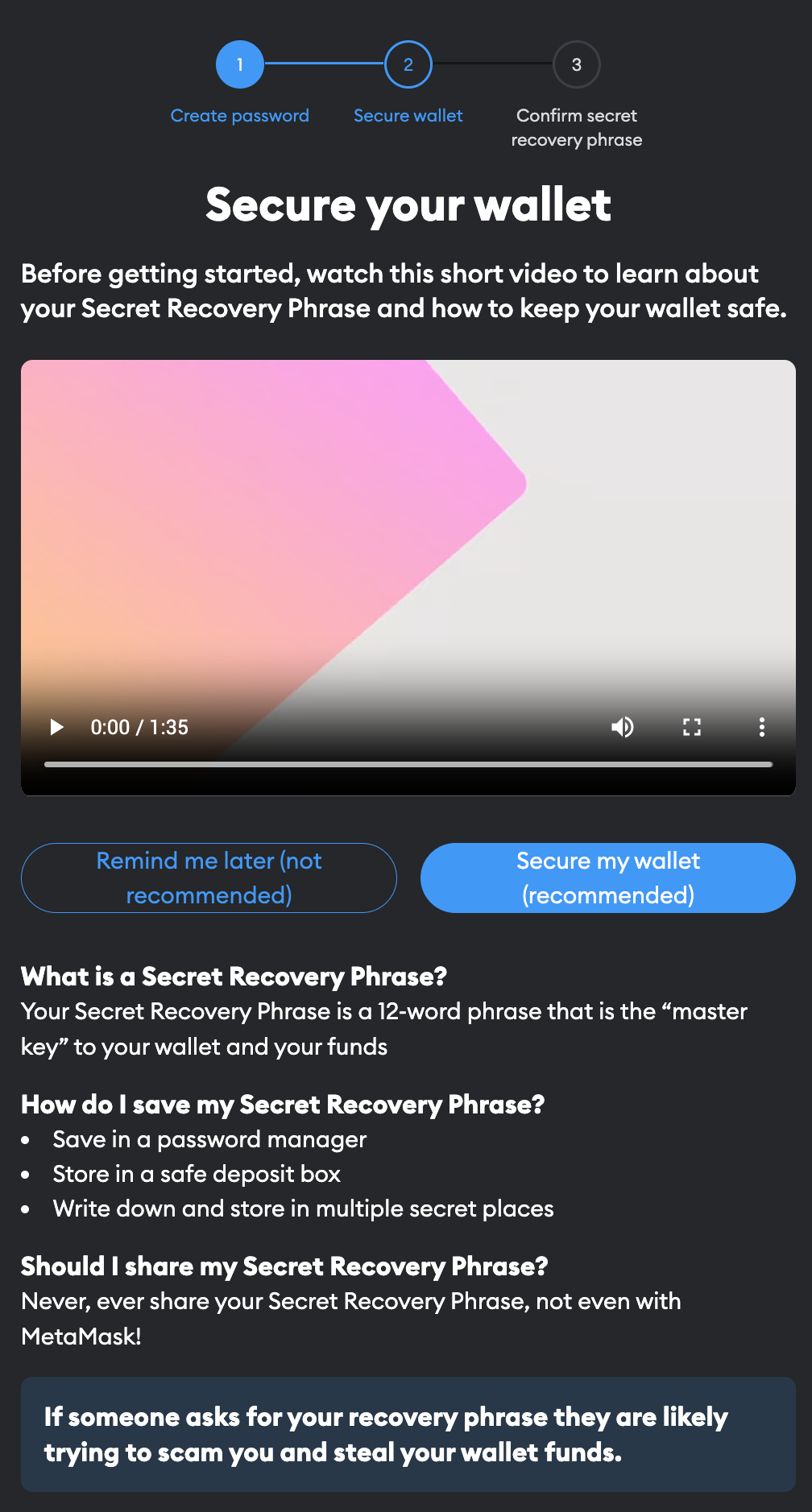 If you choose Secure my wallet:
If you choose Remind me later:

You will need to reveal the secret recovery phrase, and click Copy to Clipboard, then save the phrase somewhere secure.

You will be given a warning asking if you want to skip this account security step, and will need to click the checkbox, then the Skip button to move forward:

You will then see a page like the one below, with some of the 12 words left empty, which you will need to fill in, and then click Confirm:

Please skip Step 6b, and move to Step 7 below.

This will essentially complete the process, and take you to Step 7 below (please skip Step 6b), the same place you would have arrived at after the completion of the Secure my wallet process.
Step 6b (Existing wallet): If you have an existing wallet that you would like to import and have your secret phrase stored somewhere, select Import an existing wallet. You will then paste in your 12 word secret phrase, and set-up a local password for the Metamask extension. Your wallet will be added to the extension following this process.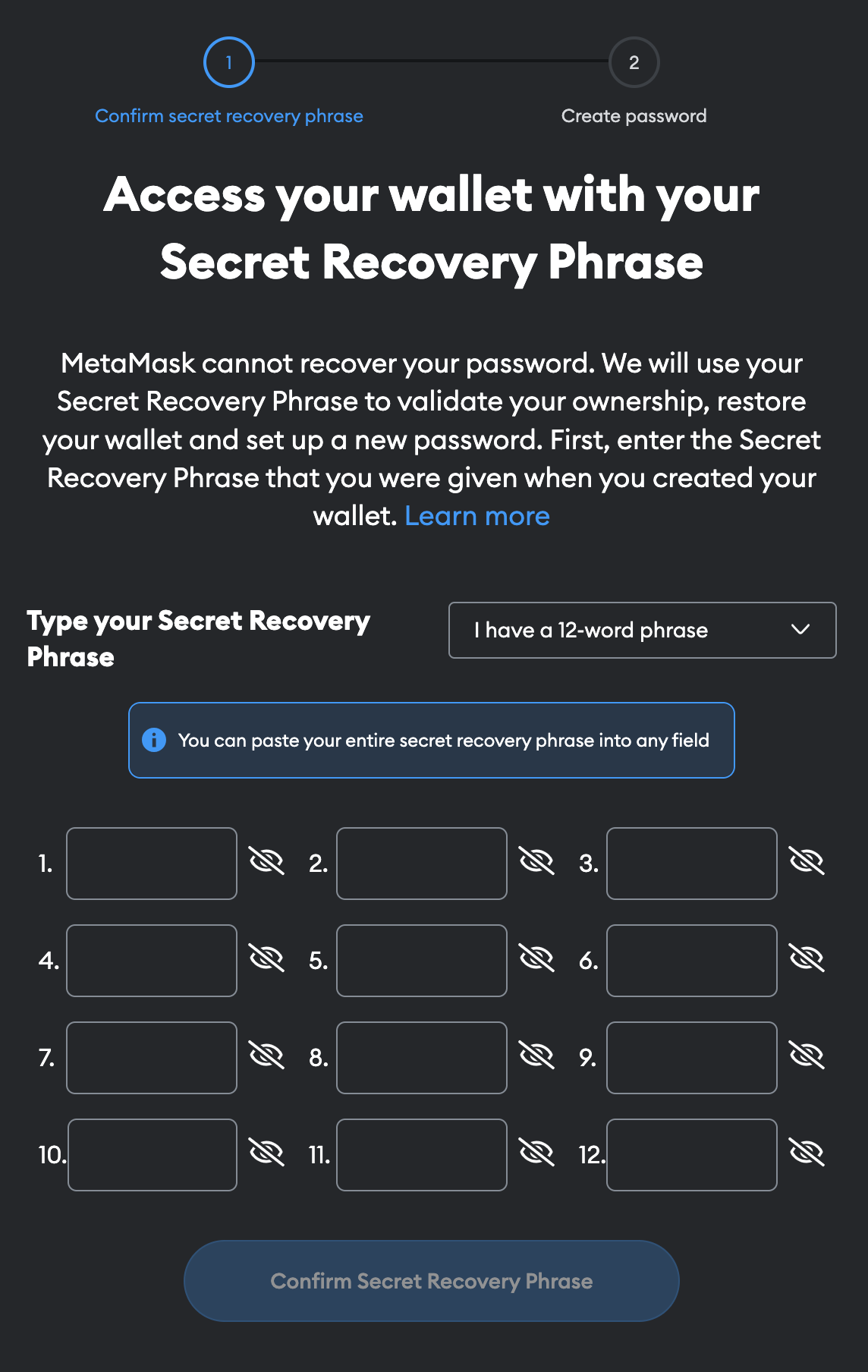 Step 7: After completing steps 6a or 6b above, you will arrive here and receive the message of Wallet Creation Successful. Click Got It, then on the next pop-up Next, and finally Done:
Cogratulations! You've got a wallet inside of Metamask! It should open your wallet info within the Metamask website, but you can also now access it via the extension.
You are now set-up on the Ethereum blockchain, but, in order to move assets into or out of Splinterlands via the BNB Smart Chain, you will need to set up the BSC network on your wallet.
You may also find this guide to Transfer SPS and DEC with MetaMask useful.