What is a Guild Spy Glass?
A Spy Glass is a purchasable item that allows your entire guild to see other guild's Fray assignments before Brawl combat begins. This can be a game changer particularly if analyzing strategy is your strong suit. To get a tactical advantage, navigate to a guild's Brawl page during the Prep Stage to spy on your enemies.
After purchasing a spy glass, it will activate automatically for all guild members at the start of the next Brawl, unless your guild's Brawl Status is paused. Each use lasts for one Brawl period.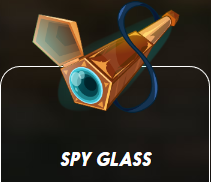 How can I purchase a Spy Glass?
The Spy Glass is purchasable if you have a level 4 Guild Store for the price of 5 crowns. Only Guild Co-Leaders and Leaders can purchase a Spy Glass. If your are a of the correct rank and have a sufficient crown balance, simply navigate to your guild store, input the number of spy glasses you wish to purchase, and click Pay with Crowns.