When did SPS Brawl Rewards Start?
The first SPS Brawl Rewards were awarded 11.18.2022 EST
You can also review the SPS Whitepaper for more in depth information about SPS
How are SPS Brawl Rewards Determined?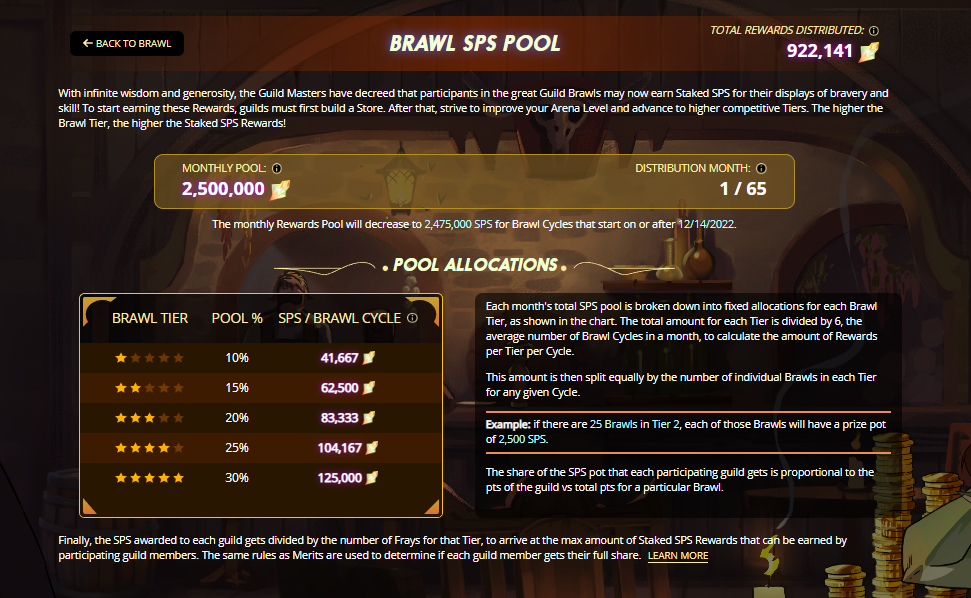 2.5M SPS are allocated for guild brawls each month, though these are reduced at a rate of 1% per month.
When brawls are completed, the number of brawls per tier is divided by the SPS allocated per brawl cycle in the table below (rounded to 3 decimal places):

The share that each guild gets is proportional to the number of points they receive for that particular brawl.
The max amount of staked SPS awarded to each participating guild member is determined by dividing the SPS awarded to the guild by the number of frays within that tier.
As with merits, only members that submit 75% or more of their brawls are eligible for rewards. Here, the amount of SPS given is proportional to the number of brawls submitted.
Example:
For a guild participating in Tier 1 with 435 active guilds, the SPS pot per Brawl would be 969 SPS.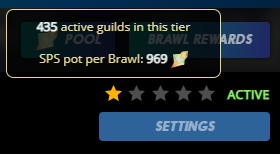 If a member fully participates, they have the potential to earn up to 14.245 SPS. All fully participating guild members are awarded the same amount, regardless of wins or losses. Players who submit less than 75% of their teams will receive proportionally less.
View this post from Cryptomancer (Splinterlands & Hive Engine Developer) for more insight on calculating Brawl rewards: https://peakd.com/splinterlands/@cryptomancer/changelog-bug-fixes-and-brawls-20-follow-up-enhancements
Currently, unearned SPS is sent to the DAO.
How Can I View My Potential SPS Brawl Rewards?
You can check the estimated numbers for your specific brawl by navigating to your Brawl Page, then clicking Brawl Rewards:

Please note that these ranges are estimates, as factors like participation are not determined until after the brawls are complete.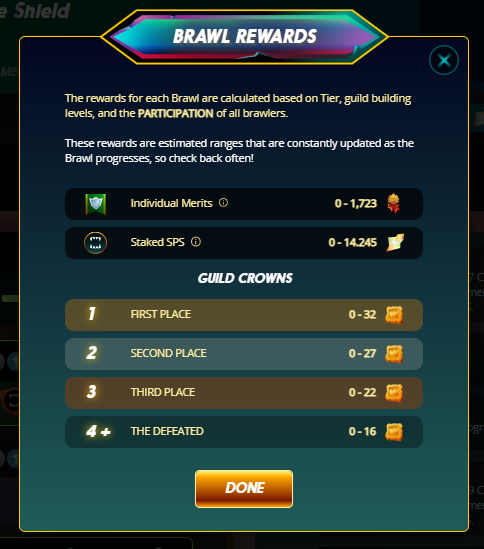 Hover over the "

" icon for a more detailed description...
Note that your potential for SPS rewards changes after you have submitted 75% of your teams for the brawl.
If fewer than 10 guilds actively participate in a brawl tier, then the total rewards available for that tier will be reduced proportionately.
If there is only a single guild in a brawl tier, the guild will automatically move down to the nearest non-empty tier.

You can view more information about brawl rewards by navigating to your Guild page, then selecting "Brawl." From there, select either "pool" or brawl rewards.
How Can I View My Earned SPS Brawl Rewards?
You can view your SPS Brawl Rewards by navigating to SPS Dashboard, then clicking Activity: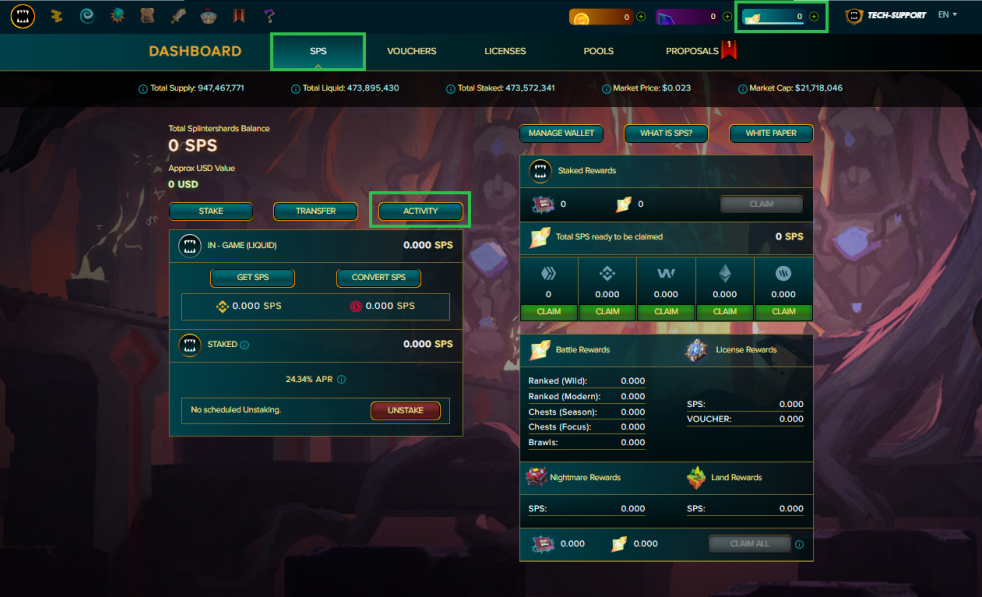 From your Activity Page, click Unclaimed. From there, search for transactions labeled as Brawls:

Learn more about guilds with the articles below: