The Soulkeep Presale has ended.



Nightmare Packs are available within the Shop on the main Splinterlands website
Nightmare Packs are also available on the Non-Card Market. Be aware that packs purchased here DO NOT qualify for Airdrops.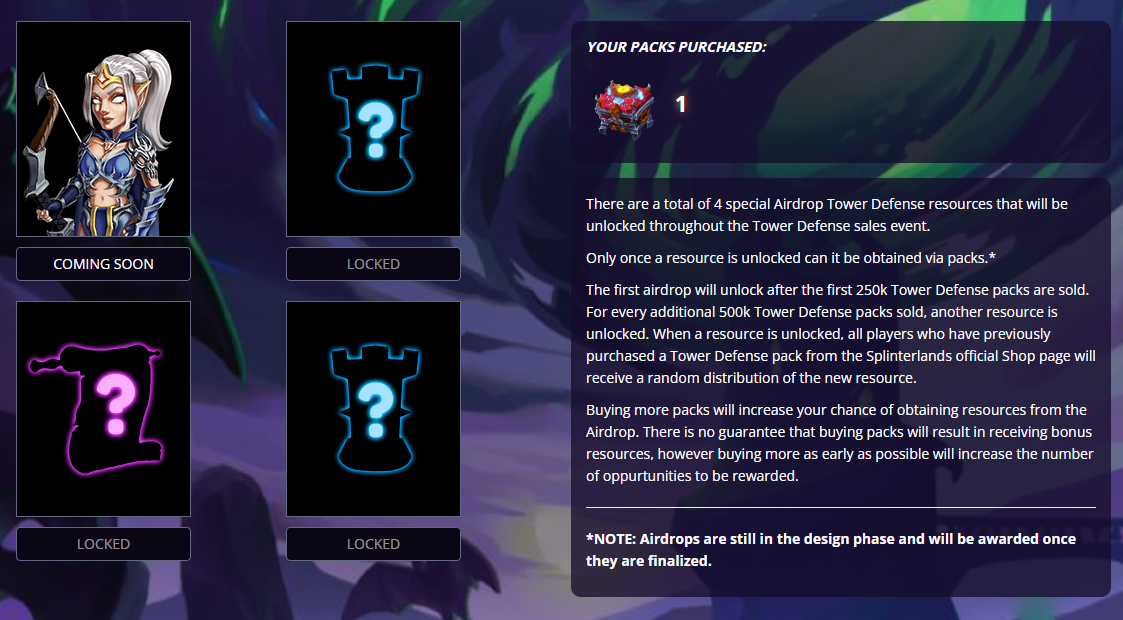 Soulkeep Presale FAQ
#1. Exactly when is the Tower Defense presale?
September 20th, 2022, 4 PM Eastern / 8 PM UTC
#2. Where can I buy the Tower Defense packs?
The Tuesday 9/20/2022 update will include a new tab in the Shop page which will include a countdown timer. This is where you will buy the Tower Defense packs.
#3. How much do the packs cost?
During the presale, each pack will require 1 voucher and either 5,000 Credits or 5,000 DEC.
After the presale has sold out and the general sale starts each pack will cost $8 without a voucher or $5 and a voucher.
#4. Will Splinterlands distribute any promotional TD packs before the TD presale which count towards the 250K presale amount?
No
#5. What happens if all the TD packs sell out extremely quickly and/or there are technical problems that cause people to miss the cut-off time?
There are safeguards in place now to prevent people from buying any packs once the full 250k presale packs are sold out. It's a limited pre-sale and should people miss out they miss out. Technical issues will be handled and any issues will be reviewed on a case-by-case basis.
#6. In the block which is the cut-off for 250K packs, what if packs in excess of 250K are sold? Will this result in more than 250K presale packs?
The main safeguard implemented for this sale is that your purchase transaction will not go through if you try to buy more TD packs than are available. There are two ways this is implemented:
First, if there are only 500 packs remaining and you try to buy more than 500 in one transaction, the Buy buttons will be disabled, indicating there are not enough available compared to the amount you are trying to buy.

Second, if you try buying a certain amount at the same time as others, the UI may not update in time to disable the buttons. However, whoever was quicker in buying will have their transaction processed first. If that transaction lowers the available amount below the other queued transactions waiting to be processed, those queued transactions will fail due to there not being enough available packs for sale.

NOTE: We won't autofill the amount of packs available after a purchase transaction was signed. Meaning, that if you try to buy 575 packs, but only 500 packs are available, your transaction will fully fail, and you won't be charged anything. The next transaction that is queued up for 500 or fewer packs will go through successfully.
#7. Once the 250K presale packs are sold, will there be a clear transition to the general sale and will it be obvious if one's purchase fell within the presale window?
If you try to buy more packs than the remaining amount, your transaction will fail and you will receive an error message with a red banner in-game, stating that you tried to buy more packs than what was available. Once all TD presale packs are sold, the Shop page will change to a Sold Out page indicating that all presale packs have been sold. The general sale will not go live until a later date.
#8. Do I need VOUCHERs to get bonus packs when buying bulk packs?
You will need 1 VOUCHER for every Bonus Pack you want.
#9. How many bonus packs do I get when buying 500+ packs? Do I get a higher percentage of bonus packs if I purchase even larger quantities of packs?
If you would like to buy $100,000 or more please email sales@splinterlands.com they will not count for the presale.

#10. If I buy 500 packs in separate transactions (two separate 250 transactions), do I still get bonus packs? Do I get the presale benefits if I split up my transactions this way?
Yes, you will get bonus packs for any purchase of 100 or more packs in one transaction, although buying two separate 250 pack transactions will result in less bonus packs than if you bought one purchase of 500 packs. These bonus packs will still count towards the presale benefits and airdrops that will be unlocked throughout the rest of the pack sale.
#11. Will the bonus packs field be automatically populated? Or will I need to manually fill this in?
The bonus vouchers field will auto-populate the max amount of vouchers you have that qualify for a bonus.
#12. Will bonus packs count towards the presale benefits and the airdrops?
All packs purchased, including bonus packs, will count towards presale benefits and airdrops.
#13. If I buy more than 500 packs on one account, do I get an additional promo hero, limited edition title, and limited edition avatar for every 500 packs that I buy? Can I designate an additional account to get Beta access for every 500 packs that I buy?
Every 500 packs purchased will add an additional copy of the limited edition title and promo hero. The avatar and beta access are account bound and will unlock for the purchasing account.
#14. Between the promo hero, the limited edition title, limited edition avatar, and beta access, which are transferable NFT's and which are account bound?
The hero and title are transferable NFT's.
The avatar will initially be account bound but we'd like to make it a true NFT in the future. We will award them retroactively based on the presale purchase amount of the account.
The beta access is non-transferable.
#15. When purchasing Tower Defense packs, are affiliate payments credited towards the account's Splinterlands referrer?
Affiliate payments count if you buy the packs with credits but not when buying with DEC.
#16. How many packs are required to get a guaranteed tower, spell, and tower? Is it 500 for the hero, 550 for the first tower, 600 for the spell, and 650 for the second tower?
500 for the first airdrop and then increase by 50 for each following airdrop. 500 promo hero, 550 first tower, 600 first spell, then 650 second tower airdrop.
#17. How much are vouchers valued at when purchasing Tower Defense packs? Does the tranche level of the Validator Node Licenses affect the value of vouchers for Tower Defense?
$3. The tranche level of the Validator Node License does NOT impact the value of vouchers for Tower Defense.
#18. Do Tower Defense packs count towards Maverick status on Splinterlands Discord?
No
#19. Where can I find the Tower Defense packs that I bought? I don't see them in the mana well screen.
They can be found in the Other Items Inventory screen.
#20. Can Tower Defense packs be tokenized on Hive Engine / TribalDex right after the presale? Can they be transferred to WAX?
Yes, they will be able to be transferred to both as soon as you purchase them.
#21. Where do the Vouchers and DEC need to be located to purchase?
Please prepare for the pre-sale by having your DEC and Vouchers within the game.
How to move vouchers in-game from hive-engine.