Welcome to Soulkeep! This Tower Defense game takes a page from the Splinterlands playbook as an auto-battler. You will make strategic choices, such as the placement, upgrading, and arrangement of your towers, spells, and heroes during the preparation phase; you will then commit your defensive strategy to the battle. Packs are currently on sale!
Tower Defense packs can be purchased with either Credits or DEC.
Each pack costs 8000 DEC OR 5000 DEC + 1 VOUCHER. The net cost of packs without a voucher will be $8 a pack. Purchase of a pack with a voucher offers a 3,000 DEC discount for a net total of $5 a pack.
In order to purchase:
Step 1: Click Shop, then navigate to the Soulkeep page and click Buy Packs.
Step 2: Review the Bonus Pack offerings. If you're interested in exploring bulk purchases of $100K+, we have additional options. Please email sales@splinterlands.com for details.
Step 3: Input your desired number of packs. Include the number of vouchers you wish to use.
Step 4: The number of bonus packs should auto-populate. Ensure that all numbers are correct.
Step 5: Click your desired Payment method.
Step 6: You will be prompted to verify the transaction. Click Confirm.
Tower Defense Packs can also be purchased on the Non-Card Market. However, packs purchased there are NOT eligible for Airdrops.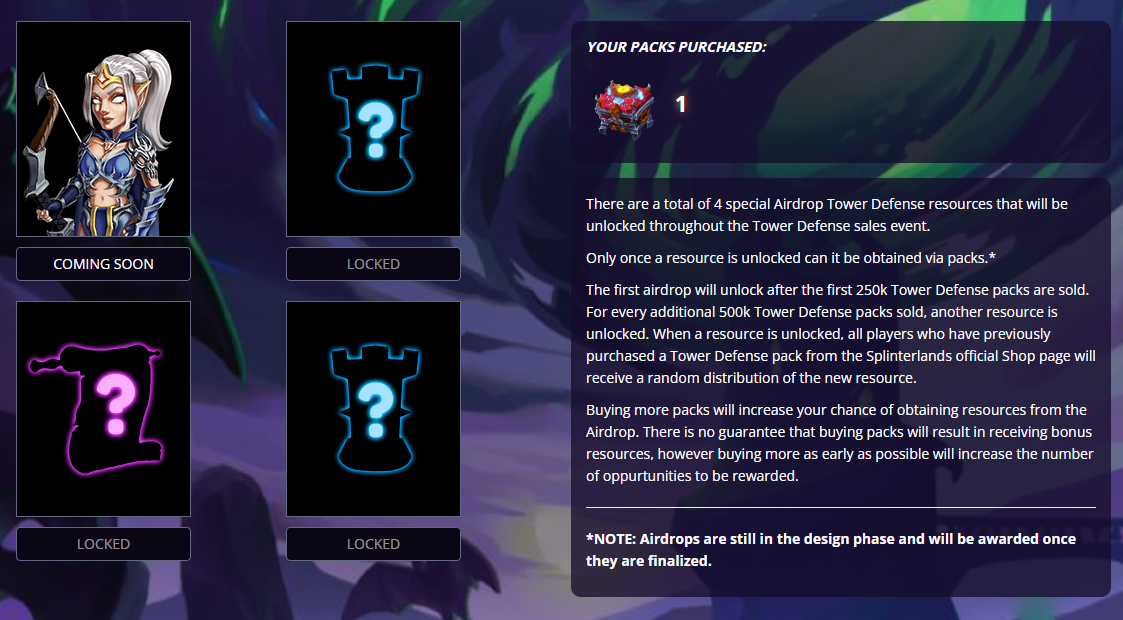 To locate your packs, go to the Other tab of your Inventory: