To ensure transactions are successfully processed on the blockchain, they have a cost. Most Splinterlands transactions are broadcasted on the Hive blockchain. So, Resource Credits are a cost on the Hive Blockchain, not a cost from Splinterlands itself as described in chapter 3.2 of the Terms of Service.
Resource Credits
When a player creates a Splinterlands account, activates a spell book, and chooses an account name a Hive Account is created (in the background). Resource Credits (RC) are non-transferable credits that regenerate on each Hive account.
Although an average player that plays the maximum number of games, posts some articles, opens up a dozen of packs, merges some cards and makes a bunch of card transactions, all in 1 day should have enough RC with a standard account. Sometimes when Hive transaction costs are high (see more information in chapter Transaction Costs), or when the player is doing a very big amount of the actions above, the HIVE/Splinterlands account can run out of RC. When this happens, you will get an error, explaining the above.
Staking Hive for more RC
To get a bigger RC pool on your HIVE account you can stake Hive (=Power Up). This will give an instant RC boost and gives you HIVE Power. Hive Power can also be delegated to help someone that's low on RC.
Note: You can always unstake the HIVE Power, to get your assets back.
Transaction Costs
There is not a fixed number of transactions that can be submitted, as transaction costs depend on the current blockchain status (=current HIVE blockchain recourse availability) and the transaction itself.
"The price of a transaction is based on the current stockpile of those resources. As a stockpile of a resource decreases, the RC cost of that resource increases."
For more exact explanations and calculations please see:Calculating RC costs on the Hive Developer website
Some examples of transactions that need RC to be processed are:
Rents and Purchases
Pack Opening
Asset Transfers (DEC, SPS, Cards...)
Merging cards
ect.
Keeping track of your Resource Credits
Looking up your account on any Blockchain Explorer like hiveblocks, you should be able to keep track of your transactions and how many of your RC has been spent.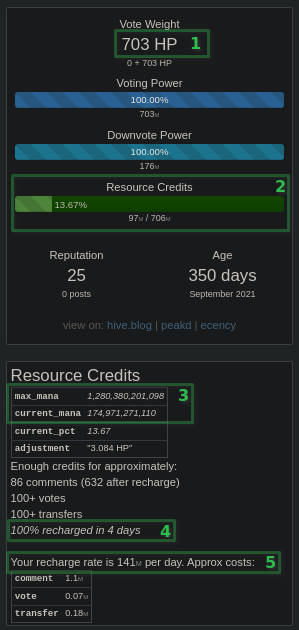 Vote Weight: Shows the HP available in your account. Is used to calculate your mana (RC).
Resource Credits: Graphic representation of your mana available and mana spent.
Maximum Mana & Current Mana: Mana is the basic unit of RC.
Recharge time: Time that your account needs to replenish/regenerate its RCs from the current state. Usually less than 5 days.
Mana recharge rate: Rate of mana added to your account per day.
Ways to get more Resource Credits
Your resource credits will regenerate over time. However, there are alternate ways to obtain HP and consequently RC Buying HIVE and Powering Up or Renting RC on dlease. The game should automatically delegate you resource credits if you perform actions from within the game.