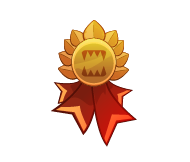 Merits are non-transferable or SoulBound in-game currency you can spend at the Guild Store. You can earn merits through rewards chests or by a guild membership and brawl participation.
Ranked Battles
Approximately 10% of reward chests contain merits. The Merit Bonus applied for leveling up your Guild Store also applies to the percentage of merits found in your reward chests for ranked battles. For example, a level 2 Store will earn 20% more in merits as per the Merit Bonus in effect.
Brawl Participation
Every brawl participant who submits teams for 75% or more of their frays earns the full amount of merits. If less than 75% of your team is submitted, then your merit reward is reduced. Rewards for brawls are calculated based on tier, guild building, and the participation of your guild brawlers.
If your opponent flees or you do not have any battles in your Fray, that still counts as you submitting your full team for the merits. Merits are the reward for individual brawl participation, while crowns are awarded to the actual Guild.
Regardless of how you receive merits, they hold the same utility. After joining a guild, merits can be spent at the Guild Store on various items -- boosting your account's value and enriching your Guild.
How do I Start Earning Crowns, Merits, and Gladiators? Read this article to find out more.