A Summoner's Spellbook is the first step to getting the full experience playing Splinterlands. It can be purchased via Paypal and a wide range of cryptocurrency options.
A spellbook can be purchased in the in-game Shop. Both 'lite' accounts and existing Hive wallet accounts can purchase one.
One of the many crypto options to buy a Spellbook is via HIVE. You can get HIVE through various exchanges, some of which are listed on https://hive.io.
Purchasing a Spellbook Using Hive Keychain or HiveSigner
If you already have a HIVE account, you will need some HIVE in your wallet and the ability to approve a transaction with your Active key.
Step 1: Buy some HIVE on any exchange.
Step 2: Withdraw the HIVE to your Hive wallet that you will use to pay. If you don't have one, you can create one here. Your username is your Hive wallet address.
Step 3: Import your HIVE account into Hive Keychain. The instructions to setup Hive Keychain can be found here.
Step 4: Initiate a new Spellbook purchase for HIVE tokens and confirm it via Keychain or Hive-Signer, as pictured below.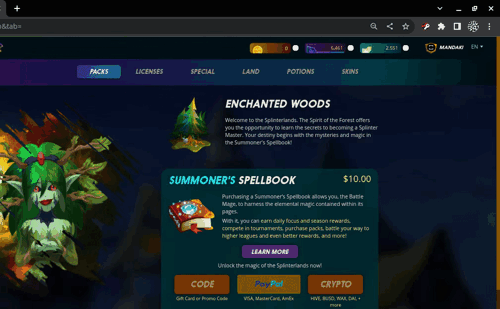 Purchasing a Spellbook Directly via Exchange Withdrawal
If you don't want to create an extra HIVE account, there is an option to make a purchase directly via a HIVE withdrawal from an exchange.
Step 1: Buy some HIVE on any exchange.
Step 2: Start a new purchase in-game and write down the following three items:


Destination Wallet (The account where you will send the funds): steemmonsters (all lower-case, no @ symbol). Misspelling this will result in lost funds, so be very careful and review your transaction before sending.
Amount (Will be calculated when you start the purchase): ≈$10 worth of HIVE.
Memo (RANDOMLY generated for each purchase): It will look something like P-0A1B2C3D4E, but it will be different each time you make a purchase, so do not re-use these.
Step 3: Make a withdrawal from the exchange to steemmonsters, for the amount specified, and with the correct memo. Make sure you factor in the transfer fees to avoid unnecessary delays.
Once the payment gets approved you will have your Spellbook credited to your account. You will get access to the various features the Spellbook unlocks, as well as the ability to request your keys if you started this process with a 'lite' account. This will also prompt you to choose your custom username.
If you have any problem buying a Spellbook, or you need help with anything else, please do not hesitate to reach out to us by creating a Support ticket at https://support.splinterlands.com/.