Metamask Browser Extension Wallet
Below is a brief step-by-step guide on importing token information for accessibility of visibility and functionality for the token in your wallet, using the Metamask browser extension wallet as an example.

Step 1: To import tokens to Metamask (whether SPS or DEC on either the ETH or the BSC network), make sure you connect to the appropriate network you are attempting to add the token.

The Ethereum network should come on the Metamask extension by default. However, the Binance Smart Chain (BSC) network may need to be set up if you don't have the network readily available or had mistakenly shipped tokens across the incorrect network.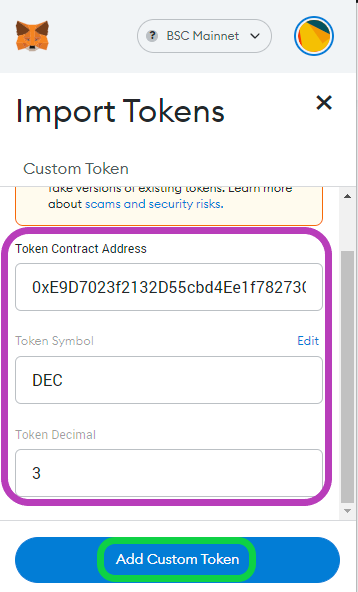 Step 2: Add the appropriate contract address of the token for the corresponding chain you want to add the token to. The other fields should auto-populate with more details; if not, you may refer to the following information. Then click Add Custom Token.

Importing on BSC:
SPS: 0x1633b7157e7638c4d6593436111bf125ee74703f [18 Decimals]
DEC: 0xe9d7023f2132d55cbd4ee1f78273cb7a3e74f10a [3 Decimals]
Importing on ETH:
SPS: 0x00813e3421e1367353bfe7615c7f7f133c89df74 [18 Decimals]
DEC: 0x9393fdc77090f31c7db989390d43f454b1a6e7f3 [3 Decimals]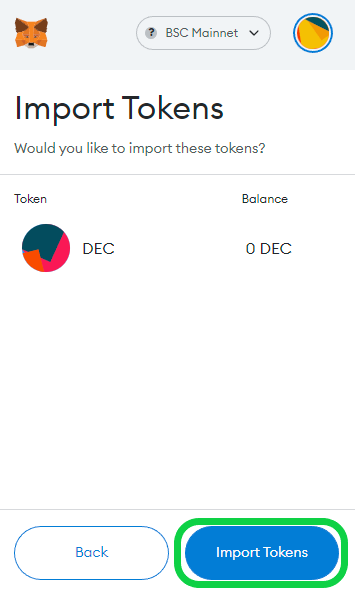 Step 3: Click on Import Tokens to add the token information to the browser extension wallet.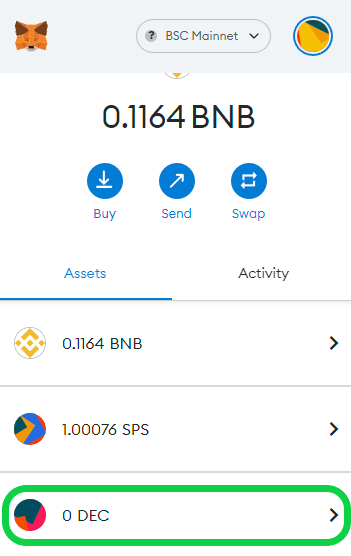 Your token balance should now be visible on the Assets tab of your wallet (as shown above). You may repeat this process if needed, but remember to use the tokens' corresponding details for each network as the guide provides.