In order to receive SPS rewards for Ranked Battles, players must:
Possess a Splinterlands Account Upgraded with a Spellbook
Reach Bronze League
Players who have purchased a Spellbook, but have yet to reach Bronze League will not earn rewards.
Play with cards that are Owned, Rented, or Delegated:
If you own a Spellbook, have reached Bronze League, and are still not earning rewards, determine whether you are using Starter Cards.


Starter Cards can be easily identified by the blue S in the upper right corner of the card.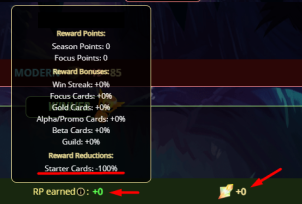 The more starter cards you use, the fewer Rshares you earn.