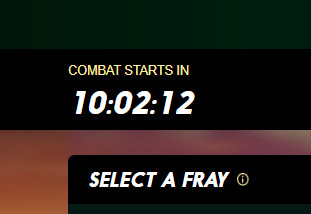 On some rare occurrences, when you submit a brawl battle with a given card, you might not have access to that card by the time the battle resolves. This can sometimes cause a flee. This does not always happen, so the development team is still trying to isolate the exact conditions.
When you submit a brawl battle, if your opponent has already submitted their team, then the battle is resolved immediately, but if your opponent has not already submitted, then the battle won't resolve until they have submitted their team (or if they do not submit, then when the brawl ends).
Situations when you might lose access to a specific card that you submitted in a battle include:
Rentals that expire
Card delegations that are canceled (undelegated)
Cards that you transfer or sell
Cards that you combine
Cards that you burn
If you get a flee even though you submitted all of your brawl battles, unfortunately, there is nothing the development team can do to remove the loss retroactively. However, it would be helpful if you could provide relevant details to let the development team pinpoint the problem. You can post in the Discord #brawls channel details regarding which account and battle had a flee. It is also helpful to remember what cards you used in that battle. And please note if you had any rentals expire, undelegated any cards, or transferred/sold/combined/burned any cards since you submitted your team.
If you want to reduce the likelihood of inadvertently fleeing a battle, there are some mitigation steps that you can take:
Submit your brawls in the last 24 hours (not the first 24 hours)
Time your rentals so they do not expire between the time you submit and the time the brawl ends
Delay undelegating, transferring, selling, combining, or burning cards until after the brawl has ended
Feel free to Submit an Auto-Surrender Report to Tech Support if you encounter this issue for an unknown reason.