Getting started on Discord
This article assumes you know what Discord is and you have it installed.

On our Official Splinterlands Discord it's possible to register yourself with your Splinterlands name. After you entered our Discord, you must first click on the -symbol below the message in channel #grant-access. This will give you the player role. Some people do not have this role because they already were registered before we introduced this feature.

Registering your Splinterlands name (=Hive name) in the Splinterlands Discord will give you the following benefits:

-The different color and the "registered" role the will make you stand out in Discord chat.
-Other players are able to reverse a Hive name to a Discord name (and visa versa).
-If you register and bought 1000 packs on that account, you will be able to enter the Mavericks House channel on Discord.
-Registering will allow you to enter the #buy-sell channel.

Registering and trading with registered users is NOT a guarantee of trustworthiness. Splinterlands does not take responsibility for any p2p transactions that take place. The safest way to conduct transactions is in the official Splinterlands markets or on Hive Engine. Trade safely!

Registering your Splinterlands account on Discord
Join to Official Official Splinterlands Discord

Once you joined the Server, go to the #registration channel.


Type $register <Splinterlands Username>, you will need to change <Splinterlands Username> to your Splinterlands Username, mine is broccolate.



Once you send the message in the previous step, you will receive an address (in red) and memo (in blue). You are supposed to send 0.001 HBD or 0.001 HIVE tosm-voterwith the given memo, in my case isyzsmk-urnbv-qxdoa. It's highly recommended to use HIVE Keychain to manage your keys and your wallet.

NOTE: Sending SWAP.HIVE or SWAP.HBD from Hive Engine will not work, You will have to exchange it to HIVE or HBD first.



In this step you will make a transfer, If you are not using the HIVE keychain yet, you can follow this tutorial.

Open your Wallet and Click the "SEND" button.


Fill out the data obtained in Step 4: address (in red), amount (in yellow), and memo (in blue). Then click the "SEND" button.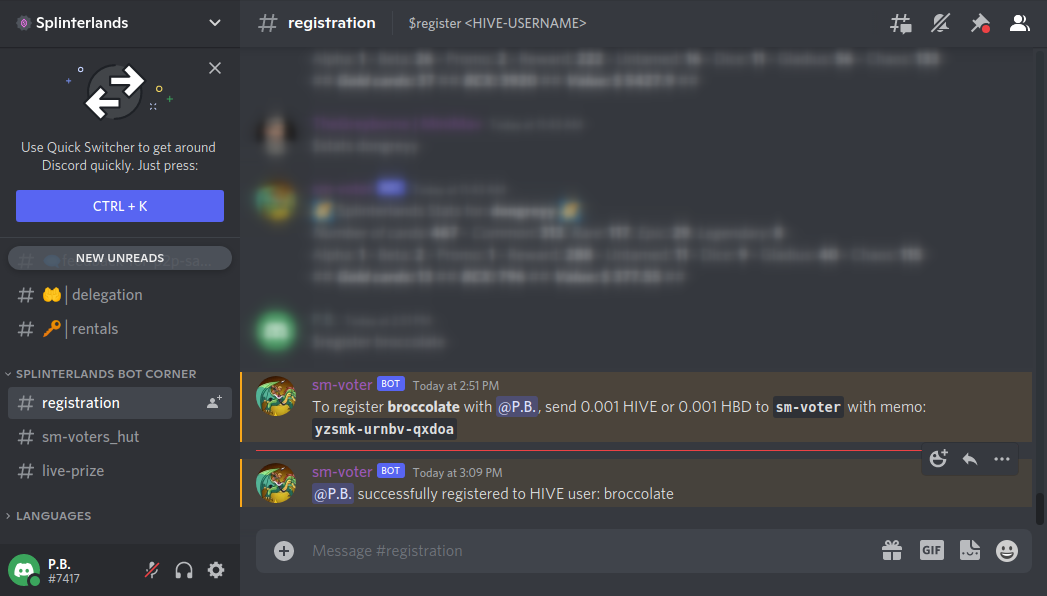 Once this transaction is confirmed and processed in your wallet. You will have to wait some minutes to be successfully registered on the server.