The contents of Nightmare Packs must be locked in order to view them within Soulkeep.
Locking and unlocking Nightmare Packs and cards is similar in process to that of Splinterlands items. For more detail about this process regarding Splinterlands cards and packs, view Locking And Unlocking Cards and Managing your Game Settings on Desktop and Mobile.
Locking cards means that these cards will not be able to be transferred, burned, or listed for sale on the market until they are unlocked.
Locked cards may still be used in battles or delegated/rented out as normal.
You may specify the number of days that these cards will take to unlock (1-30).
This feature is intended to be used on cards you do not plan to transfer or sell and want to protect in the event that your private account keys are hacked/stolen.
Locking Nightmare Packs via Settings
Step 1: Locate your username in the top right corner of the screen and click it to view the drop-down menu.

Step 2: Click "Settings".
Step 3: View the Settings Menu, and locate the Lock new Soulkeep cards from packs/rewards by default toggle.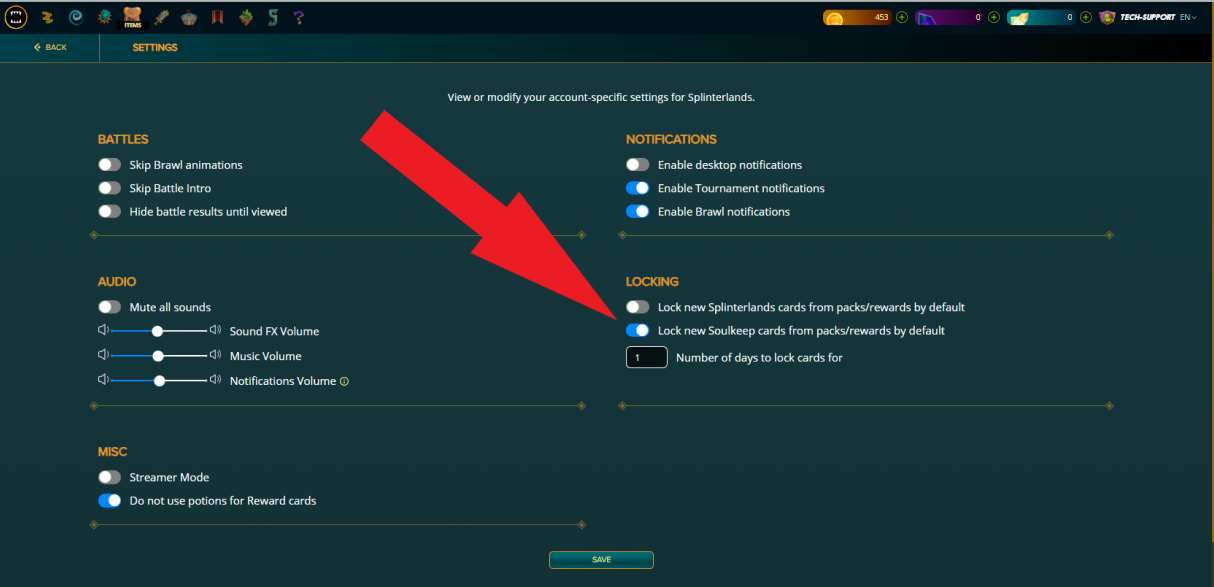 Step 4: Set your preferences, including the number of days you with to lock cards for. Be sure to click Save before navigating away from the page.