The Benefits of Joining a Guild are vast. Whether you are looking to improve your gameplay, take part in a virtual team sport, earn SPS Brawl Rewards, or earn merits to purchase the Gladiator Card containing Gladius Case - guilds are a fulfilling and fun aspect of Splinterlands.
Locate a Guild on the Splinterlands Discord
The best place to find an existing guild to join is on the #guild-recruitment page on the Splinterlands Discord. Be sure to exercise caution when engaging online by following the Basic Recommendations to Keep your Accounts Secure! It is never necessary to share your Keys or sensitive information with anyone on Discord.
Join a Guild on the Splinterlands Website
If you prefer to keep your interactions within Splinterlands, you can seek out a Guild and request membership directly on the website.


Step 1: Click the Guild icon at the top of the Splinterlands Website.

Step 2: Sort the guilds by Open and your desired language.
Open means that anyone can apply for membership


Step 3: Locate a guild that has open spots using the Members column. If you are just starting out, expect to join a Level 1 Guild. Work your way up with your team to upgrade your guild!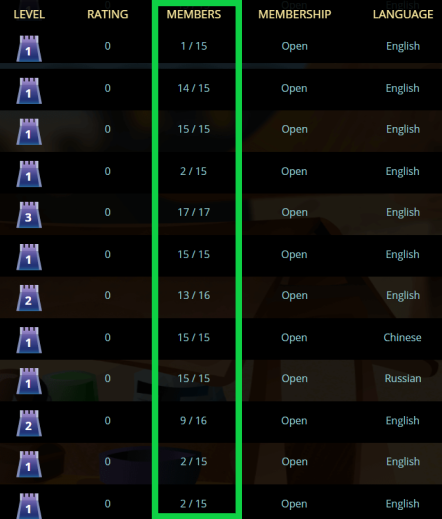 Step 4: Click a Guild and view the About section to assess whether it will be a good fit for you.
Note: Some guilds require a certain level of cards and/or DEC contribution each season.

Step 5: Once you find a guild that you would like to join, click Join Guild and OK when prompted to confirm.

Step 6: Keep an eye out for an in-game notification about whether your request to join a guild was successful! If you are denied, continue searching - there is a guild out there for everyone!
Once you join a Guild, you can interact with other members in the Tavern. Talk strategy and Fray assignments. You can even delegate cards to each other.
What if I want to leave my Guild?
If you would like to leave your guild for any reason, simply click the red arrow under your Member status and confirm the action.
**Please note: If you choose to leave your guild after contributing guild power, you will take 90% of your contributions with you.

More about Guilds